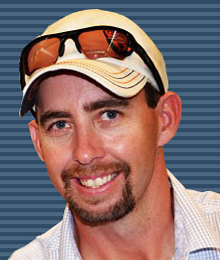 Chris Smeal, PGA
Future Champions Golf Academy at Stadium Golf Center
14781 Pomerado Road #201
Poway, California 92064
(619) 339-2377
http://www.futurechampionsgolf.com
chris@futurechampionsgolf.com
Chris is a full-time teaching professional at Stadium Golf Center in San Diego, California and is the founder of Future Champions Golf. His contributions to growing the game include operating a junior golf academy, tournaments for juniors, the FCG World Putting Championships, mentoring coaches and recognizing the top Elite Junior Golf Coaches in USA.
Facility type: Stand alone
Past awards/recognitions:
PGA Section Junior Golf Leader
PGA Chapter Junior Golf Leader
PGA Chapter Apprentice of the Year
U.S. Kids Golf Top 50 Master Teacher
GRAA Top 50 Growth of the Game Teaching Professional
Technology used in instruction:
JC Video Systems
FlightScope
Edulfi
Casio Exilim
Approximate number of free "tune-ups" and lessons given per year: 1
Growth of the game initiatives: 
Hired 3 new coaches to help me with our expanding junior golf academy at Stadium Golf Center. Launched the FCG Top 25 Elite Junior Golf Coach in the USA Award at the end of 2015 and award the winners at the 2016 PGA Show in Orlando. Launched the very exciting FCG World Putting Championship where we coordinated over 40 qualifiers worldwide with local pro's hosting 18-hole putting contests for ages 8 and under, 9-12, and 13-18. Over 400 kids tried to qualify and the finals was just held in July in San Diego with nearly 100 competitors. The event was featured on 4 different television news stations. This event will grow to 1,000's of participants next year. We expanded our FCG Tour to now feature over 100 junior golf tournaments including several that are now some of the largest in the world. We host over 950 junior golfers from 35 different countries in July with our FCG World Championship and FCG International Championship. We added FCG World Series events in Florida and Arizona this past year that both were great additions to the program. We launched the first College Coaches Network Meet Up in San Diego during one of our big events.