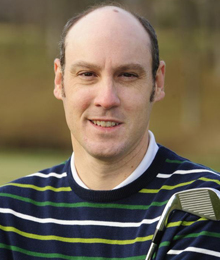 Chris George, PGA
Kingsmill Resort / Kingsmill Golf Academy
1010 Kingsmill Rd.
Williamsburg, Virginia 23185
(757) 253-3998
chris.george@kingsmill.com
Chris George is the PGA director of instruction at the Kingsmill Golf Academy in Williamsburg, Virginia. Under his direction, the Kingsmill Golf Academy was cited by Golf Magazine as one of the countries Top 25 Golf Schools. Personally, Chris is ranked by Golf Digest on their Best Teachers in Your State listing and is a lead coach for Golf Channel Academy.
Facility type: Resort
Past awards/recognitions:
PGA Section Teacher of the Year
Golf Digest: Best in State
GRAA Top 50 Growth of the Game Teaching Professional
Technology used in instruction:
V1 Video
K-Vest
Eyeline Golf
Ubersense
Shot by Shot round analysis
Cleveland Wedge Analyzer
(Swingbyte)
Ping Putting App
Zepp
Eyeline Golf teaching aids
Sky Pro
Approximate number of free "tune-ups" and lessons given per year: 110
Growth of the game initiatives:
There are several important factors which insure successful programs that increase player participation and grow revenue
for the facility. Our programs are built around several key elements. 1. Make the undesirable ~ desirable 2. Create a
comfortable atmosphere 3. Provide a quality learning environment with qualified and passionate instructors 4. Implement
relevant programs and exceed your members and guests expectations. Several specific Growth of the Game initiatives I
have implemented in the past year are "Links 2 Golf", "Essential Golf Skills" and "Golf Talk Live".
Links 2 Golf is a junior development program which implements skill stations on the course and essential scoring
elements through productive play. The cornerstone of this progression is "Playing the Game". Juniors start with individual
skill stations (based on player level) learning the game from the green back to the tee. We begin our instruction on the
course starting with putting. The fundamentals of putting are covered and the junior is encouraged to place the ball
anywhere on the green and putt the ball in the hole in par. Once the player is able to do this consistently we move to the
fundamentals of chipping and add an 8 iron to their bag. The junior then chips the ball onto the green and putts the ball
into the hole in par. Once the player is able to do this consistently we move to the fundamentals of pitching and add a
sand wedge to their bag. The junior then pitches the ball onto the green and putts the ball into the hole in par. This
progression continues as we move farther away from the green and add clubs to the players' bag. In completing this
learning system at the teeing ground the junior is shooting par and has broken down the barrier of "breaking 100, 90, or
80". Par is all the junior knows and has been conditioned to and they have learned the game by playing the game with the
end result in mind. Links 2 Golf has been a great addition to our junior instruction program. As a result of the interest in
this program we filled two P.G.A. Junior League teams at our club with 12 players each and added a fall MAPGA Junior
League in 2015 which we filled two teams of 12 players each. Our junior instruction increased by 15% from 2014 to 2015.
An interesting element to this program is the parents' interest in the game. Approximately 25% of the parents have
participated in our adult clinics and we look forward to implementing an adult/junior clinic series in the spring of 2016 for
our junior team members.
The second Growth of the Game initiative I have implemented is "Essential Golf Skills". This program is designed for
beginners who have a desire to learn the game and want to improve their golfing ability. Skill stations are built around five
key areas; putting, short game, fairway shots, tee shots, and etiquette. Groups rotate through the stations learning each
skill. The development continues on the course where we play six holes using a team scramble format. During on course
play we discuss scoring, shot selection, rules, etiquette, and future player development. It is our goal to create new golfers
who play in weekly leagues or member events, participate in instruction programs and feel confident and comfortable
playing golf. This program has increased our individual and group instruction and has had a positive impact on increasing
our rounds of golf.
The third Growth of the Game initiative I have implemented is "Golf Talk Live". "Golf Talk Live" is a free interactive
seminar that engages our members and resort guests in a "Q&A" format. This program is designed to peak the interest of
players who want to advance their game by dispelling the many myths of the golf swing that surround the game. An
emphasis is focused on what skills and drills are needed for individual game improvement and how to create an effective
practice session. As a result of this program our resort clinic participation has increased 12% and our individual instruction
has increased 7% in 2015.
I was fortunate to have talented professionals mentor me at a young age and help shape me into the golf professional I
am today and because of this I am extremely passionate about growing the game of golf and providing opportunities for
others to learn the game. I strive every day to introduce new players to the game and instill a desire in them to want to
pursue it further as well as encouraging our core golfers to play more often. In the end it is about developing relationships
with your members and guests, providing opportunities for them to be engaged with the game and delivering
uncompromised service and attention to detail. I hope to be able to give back to this great sport that has given me so
much.