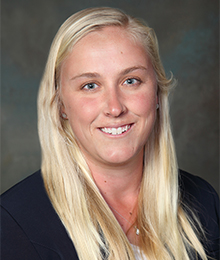 Caitlin Cannon
Atlanta Athletic Club
1930 Bobby Jones Drive
1930 Bobby Jones Drive, John's Creek, Georgia 30097, US
https://www.atlantaathleticclub.org/
crc@aac1.org
Please indicate past awards won/recognitions:
N/A
Other awards won:
Total number of individual lessons given per year:
Male: 100
Female: 750
Junior: 500
Total number of individual clinics given per year:
250
Please indicate any Growth of the Game initiatives your facility/academy has launched over the past year (please give specifics on such programs):
We launched Operation 36 a year ago for ladies and it has been a resounding success. We use 8 week sessions where students come to class once a week and in addition play 9 holes every other week. They start from 25 yards and if they shoot 36 or better they scoot back to 50, then 100 and so on. The first 2 sessions had 90 ladies, and the most recent 2 sessions have had 150 ladies. Many ladies come back for multiple sessions. We have reached over 200 ladies at the club, many of who would have never tried golf otherwise.
Please share any programming you have made to keep your customers & students engaged:
In addition to Operation 36, we run little league style junior golf leagues. Participants come to 1 practice a week and have matches on Saturdays. The juniors are split into teams and have a season long points race. These leagues cover ages 5-12. We have weekly clinics for 3/4 year olds to introduce them to the basics of the game. Also, all year long juniors can compete in a stroke play tournament on Saturdays and a scramble on Sunday.
When Operation 36 is not going on, I offer weekly playing and practice clinics for the ladies to keep their skills sharp. Many of them also participate in 9 or 18 hole groups.