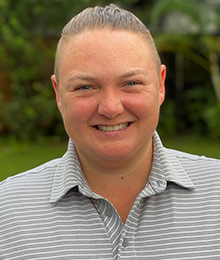 Bridget Ackley
Lake Forest Golf Club
3110 W. Ellsworth Rd
3110 W. Ellsworth Rd, Ann Arbor, Michigan 48103, US
bridget.ackley@gmail.com
Please indicate past awards won/recognitions:
GRAA Top 100 Growth of the Game Teaching Professional
Other awards won:
2021 South Florida PGA Section Youth Player Development, 2021 Southeast Chapter Youth Player Development, 2021 Nominated for Golf Digest's "Best in State," 2020 & 2021 GRAA Top 100 Growth of the Game Teaching Professional, 2020 U.S. Kids Golf Top 50 Coach, 2018, 2019, & 2021 U.S. Kids Golf Honorable Mention
Total number of individual lessons given per year:
Male: 75
Female: 100
Junior: 215
Total number of individual clinics given per year:
50
Please indicate any Growth of the Game initiatives your facility/academy has launched over the past year (please give specifics on such programs):
2021 has been an interesting teaching year for me due to having an amazing opportunity present itself in Michigan. I completed my time at Don Law Golf Academy, moved to Michigan for 6 months, returned to South Florida to coach a high school team, and will be starting at West Palm Golf Park in January 2023 as their Junior Golf Leader.
My main goal with moving to Michigan was to expand their junior program offerings, but also grow adult programming as well. In a short period of time for marketing, I successfully ran two 8-week Birdie Basics classes for ages 3-6, a 9-week summer camp that offered half or full day camp options for ages 5-17, ran both a 13U and 17U PGA Jr. League team, tournament prep clinic, Drive, Chip, and Putt Clinic, and offered adult clinics. Lake Forest Golf Club previously only offered 3 weeks of half day junior camp, so I made a significant impact in junior programming alone during my short time in Ann Arbor. The various programs combined reached 100 children in the surrounding Ann Arbor area. I believe I would have had more juniors join the programs had I stayed in Michigan for a longer period of time and also had more time to market the various programs, but am ecstatic with the results.
Aside from my junior impact, I offered a few adult clinics – Wednesday co-ed chip & sip, Friday women's clinic, and Friday morning open clinic for Veteran's. The Veteran's clinic was my favorite because I reached out to local Veterans programs to promote my golf clinic which was successful. I charged $20 for the hour clinic and provided coffee and bagels afterwards to promote a fun, engaging environment for the participants to meet other Veterans.
Please share any programming you have made to keep your customers & students engaged:
All programs listed in the prior response were new to the facility at Lake Forest Golf Club and were overwhelmingly accepted. Aside from starting the new programming, I engaged all students and potential customers through bi-weekly emails, and my social media postings. I also communicated with students through V1, check-in emails, and offered a supervised practice clinic for current students.