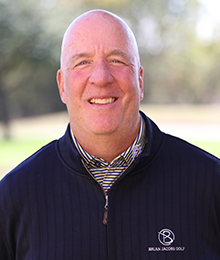 Brian Jacobs
Brian Jacobs Golf at Mill Creek Golf Club
128 Cedars Avenue
128 Cedars Avenue, Chruchville, New York 14228, US
http://https://www.brianjacobsgolf.com/
brianjacobsgolf@gmail.com
Please indicate past awards won/recognitions:
PGA Section Teacher of the Year, GRAA Top 100 Growth of the Game Teaching Professional, Golf Digest Best in State, Other (Indicate specific awards below in 3-a)
Other awards won:
WNY PGA Bill Strausbaugh Award 2021/WNY PGA Player Development Award 2020 /WNY PGA Horton Smith Award 2018/ State University of New York Distinguished Alumni Award 2018/PGA President's Council on Growing The Game 2007
Total number of individual lessons given per year:
Male: 960
Female: 150
Junior: 90
Total number of individual clinics given per year:
8
Please indicate any Growth of the Game initiatives your facility/academy has launched over the past year (please give specifics on such programs):
Brian Jacobs Golf Annual Veterans Classic-12 veterans are invited to play golf and camp (at my home) for a 3 day tour. All golf and food etc. is provided at no cost to the veterans. I get sponsors to pay for golf and donate product and meals.
NYS Special Olympics Coaches Training- This is year one of what I hope to he a long term relationship with Special Olympics. 10 Coaches from across the state came for training on how to better coach their athletes. All aspects of the game were covered.
Monthly "Golf Tastic" Clinics…Drive-tastic/Wedge-Tastic/Iron-Tastic/Putt-Tastic/ Play-tastic (90 minutes for $90)
Well attended large format clinics with instruction and social gathering post clinic. Included food and beverage and also course time.
High School/Middle School FREE Golf Clinics: 2 hours of time donated to Girls and Boys High School/Middle School Teams in the local (Section VI area).
PGA REACH/PGA HOPE/Folds of Honor -30 minute coaching session for donation- 2 days of donated time of 30 minute coaching sessions for donations to PGA REACH/PGA HOPE/Folds of Honor. Raised $1500 for the weekend donate to WNY PGA REACH.
Please share any programming you have made to keep your customers & students engaged:
All my programming is high engagement and high accountability for coach and athlete.
Programs are generally 1: 1 and range from 4-60 minute coaching sessions and a playing experience to 30 hours of coaching.
All programs include personal Game Plans that are heavy in random variable practice, gaming and on course experience.
All programs include 3D and 2D video analysis, unlimited chat, tactical data collection in both practice and play. Club fitting is always a part of every program as is fitness and the mental game.
I have also moved into the virtual space with my Manage Your Game Coaching Series and Digital Players Club.
3, 6 and 12 month programs are offered. All include Sportsbox with 3D and 2D analysis and the Sportsbox Practice app where I can create a "watchlist" for athletes to work on.
6 and 12 month include the practice app and Clippd and Clippd Capture so activities and play can be monitored and the game plans for students can be laddered correctly.
Programs also include game specific content from a 60+ video library from drills to on course game management topics.
Game plans are built for student progression and are unique to the student not a cookie cutter program or regurgitated content.