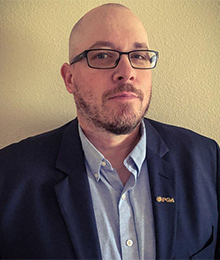 Brendon Elliott
Little Linksters
Little Linksters Academy @ Wekiva Golf Club
4100 Wekiva Club House Drive
Little Linksters Academy @ Wekiva Golf Club 4100 Wekiva Club House Drive, Longwood, Florida 32779, US
brendonelliott@pga.com
Please indicate past awards won/recognitions:
PGA National Teacher of the Year, PGA Section Teacher of the Year, GRAA Growth of the Game Teaching Professional, Other (Indicate specific awards in 3-a below)
Other awards won (if provided):
US Kids Golf Masters Kids Teacher
Total number of individual lessons given per year:
Male: 10
Female: 10
Junior: 600
Total number of individual clinics given per year:
600
Please indicate any Growth of the Game initiatives your facility/academy has launched over the past year (please give specifics on such programs):
A combination of our ELITE Program and PGA Junior League…
A whole new ELITE Group Program is coming this fall of 2022 and into 2023! Our ELITE Group Program will combine with our PGA Jr. League Program, at both Little Linksters Golf Academy locations!
The program will now…
– Run in 3, four-month seasons starting in 2023…
1/15 – 4/15 Winter/Spring (Weekend Practices and Matches)
5/15 – 8/15 Summer w/ All Stars (Weekday Practices and Weekend Matches)
9/15 – 12/15 Fall/Winter (Weekend Practices and Matches)
There will be a shortened Fall/Winter season, running from October 15 – December 15, 2022. This shortened season will transition us into the full new program in 2023…
Knowing that the High School Season is not done until the end of October, we didn't anticipate some of you being at practices until November, which is fine!
– New monthly payment structure at $85 month, plus an annual $99 PGA Membership Fee (paid to PGA). The PGA Membership fee starts in 2023. Private students of Coach Brendon will have this included in their lesson packages.
– NEW ELITE Program for middle and high school students. Those that are intermediate to advanced players, ages 12-17, that are either students of Coach Brendon or that can pass a player ability test. (This will take the place of our current ELITE Program)
– ELITE Program players will have a supervised practice at same time as PGA Jr. League. Matches will consist of teams, but players will play individual stroke play, and we will take the 5 best scores of the 6 players on a team, just like High School Golf.
– NEW: For the Elite Program Players- We will run an additional match on Tuesday's during the Summer Season (5/15 – 8/15) at various golf courses. An additional fee will apply for this and is TBD at this time. This is for private lesson students of Coach Brendon or Middle or High School golfers that can pass a player ability test.
More EXCITING expansion and enhancements in the works too!
See more about all of our programs in question #10
Please share any programming you have made to keep your customers & students engaged:
With locations in Central Florida at Wekiva Golf Club in Longwood, FL, Redtail Golf Club in Sorrento, FL, the Linksters Golf Lab indoor studio at Allstars SportPlex in Altamonte Springs, and after-school programs at locations throughout the greater Orlando area, Little Linksters has something for all kids, of all ages and ability levels! At Little Linksters, we welcome ALL youth, whether they are new to the game, or have been playing for many years, and encourage them to take part! Golf should have no barriers, and that is a belief we hold strong at Little Linksters…all backgrounds are welcome and encouraged to take part! For those that may have financial limitations, please contact us…we will find a way to help!
Lead by multiple local, State, National and International award-winning PGA Professional, Brendon Elliott, the staff of coaches at Little Linksters Golf Academies are some of the most trusted in the golf business.
** All our programs run through Little Linksters, LLC, which is our for-profit organization that our Academies are ran under. Money, that we raise through our 501c3, is earmarked for scholarship funding to help any and all kids, that may have financial barriers, take part in the game through our programming. We also aim to help intermediate to more advanced young golfers that need assistance by supplying them with new equipment, private and group instruction, tournament entry fees and more. Lastly, through our new Danny Mapes Memorial Lifetime Special Needs Scholarship program we want to help deserving youth with special needs, that love golf, take it to the next level.
Programs include:
• GROW (Ages 3-8), 8-week program sessions, Powered by Operation 36
• GROW+ (Ages 9-12) 8-week program sessions, Powered by Operation 36
• GROW TEEN (Ages 13-17) 8-week program sessions, Powered by Operation 36
• GOALS (Special needs youth ages 3-18+) Meets once a month at each of our golf course Academy locations, plus one special needs school program that is 8 weeks per session.
• ELITE (Advanced youth ages 13-17) 8-week program sessions meeting once a week for two hours. In 2023, ELITE will combine with PGA Junior League. Intermediate to Advanced players, ages 12-18, will compete in high school style matches, playing their own ball. The top 5 scores out of 6 count towards the final team total. On Tuesdays during the Summer Season, and additional "travel" day match will take place at area courses.
• PLAY (On course program powered by Operation 36) 8-week program sessions
• LPGA*USGA GIRLS GOLF (Girls 5-15) Select dates throughout the year, 1-2 per month in general
• PGA JUNIOR LEAGUE (In-house league, at two locations, for ages 5-17) In 2023, the program will go to three, 4 month long programs. Practices are once a week for two hours. Matches held at our two golf course locations, Wekiva Golf Club and Redtail Golf Club
• PGA JUNIOR CAMPS (Ages 6-17) Contracted by PGA Junior Camps, prices vary, runs from June through first part of August
• Annual Best Pee Wee Golf Swing in the World Video Contest (Under 3 -12) FREE
• PRIVATE COACHING Led by PGA Professional Brendon Elliott, our private coaching programs are conducted in 6-, 9- and 12-month packages. Intended for intermediate to advanced youth ages 10-18. Limited availability. Prices vary by package.
• REMOTE ONLINE COACHING Led by PGA Professional Brendon Elliott.
Learn more at our main website: LittleLinksters.com
Learn more about Coach Brendon here: https://brendonelliott.com/