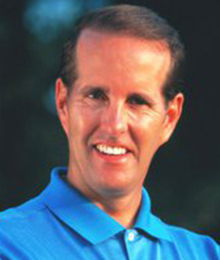 Brad Redding
Target Golf Practice and Training Facility
5311 Beaver Creek Drive
5311 Beaver Creek Drive, Knoxville, Tennessee 37849, US
brad@bradreddinggolf.com
Please indicate past awards won/recognitions:
PGA Section Teacher of the Year, GRAA Top 100 Growth of the Game Teaching Professional, Golf Magazine Top 100, Golf Digest Best in State
Other awards won:
PGA Master Professional in Instrution
Total number of individual lessons given per year:
Male: 900
Female: 200
Junior: 200
Total number of individual clinics given per year:
8
Please indicate any Growth of the Game initiatives your facility/academy has launched over the past year (please give specifics on such programs):
1. Redding on the Road – One weekend each month I take my teaching (and all my technology) to clubs out side my home base. These club have no teaching presence. At present I have 3 club I teach at. Ridgewood Golf Club in Athens, Tennessee, Hat Creek Golf Course in Brookneal, Virginia and The International Club in Myrtle Beach, South Carolina.
2. I have reached out to middle school golf teams. At present I have one local private school, Grace Christian Academy. They have 10 players on the team. I conduct 2 hour weekly clinics for the team. I am also working on developing a middle school golf team for Karns Middle School.
3. One day each week I offer a free analysis of your game to golfers at Target Golf. This is allow them so see what is involved in a golf lesson. Using all my technology they can see the video and numbers. No instruction is given. Most sign up for a lesson right away. Average number of participates is 3 teach day.
4. I serve on the Knoxville City Council Golf Committee. The city owns and operates 2 municipal golf courses. My role is to give advise on to better grown rounds and participation. Make sure they are working on those areas. Special focus is for junior participation.
Please share any programming you have made to keep your customers & students engaged:
1. Every first time student receives a hand written note card. I send these about a week after there lesson. Thanking them for taking a lesson and how well they did in the lesson. Point out some points of the lesson.
2. Every lesson receives a recap of the lesson. Showing before and after using video, launch monitor numbers and now 3 D video and number. These are sent to their email and smart phone.
3 All of my students receive a discount to internet lessons. Having 4 locations it allows me to keep up on their progress. I can feedback on what to keep working on.