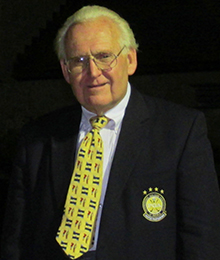 Bob Burns
Bob Burns Golf Learning Center
428 W Edgewood Drive
428 W Edgewood Drive, Appleton, Wisconsin 54913, US
bob@bobburnsgolf.com
Please indicate past awards won/recognitions:
PGA Section Teacher of the Year, GRAA Growth of the Game Teaching Professional, Other (Indicate specific awards in 3-a below)
Other awards won (if provided):
Wisconsin Section PGA 2019 Patriot Award, 2014 Patrick Henry Award by U.S. Military, 2014 Wisconsin National Guard Association Recognition Award, Honorary Member of Military Officers Club of Northeastern Wisconsin, 2007 Wisconsin
Total number of individual lessons given per year:
Male: 500
Female: 400
Junior: 300
Total number of individual clinics given per year:
100
Please indicate any Growth of the Game initiatives your facility/academy has launched over the past year (please give specifics on such programs):
On July 25th, Military Officers Club Veterans Benefit Golf Outing – Honoring Our American Heroes. We assisted the tournament in raising over $100,000 which 100% of the proceeds went to six non-profit specific veterans groups: Camp American Legion, Northeast WI Veterans Treatment Court, Outagamie County Veterans Court Mentor Program, Fox Valley Veterans Council, Sheboygan Area Veterans Court Mentor Program, Helping Out Our American Heroes, and Old Glory Honor Flight.
In September, 2022, VFW Military Golf Event – Assisted in raising $60,000 which 100% of proceeds were donated to a housing project that already has 60 units for homeless veterans.
Please share any programming you have made to keep your customers & students engaged:
– Worked with WI Department of Military Affairs in order to accommodate lessons to wounded veterans.
– Constant Contact list with approximately 6,600 people – sent out e-mails with golf tips, latest technology in new grips, golf instructional tips, new products, etc.
– Shared personal stories on social media, including Facebook, Instagram, and Twitter.
– Made YouTube videos.
– Website to engage new golfers, including families, with golf information, etc.
– Worked with Rawhide – Started by Bart Starr – Worked with troubled teens.