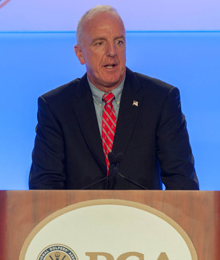 Bob Beach, PGA
Braintree Municipal Golf Course
101 Jefferson Street
Braintree, Massachusetts 02184
(781) 853-7258
bbeach@braintreema.gov
Bob Beach was named the New England PGA Section Teacher of the Year in 2005. Bob was the winner of the PGA of America's Patriot Award in 2013. Most recently, Bob was the winner of the Conrad Rehling Award for contributions to the Special Olympics in 2014. Bob runs a unique junior program at Braintree that is accessible and includes children with special needs. Beach was inducted into the New England PGA Section Hall of Fame in 2014.
Facility Type: Public
Past Awards/Recognitions:
PGA National Patriot Award
PGA National Conrad Rehling Award (Special Olympics)
GRAA Top 50 Growth of the Game Teaching Professional
New England PGA Section Teacher of the Year
2011 and 2012 Golf Digest No. 1 teacher in Massachusetts
2014 New England PGA Hall of Fame Inductee
Approximate number of free "tune-ups" and lessons given per year: 520
Growth of the game initiatives: 
We started SNAG golf to reach younger golfers 7 and under.
We started a PGA Junior League team last season.
We started a five team league with the Special Olympics based on PGA Junior League. We started fall junior golf clinics after school this season.
We started supervised play for junior golfers this season.