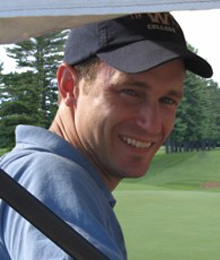 Bill McInerney
MyGolfingGoals Academy at McGolf
150 Bridge Street
Dedham, MA 02026
(781) 844-8100
bill@MyGolfingGoals.com
Bill McInerney has been coaching the game since 1994. His focus is on instructing competitive and non-competitive golfers to excel both on and off the golf course. He was the founder of My Golfing Goals Academy in 2000 and KOHR Golf Academy in 2016. Bill is listed on the Golf Digest Best in State list and has been ranked No. 1 on the New England Golf Monthly Top 25 Best Golf Instructor list multiple times. He was also a former director of golf for Massachusetts Special Olympics and initiated the Learn Golf for Cancer Fundraiser in 2007. Bill's innovative coaching methodologies, positive approach and sincere dedication to his students have made him one of the most sought-after golf coaches in New England and nationwide.
Facility Type: Public
Past awards/recognitions: GRAA Top 50 Growth of the Game Teaching Professional
Technology used in instruction: Trackman
Approximate number of free "tune-ups" and lessons given per year: 20
Growth of the game initiatives:
I have a Golf Academy with 100 students in the program. In the fall we invite non-academy members to participate in the Academy program, free of charge, that want to get involved in the game. Over 95% of these players either join our Academy program or one of our other programs.