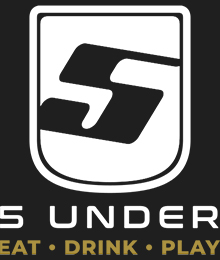 5 Under Golf Center
Toptracer Range/Topgolf Swing Suite
5945 COLLEGE STREET
BEAUMONT, Texas 77707
(409) 291-9988
austin@FIVEUNDERGOLF.COM
5 Under Golf is a state-of-the-art entertainment venue in Beaumont, Texas. We feature high-tech gaming, a full service restaurantand bar, live music, corporate and social event spaces and more! 5 Under Golf is the first facility in the country that offersToptracer Range and Topgolf Swing Suite technology joined together, in one location. The outdoor driving range is two stories with20 bays, powered by Toptracer Range technology. Our indoor Topgolf Swing Suite simulators have a variety of different games,including over 140 golf courses you can choose from to enjoy during your visit. 5 Under Golf is the most exciting place to be inSoutheast Texas, delivering an immersive social experience that is fun for all ages, no matter what the occasion!
STATE OF THE ART INDOOR AND OUTDOOR FACILITY
Toptracer Range bays will enhance your driving range experience with technology that tracks the distance, ball speed, launchangle, height, side deviation, landing angle and hang time of each shot. The technology also provides insightful data to improveon-course performance, while making practice more fun with games like Closest to the Pin and Longest Drive. The Toptracertechnology can even be seen on PGA Tour telecasts.
Indoors, the Topgolf Swing Suite includes four multi-sport full swing simulators with massive screens, comfortable lounge seating,HDTV's, as well as food and beverage service. In each Topgolf Swing Suite simulator, guests can eat, drink, play and socialize.Either facility can be reserved for business and social gatherings, including birthday parties, bachelorette and bachelor parties,viewing parties for big sporting events, and even movie or music awards!
OUR VISION
Our vision at 5 Under is to create an atmosphere that is unique to family, friends, and the community in Southeast Texas. It is aplace where we combined Topgolf technology, a restaurant and bar, entertainment, and a pro shop all under the same roof in anew and modern facility.
We strive to be the best in all aspects for our community, by going above and beyond to ensure everyone that visits 5 Under has afive star experience every time. Gaming, shopping, or dining in, we are your one stop shop, right here in Southeast Texas. At 5 Under, we have merchandise to fit everyone's budget and style, from the official 5 Under gear to popular brands such asAdidas, Southern Tide, Callaway, Titleist, Ping, and Theragun, as well as many other brands. Our retail shop has something foreveryone, whether you're an avid golfer or treating yourself to a fresh new pair of shades. If you can't find what you're looking for,we can custom order the item just for you!