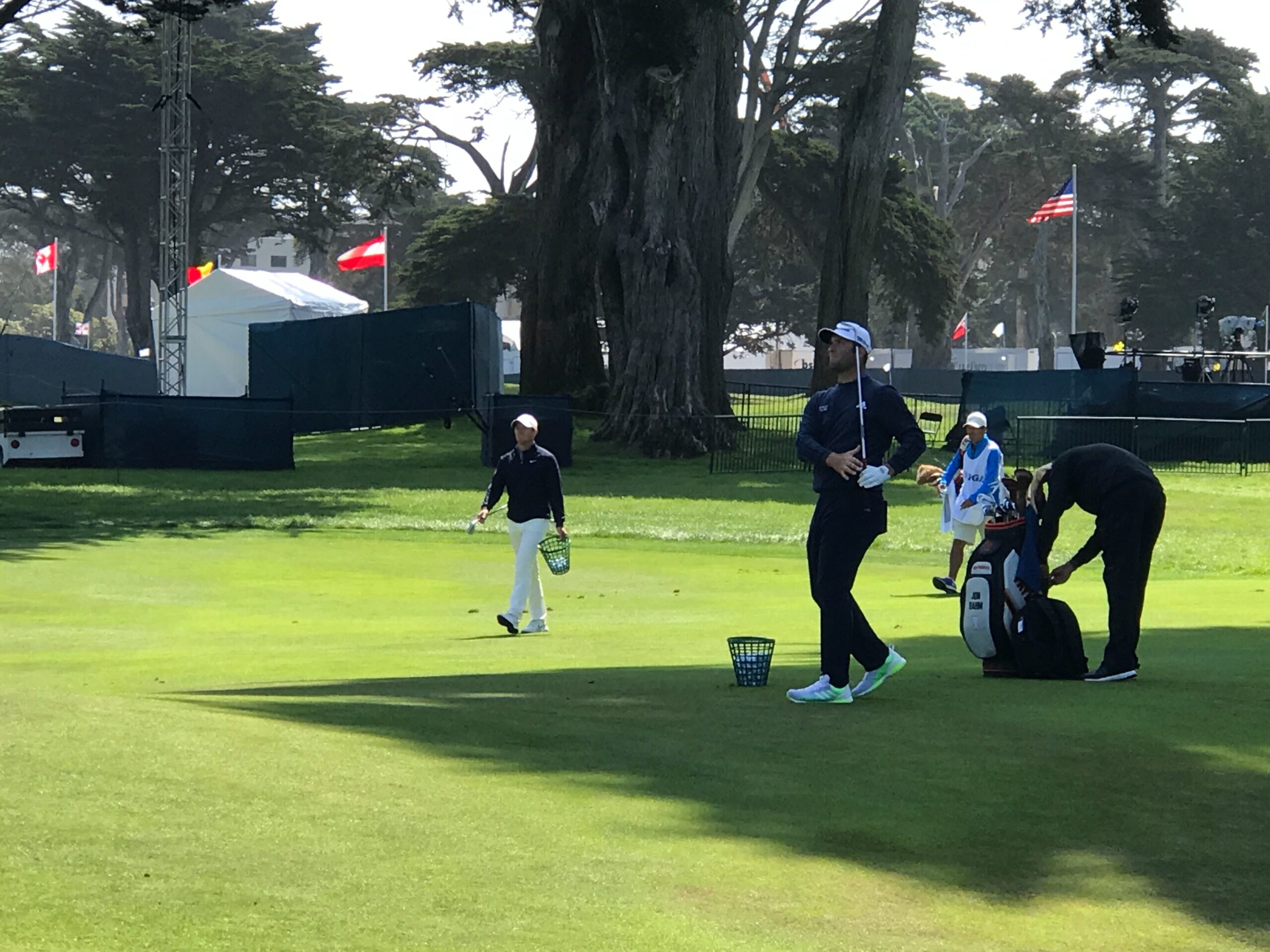 By Garrett Johnston
TPC Harding Park, a gem of a public facility in San Francisco, California, hosted the PGA Championship last week. With no spectators, a reduced number of volunteers, and minimal media on hand, being on-site for the week was a treat for sure. The lucky ones among us had the opportunity to see the best golfers on the planet up close and personal, as they honed their skills on the same practice area that northern California's most dedicated amateurs and Sunday golfers enjoy the other fifty-one weeks per year.
If you watched the coverage on television, you might think the course looks very spread out and perhaps the facility as a whole seems the same. But the course actually sits on a very condensed piece of property and there were many times when players had to wait for play to finish on an adjacent hole before proceeding with their own shots. For example, Tiger Woods looked back and waited for players on the number one green to finish their putts before he hit his tee shot on the 7th tee. That tee box is located roughly forty yards directly behind the 1st green, and Woods was courteous to do this on both Friday and Saturday of the championship.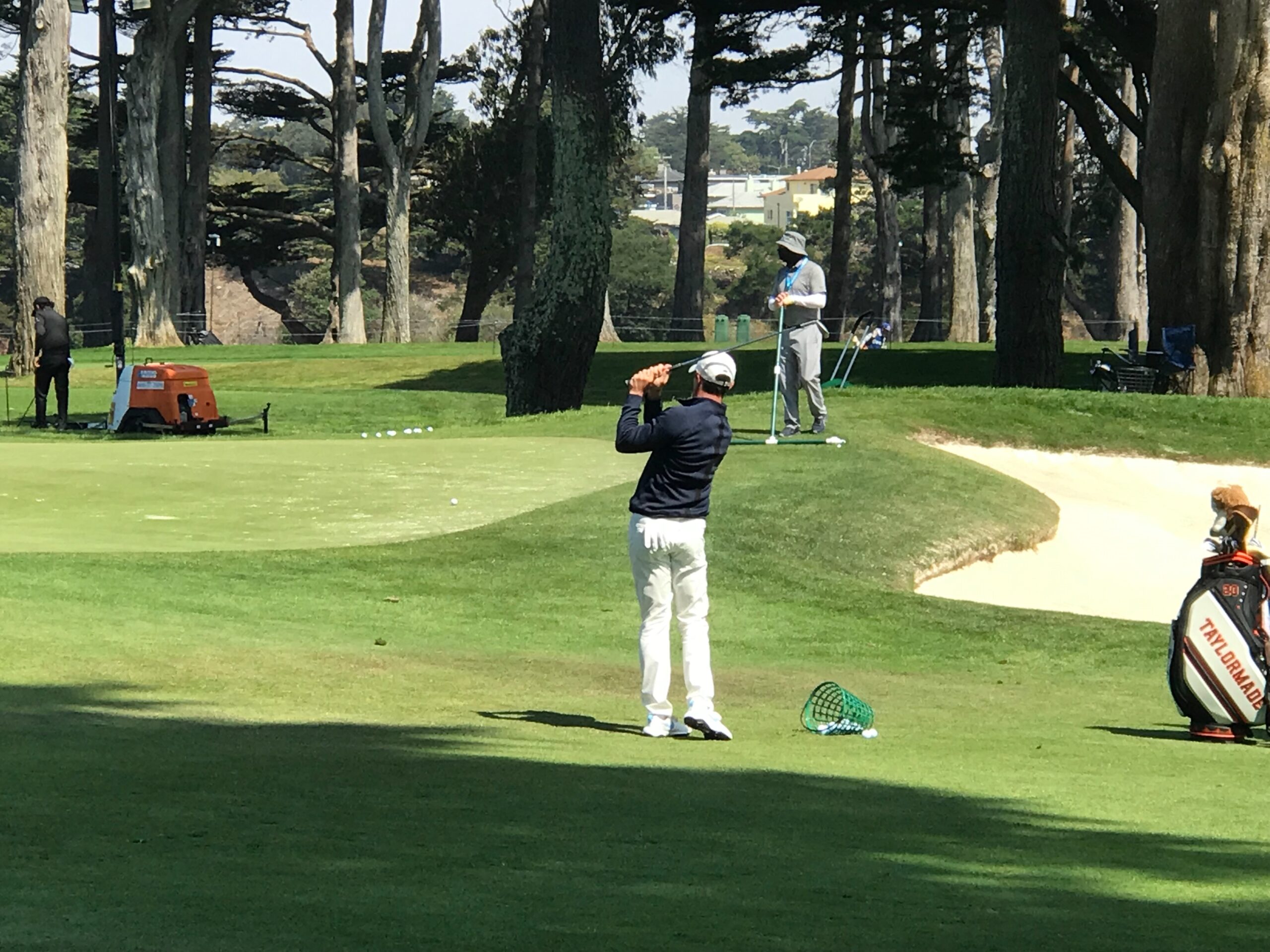 When players finished on the 6th green, they had to walk right in front of the 2nd tee to get to the 7th hole tee box. The big takeaway, and a positive feature from this week, is that the PGA Championship was hosted on a public golf course, a beautiful treasure of San Francisco golf that was designed in 1925, likely with walking players in mind.
As for the practice facility, there were two ranges, like at Baltusrol's PGA Championship in 2016 – an upper and lower about 30 yards apart. Each range had roughly twenty spots for players. Located just right of the 10th tee and fairway, the facility provided some helpful options for these world-class players, even if it was smaller than most major championship practice areas.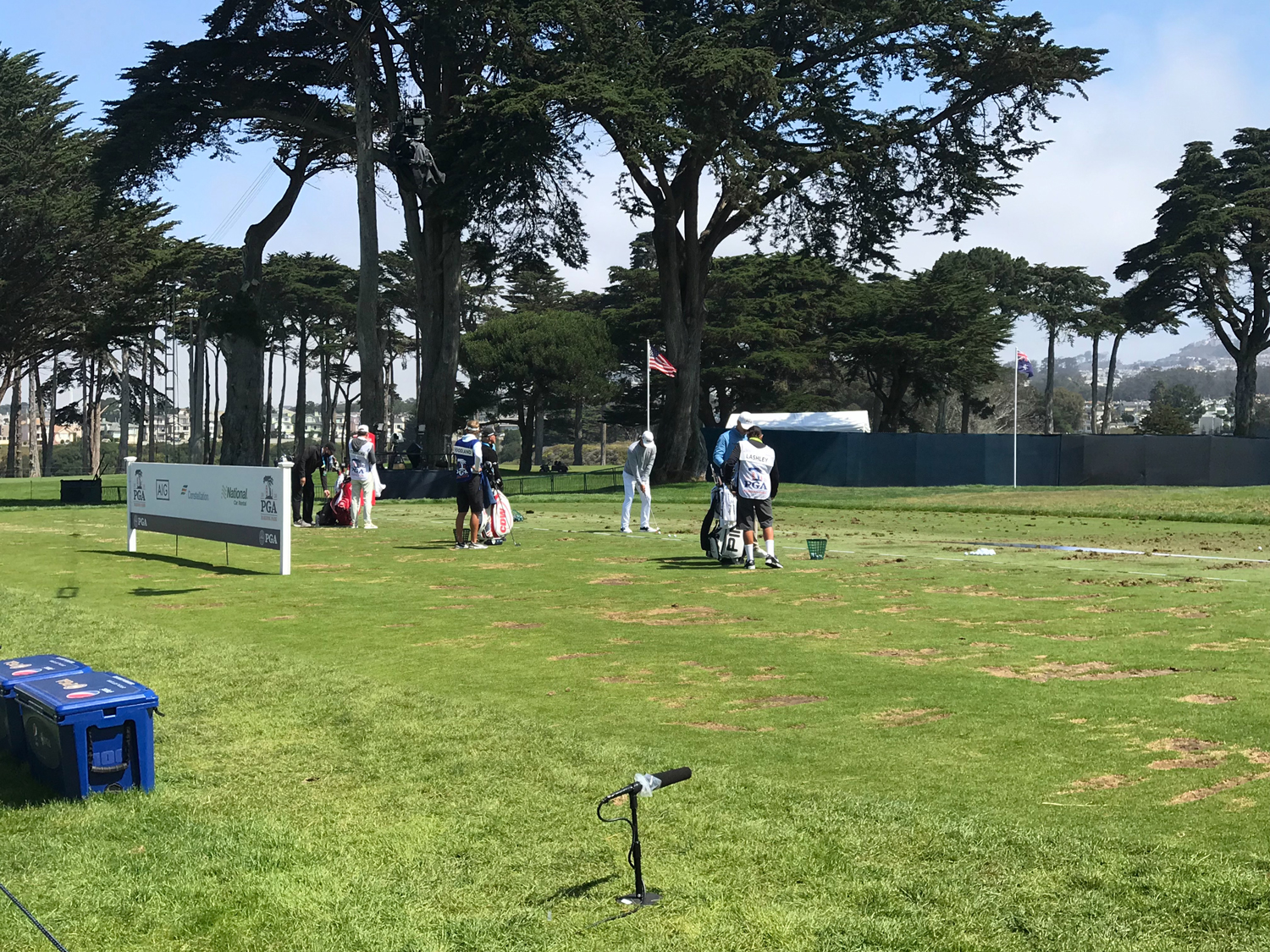 "I like this setup a lot," said Kevin Streelman, a two-time PGA Tour champion. "It's a good layout for the two ranges and it's nice to get a view of the city from the range too. As for the chipping areas and putting green, I thought they were helpful and really simulated conditions and speeds we were about to see each day."
Each player took a different approach to how he utilized the shared chipping and bunker green. Before his third round, Rory McIlroy, who won at Harding Park five years ago in the WGC Match Play event, took a bag of balls and chipped from four different spots on that chipping/bunker green. The red-hot Jon Rahm started with high chips from about 30 yards away and then progressively moved closer as he warmed up.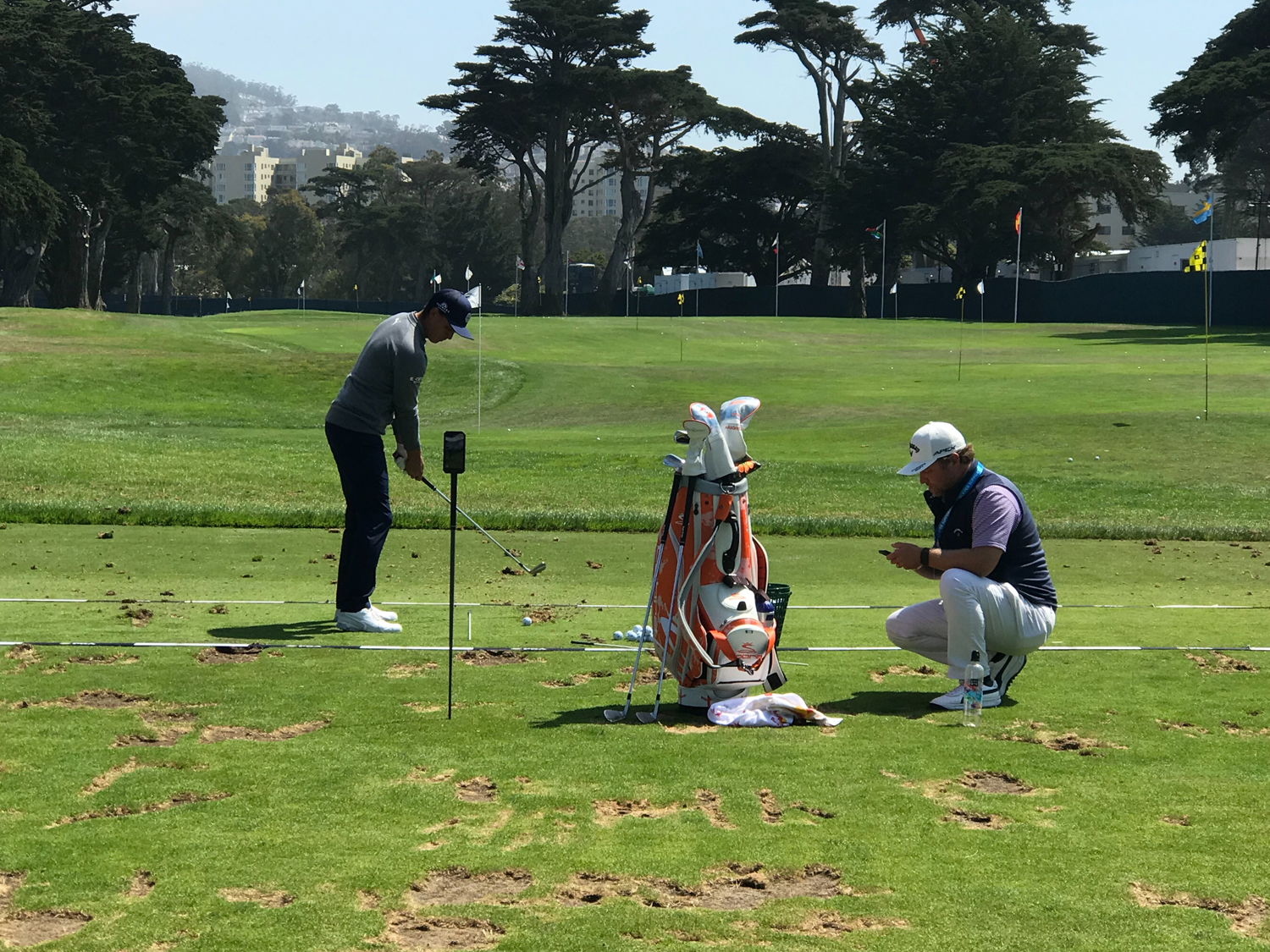 Rickie Fowler, who unfortunately missed the cut by a stroke after he whiffed at a tap-in putt on Friday, was back on the range Saturday with his phone mounted on a stick to grab a few videos of his swing. As a golf fan, the best seat in the house at a major is the driving range simply because of the number of players you see versus when you're out there walking the course. It was a strange sight to see Rickie Fowler by himself with not even volunteers or course staff watching his range session. One writer did walk by and the amiable Fowler joked "hey, you should come hit a shot for me." He was loose and talking about San Francisco Giants baseball.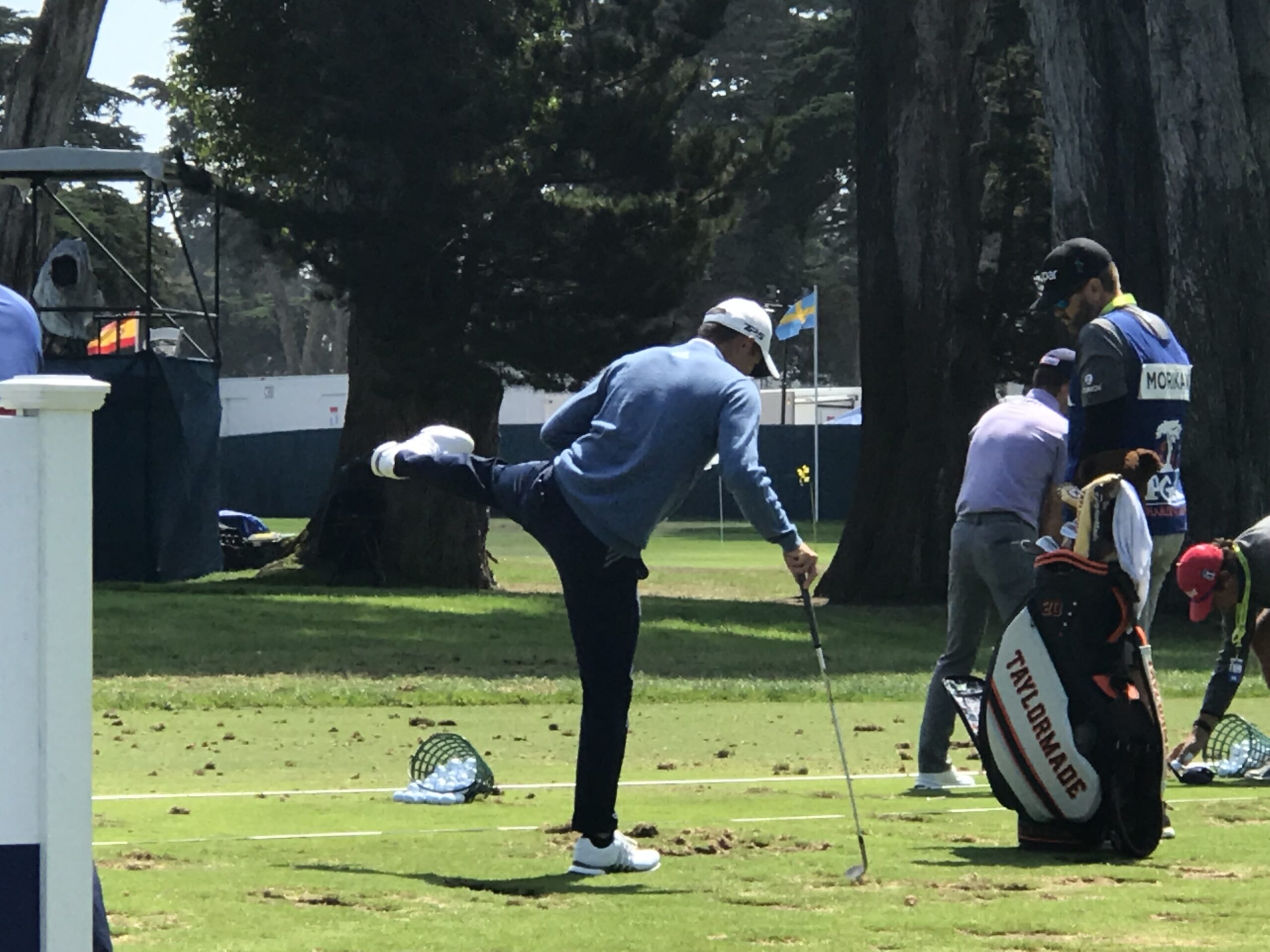 Eventual PGA Champion Collin Morikawa and his caddie, J.J. Jakovac, arrived on the range Saturday to virtually no fanfare – after all, he stood six back with 36 to play. It was interesting to see one of golf's best iron-players, and arguably the strongest player since the June restart, warm his body up on the range. He would lean on a club and kick his leg out both straight ahead and to the side, getting his hips and legs prepared for hitting balls. You can read more about Morikawa's pre-round warmup and his advice for amateur golfers at https://golfrange.org/tour-talk-collin-morikawa/.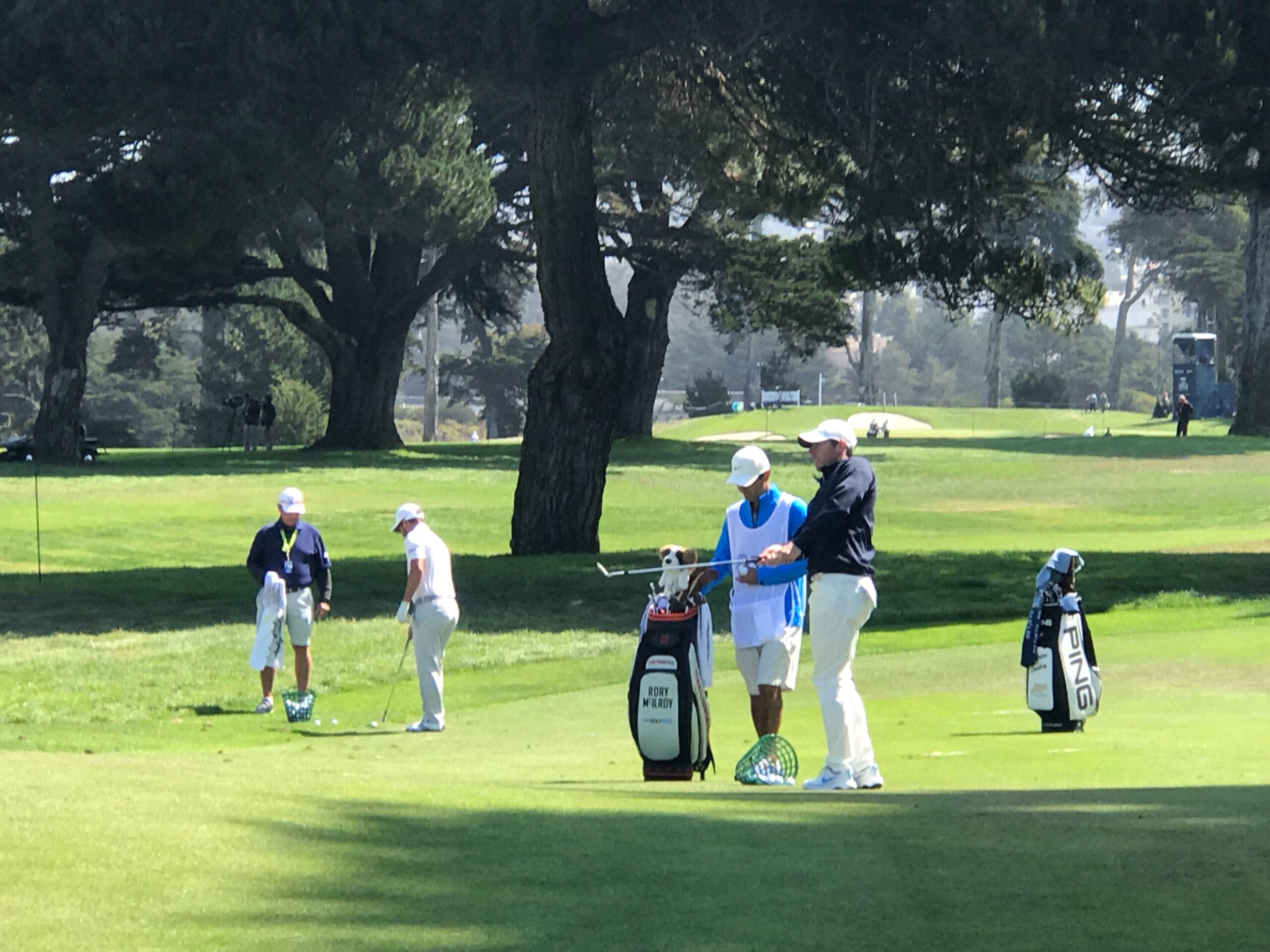 Of course, there were a plethora of cameras from the broadcast on the range, and walking by the practice area when it was full of players like Fowler, McIlroy, Rahm, Morikawa, and others made it feel like a lot was going on in a small, condensed space, a metaphor for Harding Park as a whole.
Lastly, who could forget Haotong Li staying at the course on Friday and practicing as late as six hours after he finished his second round? In the end, even though he didn't win his first major on this course, he can have no regrets about putting in the time and dedication needed to eventually earn that first major championship.