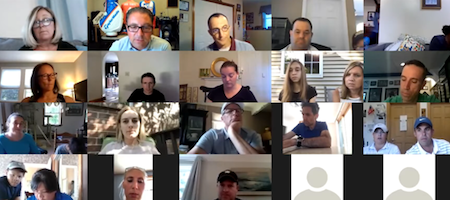 By Vinnie Manginelli, PGA
As we turn the calendar to 2021, many of us are happy to see 2020 come to an end. With the new year upon us, it's a good time to think back upon some of the positive accomplishments and the many successes of Golf Range Association of America (GRAA) Award Winners from facilities across the country, as they stepped up to face the challenges and hurdles of COVID-19 and the coronavirus pandemic.

Whether developing programs to engage golfers through online platforms like Facetime, Zoom and YouTube, or creating safe spaces at their clubs to connect with their students, members and customers in person, the efforts of these professionals to foster the relationships that drive business did not cease due to crisis, but were instead fueled by it.
This month, we celebrate some of these individuals by announcing the 2020 GRAA Award Winners – Top 100 Growth of the Game Teaching Professionals and Elite Status Members (who have been honored more than five times); top 50 golf facilities in the Public, Private and Stand-alone categories; and several award-winning Range Renovations that reflect an investment in their facilities, as well as in their members or customers.
This is the first of a two-part series highlighting the efforts of these individuals. Here, we will focus on the virtual engagement that drove business, creating a vital outlet that would divert golfers' attention from the problems of the day and provide a respite geared around golf, camaraderie and socialization. The second part of the series will highlight efforts made to alter the way business was done in-person to ensure golfers had a safe place to go and a socially-distanced activity in which to take part. When almost everything else was shut down or unavailable, golf was there as a support mechanism, a crutch upon which millions of golfers leaned in search of normalcy in their lives. In addition, many new golfers picked up a club in 2020, as they too searched for an activity that supported required protocols and measures implemented to keep the public healthy and secure. Without the efforts of these golf professionals, golf would not have been an option for many, and the growth of the game that we've seen could not have taken place.

As the cold winter of 2020 turned to the promise of spring, many facilities were shut down, unable to open as the virus started to take hold of various regions of the country. Even those facilities that were open for golf, were not conducting lessons, creating a void in the vital engagement between golf professional and golfer. Mike Malaska, the PGA Director of Instruction at Superstition Mountain Golf & Country Club in Gold Canyon, Arizona, was the 2011 PGA Teacher of the Year and a 2020 GRAA Growth of the Game Teaching Professional – Elite Member Status. Malaska has been increasing his online presence over the past six years, producing thousands of videos for YouTube and his own website. But in 2020, he used Facetime and Zoom to engage with his students in real-time. "In a brief 15-minute session, I am able to watch an ample number of swings and provide constructive feedback that the student can then use after our call to work on the things that need improvement," Malaska highlighted. He knew students were doing their homework between lessons as he saw great progress in many of them, a testament to his knowledge, as well as his ability to motivate. He now teaches students from all over the world using such technology and sees no limit to the growth of online golf instruction because of it.

In Port Washington, New York, James Hong, the Director of Instruction at Harbor Links Golf Course and a 2020 GRAA Growth of the Game Teaching Professional – Elite Member Status, also offered online instruction programs for individuals and groups. He took those efforts further by emailing free video tips to his students to encourage them to practice at home and also offered free swing analysis days on Instagram, Twitter and the V1 Golf app. Through this endeavor, golfers would send in their swing videos for analysis and feedback, a great way to engage with current students and also attract some new ones who may not have considered golf instruction before. Anyone who joined in on the social media engagements was automatically added to the free video tips email as well. "This was the premise for creating a free winter coaching kit through Ikonik Golf for other instructors to use this winter in hopes of helping them maintain communications with students or build new relationships during the offseason and within social distancing protocols."

Scott Robbins is a member of the Quarter Century Club of the PGA of America and a 2020 GRAA Growth of the Game Teaching Professional – Elite Member Status. Robbins, the Program Founder & Director at Eagles Performance Academy in The Colony, Texas, had to adjust how he and his team communicated, taught and interacted with their clientele due to the pandemic. They produced over 100 instructional videos during the first two weeks of his academy's closure last spring, categorizing them by topic and posting them on CoachNow. He and his team also met with their juniors regularly on Zoom to keep them motivated and engaged, understanding that when it came time to return to the course, the efforts dedicated remotely would pay dividends.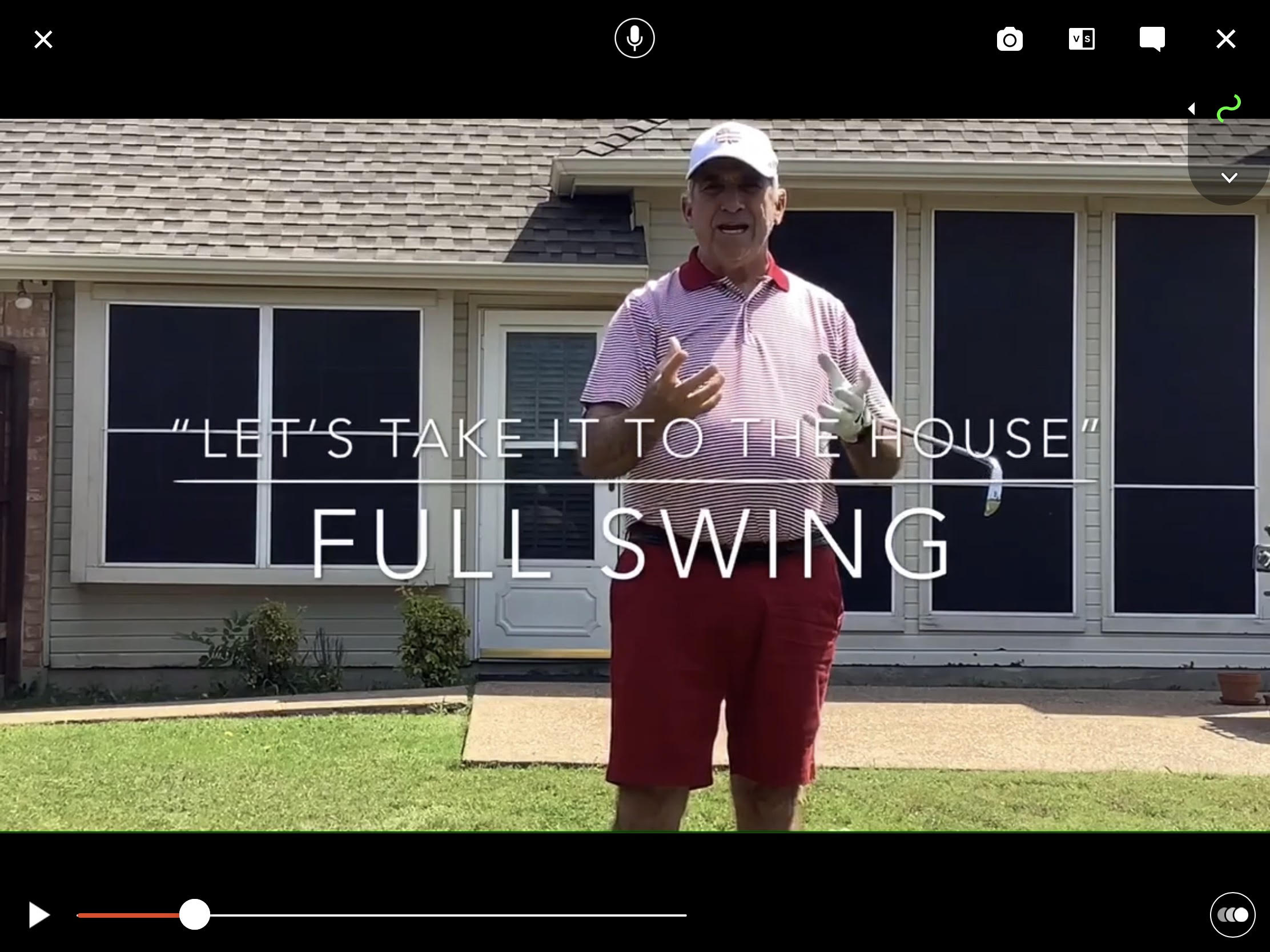 "We engaged Steven Yellin with the Fluid Motion Factor in a conference with our players, enjoyed an interview with Shawn Humphries of Elite Performance Systems, who outlined tournament preparation techniques and we joined a series of calls with Dr. David Cook, a Sports and Performance Psychologist, Speaker and Author." Robbins shared this information in many Zoom calls with his tournament players to help them adapt to pressure, change and stressful environments, preparing them for the tournament play that would resume later in the summer.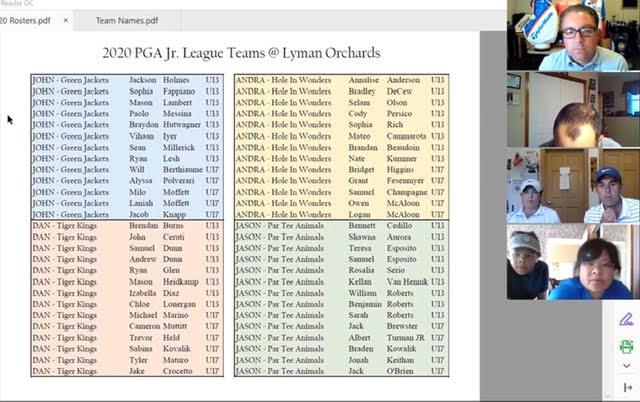 John Dipollina, a GRAA Growth of the Game Teaching Professional and the 2019 Connecticut PGA Section Youth Player Development Award Winner, is the PGA Director of Golf at Lyman Orchards in Middlefield, Connecticut. Dipollina utilized Zoom to engage with parents of his PGA Jr. League players, as well as the participants in his women's clinic program and women's league, the largest in Connecticut.
"During the early weeks of the COVID-19 health crisis, we strove to ensure that all participants, or parents of participants, were fully informed on the latest do's and don'ts, any scheduling changes made necessary by the pandemic closures and what to expect when convening for golf." Dipollina recorded the Zoom sessions so participants could view them as their schedules allowed. With information being disseminated freely, Dipollina increased participation in their programming and solidified himself as a versatile PGA Professional, able to adapt processes and procedures to change with the times.
Finally, Randy Chang was not only a 2020 GRAA Growth of the Game Teaching Professional, but the 2020 Southern California PGA's Teacher of the Year. The PGA Director of Instruction at The Journey at Pechanga in Temecula, California, and founder of Randy Chang Golf Schools provides a holistic approach to coaching, including vital golf fitness focus that goes hand-in-hand with the technical side of instruction. In 2020, Chang worked with acclaimed sportscaster, Jim Hill of CBS Los Angeles to produce golf tip videos that all golfers could relate to and practice at home. This turned into a weekly series on Hill's "Sports Central" show, airing from mid-summer through the Masters Tournament in November. They provide a bevy of great pointers for viewers to implement in their own backyard. "These segments were heavily shared on social media and online," Chang mentioned, adding to the number of golfers helped by his expertise. He also participated in interviews on popular podcasts and shared additional tips with other media outlets. By taking his coaching online and on the air, he was able to engage thousands of golfers in Southern California and get his academy's name out to the masses.
These five individuals, experts in the game of golf, used innovation and creative thinking to engage students, reach members and share their messages with many golfers. Through the uncertainty of 2020, golf professionals answered the call and shared the game of golf with various faces familiar to them, and several new ones, as well. We've chosen five professionals to celebrate here, but the GRAA Awards, posted on the GRAA website, highlight all of our deserving winners – check them out! Through the efforts of these dedicated professionals, the game of golf became the go-to activity when COVID-19 made it difficult to do much of anything else. On Thursday, we'll have the second part of this series on the successes of 2020 and how a different set of our GRAA Award Winners grew the game – this time what they did onsite or in-person to welcome golfers back to the game safely.