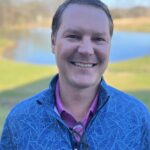 Nick James is the Director of Sales at Tennessee National Golf Course in Knoxville, Tennessee.
Nick James on the importance of building a community you would want to be a part of:
Tennessee National, designed by Greg Norman, opened in 2006 with lots of fanfare and promise. Unfortunately, it fell victim – like so many facilities did – to the financial crisis of 2008, and after being owned by multiple entities over the years it finally ended up in the hands of current co-owners Ken Howell and Jeff Kinney in early 2021. They promised to turn it into the complete facility it was always meant to be, and importantly, more than just a golf course. It truly has become a community. Like my colleague Cody Cable talked about in the previous Best Practice, Toptracer Range and the Sunset Saloon are perfect examples of how so many parts of this community, golfers and non-golfers, come together to enjoy each other's company and to engage in activities we all support like rooting on our beloved University of Tennessee football team. And especially for the golfers who have been here for all 16 years of the facility's existence, all these improvements and enhancements are jaw-dropping. Others are noticing: two teaching professionals from other facilities called Cody recently after hearing the buzz about the facility and our offerings, wanting to learn more. I've gotten the same from land developers and housing architects.

Nick James on the business impact of building a community you would want to be a part of:
This is important and became a gamechanger: Jeff and Ken felt that many properties like ours contain members who want "communities," but instead end up at a facility that has a "golf crowd," a "swimming crowd", etc. Instead Jeff and Ken wanted to make this like a resort – providing high-end amenities and a vacation-like feel but all within the confines of where people make their primary residence. So whether it's gatherings at the marina – the mere fact that you can fish here is a major selling point – Toptracer Range and the Sunset Saloon, our market that offers groceries on certain days so people don't need to leave the property, or other offerings, people feel united. We live here, our fellow employees want to live here, and with Ken and Jeff's lead we've gone above and beyond to make this a community everyone wants to be a part of. As Cody reminds me we've never had more group outings and co-ed golf events here. Referrals have led to a boost in rounds played on the course, range visits, and memberships. THAT has led to an increase in housing lots purchased. Our goal in year one was to sell 80-90 lots. We sold over 300. Around three-quarters of all new members bought lots. Through those memberships – and the unique amenities the facility provides – members have yearned to buy property and become part of the community. The new owners pumped lots of money into marketing, advertising, and refreshing the offerings here every 4-6 months. 80 percent of residents find value in the amenities we have. That leads to people coming together instead of going into individual silos. Happy members = happy homeowners. I'll sign up for that formula any day.

If you would like to email the author of this Best Practice, please email njames@tennesseenational.com.