XXIO® – U.S.A. is pleased to announce the XXIO Forged irons, which combine forgiveness and a soft iron forging. The new clubs will be released in stores on March 15, 2015.
MAP prices for graphite shaft clubs are $1,199.99 for the 6-club set (#5-9, PW), prices for the steel shaft clubs are $959.99 for the 6-club set (#5-9, PW). Individual clubs (#4, AW, SW) are $200.00 each for graphite shafts and $160.00 for steel shafts.
The New XXIO Forged irons deliver painstaking attention to both feel and XXIO's distinctive forgiveness. In addition to the long flight distance produced by Dunlop Sports' original Dual Speed Technology (developed to achieve higher head speed and higher ball speed for longer flight distance).  These irons are engineered to match golfers' discerning tastes for attributes such as a soft feel at impact, head shape, and impact sound.
Key Features of the New XXIO Forged Irons
Increased repulsion performance for more distance (higher ball speed)
Enlarging the thin cavity behind the face at both the toe and heel expands the repulsion area, enhancing impact when the ball is struck lower on the face.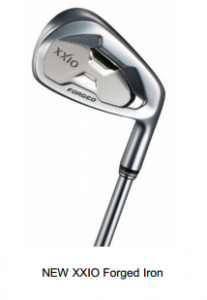 Newly developed shaft for higher head speeds
The newly developed MX-5000 graphite shaft and N.S. PRO 940GH DST steel shaft are lightweight shafts with the center of gravity moved closer to the grip, thereby increasing club head speed and distance through DST.
Distance is improved by utilizing a lightweight shaft with a CG closer to the grip. In addition, the N.S. PRO 940GH DST steel shaft employs a Natural Step Flow design which enables the performance tuning without changing the step positions. The design of the shaft tips for the long irons (#4~#6) have been made softer to increase launch angle for more longer ball flight, while the shaft tips for the short irons (#9, PW) have been stiffened to reduce flexibility, creating greater accuracy, with same look in all clubs.
Both iron shafts utilize Dual Speed Technology. DST lowers the Swing MOI – expressed as the smoothness of swinging with the shoulder as the center of rotation. The larger the value, the more difficult the club is to swing; the smaller the value, the easier it is to swing.
Pursuing the feel that mid-level to advanced golfers prefer
Improvements to the cavity suppress sound while maintaining the soft feel at impact, which forged iron golfers have grown accustomed to.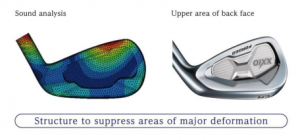 New XXIO Forged Irons—Overview
Specifications
Head material
Face: HT1770 steel
Body: S25C soft iron
Construction
Forged
Finish
Mirror + satin + bead-shot finish
Shaft

Grip
XXIO Forged original full rubber grip (with logo)
Specifications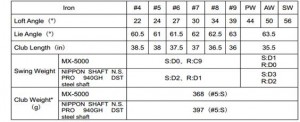 * Subject to change All clubs MADE IN JAPAN
For additional information on Srixon, Cleveland Golf, and XXIO products or their staff players, please visit: www.srixon.com, www.clevelandgolf.com, and www.xxiousa.com.
ABOUT Cleveland® Golf, Srixon® and XXIO®:
Based in Huntington Beach, CA, Cleveland® Golf, Srixon®, and XXIO® are all part of the DUNLOP SPORTS CO. LTD family and each brand enjoys a strong presence on competitive tours worldwide. Their professional staffs include players such asGraeme McDowell, Keegan Bradley, Hideki Matsuyama, Inbee Park, as well as many others. Cleveland® Golf, founded in 1979, is a leading equipment manufacturer specializing in short game technologies and solutions that benefit all golfers.  Srixon®, with more than 80 years of golf ball manufacturing experience, is committed to producing the highest quality, technically innovative golf balls which offer maximum performance to golfers of all levels of ability. XXIO®, with their long standing tradition of premium golf clubs in Japan, brings the #1 golf brand in Japan to America. Cleveland® Golf, Srixon®, and XXIO® remain steadfastly committed to providing "Tour proven, premium golf equipment to passionate golfers seeking to improve their performance while enhancing their experience playing the game of golf." For more information, please contact Keith Patterson, PR/Media Relations Manager (714.889.5808) or visit us online at www.clevelandgolf.com, www.srixon.com,and www.xxiousa.com
Keith Patterson
Media & Public Relations Manager
Cleveland Golf / Srixon / XXIO
5601 Skylab Rd.
Huntington Beach, CA  92647
Corporate: 714.889.1300
Direct:  714.889.5808
Toll Free:  800.999.6263 Ext. 5808
Fax:  714.889.5890
KeithPatterson@ClevelandGolf.com
Click Here to View the 2015 Cleveland Golf/Srixon Product Catalogs!
This communication is intended for use only by the individual(s) to whom it is addressed, and should not be read by, or delivered to, any other person.  The communication may contain privileged or confidential information.   If you have received this communication in error, please notify the sender immediately at keithpatterson@clevelandgolf.com.  We thank you in advance for your cooperation and assistance.