BY: TONY L. STARKS
Golf has a rich history when it comes to child prodigies. Tiger Woods first put his swing ond is play as a 2-year-old in a TV appearance on "The Mike Douglas Show." Rory McIlroy would follow suit, chipping balls into a washing machine on "TheKellyShow"on Irish TV at the ripe old age of 9. And, of course, there's Michelle Wie, who found herself competing against men on the PGA Tour as a teenager.
All three went on to illustrious careers in professional golf. But before reaching the big time, they each had coaches and instructors who shaped the foundation of their golfing success. Woods worked with Rudy Duran from ages 4-10; McIlroy started with Michael Bannon when he was 7 years old; and Casey Nakama taught a 9-year-old Wie the game in Hawaii.
Today, there is a new crop of talented junior golfers who dream of becoming the next Woods, McIlroy or Wie.While the iron-courses kills may be similar in some regards, one constant is the invaluable role that coaches play in the development of their golf games and characters.
Teaching the Right Kind of Competition
Juniors who play the game at a high level are, in many ways, no different than professional golfers. They strive on competition. They love to test their skills against the best and win. "Every student that comes to me is already competitive, that's how they got as good as they are," says Don Law, (pictured, center)the 2012 PGA Junior Leader of the Year and director of instruction at Don Law Golf Academy in south Florida. "Where I interject is making sure it's the right kind of competitiveness. We have to create a positive environment and show these kids that the best way to compete is not through getting angry or emotionally out of control or thinking you have to win all the time. Our job as teachers is to provide the right kind of challenges." To make sure that things don't get stale and that his students are continually challenged, Law conducts regular short game tests where he tasks golfers to get up and down from various locations and tracks the results. They're trying to beat their scores from the previous week and are inspired because they're competing against themselves.
When it comes to creating a competitive environment, Derek Uyeda, the PGA teaching professional at The Grand Golf Club in Del Mar, California takes a special approach with some of his more advanced juniors. Uyeda also coaches PGA Tour golfer Charley Hoffman, and when his schedule allows, Hoffman invites some of Uyeda's juniors to practice and play alongside him. "Charley has been a great mentor to a lot of my kids," say Uyeda. "They'll even have matches out on the course sometimes. That's so helpful for preparing these kids to compete. When they're out playing in a junior tournament they're not worried or fearful of the competition because they've already teed it up alongside a PGA Tour golfer."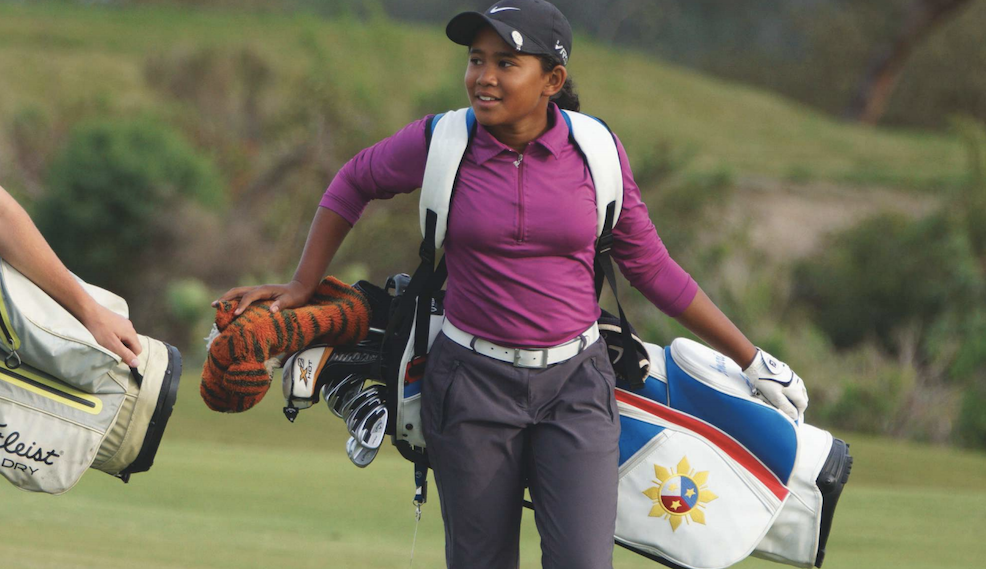 Establishing Goals
Cameron McCormick, the 2015 PGA Teacher of the Year, is well known for being Jordan Spieth's coach. The duo has been working together since Spieth was 12, and McCormick continues to have a stable of very talented young golfers.
The starting point for McCormick is getting his students to embrace what he calls the "player-owned journey." Essentially, he requires them to state their personal goals related to the game of golf and he will help them create a roadmap for making those goals a reality.
"When a player sits in front of me, at say age 12 or 13, and expresses that they want to play college golf, there's an assessment that takes place. I try to understand their commitment level; is their motivation level the same as what they verbalize?" describes McCormick. "I will embrace the goals the person expresses, while at the same time plotting a pathway towards achieving the goal and holding the player accountable to what they expressed."
Consistent communication is key when implementing this goal-oriented strategy, because as the player progresses, it's very likely that their goals will evolve. "I might have a conversation with an athlete saying, 'Hey, if your goals are changing, tell me and I'll tailor my coaching to match your changed goal orientation,'" says McCormick. "It begins and ends with the player's goals, but those goals change, and as such, the coaching strategy changes."
Greg Casagranda, a respected Southern California golf instructor who is based at The Hodges Golf Improvement Center outside of San Diego, has helped numerous students earn division I golf scholarships – including Stanford sophomore Franklin Huang and UCLA sophomore Brandon Mai. He takes a similar goal-oriented approach with his students. "I have my kids write down their goals. It keeps them accountable," says Casagranda, a PGA member.
"I like to help them get to their goals, but first I have to know what they want for themselves out of the game. Not what anyone else wants from them – not what their parents want, or what I want as their coach. I'll help them obtain whatever they say they want to do, but they have to show me that they are motivated and willing to put in the time and effort to reach their goals."
Casagranda recognizes 13-year-old Shane Ffrench as one of his most motivated students. Currently, Ffrench is ranked inside the top 1,000 junior boys in the world and helped lead the Southern California Team to a PGA Junior League Championship in 2015. Joining him on that team was Krando Nishiba, who sank the winning putt and earned a SportsCenter Top 10 Play. They both practice and play at The Grand Golf Club.
"The first thing I can say about Shane is he's very motivated. That's something I can encourage, but he brought that to every lesson and every practice session on his own," adds Casagranda. "He's one of the hardest workers I have, so it's not a surprise to see him have success. I teach a lot of kids, a lot of good kids, and it does seem like the ones who are motivated and want to work hard separate themselves out in the long run."
In football and basketball, you can't teach size, but in golf you can't teach work ethic. Many times it's the intangibles that separate great junior golfers from the good ones. As instructors, it's important to cultivate those intangibles and encourage the player; you never know how far those traits can take them.
"Reflecting on Jordan's experience from age 12 when I met him all the way until today, every time he has stepped up the performance ladder to a higher level, he as always met the challenge," says McCormick, referring to the two-time major champion. "When I first observed it, he would play against players who were perceived as way better than him. He would raise his level of performance, and I started to reinforce that. I can remember telling him this when he was 13 years old. I said 'Jordan you're a player who when the task is greater than what you previously demonstrated, you raise your level of performance. You have this transcendent ability.' I didn't use that term when he was 13, but that's the term I use right now."
Watch Juniors' On-Course Habits
Don Law tries to go to as many of his juniors' tournaments as possible. Firstly, he wants to be there to show support and provide encouragement, but he's also there to research. "I make sure I get a bird's eye view of their on-course tendencies, so I really know where they need the most help," says Law. "Watching and monitoring, seeing how they handle themselves. What are their routines, how disciplined are they? These are things you'll only learn from watching them on the golf course."
John Battaglia, the lead instructor at PGA West in La Quinta, California, echoes those sentiments. "Watching juniors compete dictates what we work on in our lessons," says Battaglia. "It allows me to really see what they need to do better, not just what they think they need to improve with."
One of Battaglia's most talented juniors is Amari Avery, who at 326 on the AGJA's list of junior girls is the highest ranked 12-year-old in the world. She has impressive distance off the tee and is a solid ball striker, things Battaglia has noticed while watching her during tournament play. He has since restructured their practice range time.
"In the first two years of our time together, we spent a lot of time on the range hitting golf balls and grooming her full swing," says Battaglia, who has worked with Avery a total of four years. "Now that I've been able to watch her play quite a bit, we're in the ballpark of 70 percent short game and 30 percent long game. Part of this is because her ball striking pretty unbelievable. We try to spend more time improving her weaknesses and maintaining her strengths. There's a little bit of adapting involved when you develop lesson plans for competitive kids, and to adapt you have to see what's happening during tournament rounds."
Embrace Technology
Today's junior golfers have grown up in the smart phone era and are more tech-savvy than most adults. In fact, a 2015 CNN report says that teens have a whopping nine hours of daily screen time with mobile devices accounting for 46 percent of that time. Tweens (ages 8-12) average six hours of daily screen time with mobile devices accounting for 41 percent of usage.
It's imperative to have your students' full attention while you're on the range or the golf course, but you also have to stay connected when they're not right in front of you. To do that, you have to meet them where they're at – and they're on their phones. McCormick uses a digital platform called Edufii to accomplish that. The mobile coaching app allows him to upload videos, comments and digital links directly to his students. The growing application has been embraced by many sports outside of golf, as well, including youth football and even several Olympic coaches.
"One of the cool things about Edufii is that it can house different types of media," says Spencer Dennis, the founder and president of Edufii. "So if you like different video analysis tools you can put them in here. If you like to use TrackMan, you can put it in. If you like to use stat trackers like Arccos, you can put it in. If you want to add a text note, you can do that too. That's what makes us unique. You have a communication board with your student where you can go back and review anything you've worked on together."
Launch monitors are technology more traditionally rooted in the golf industry. But in many cases, golf instructors do not openly discuss the various data points the devices provide, in order to avoid the dreaded "paralysis by analysis." However, Casagranda recommends sharing the data with junior golfers and discussing how the technology can benefit them. "I give kids a lot of credit when it comes to launch monitor technology," he says. "You show them the numbers, tell them what you're looking for and they go to work trying to produce a swing that gets them to those desired numbers. It's like a videogame to them, almost. "You have to tell them where to focus, though. It needs to be something like attack angle, path or face angle. You're not showing them 20 different parameters all at once. It needs to be something fundamental."
Tour or Nothing
There are a small percentage of very talented juniors whose lives are dedicated to the game at a young age. For them, it's as if playing on tour is the only option. The aforementioned Amari Avery is one of them. She's home schooled, hyper-focused on golf and has dreams of joining the LPGA Tour by the time she turns 18. She's already had some close calls in qualifiers for the Women's U.S. Open and Women's U.S. Amateur. Those LPGA Tour dreams, while shared by her parents, are mainly fueled by Amari's own expectations and desire for success. "One of things we work on the most is getting Amari to play golf without those pressures. Getting her in a place where she's just trying to play good golf and have fun," describes Battaglia, her coach. "There are a lot of very high expectations put on her. In trying to achieve those, there's a process we have to go through and trying to have some small successes on the way is a really big deal for us – more so than winning every tournament.
"The struggle is not with her talent or skill, that's all there and more. It's managing emotions, expectations and trying to think like an adult when you're 12 years old," describes Battaglia. "She's a unique person. There aren't very many juniors who are trying to learn those aspects of the game. I know she's only 12, but it's almost like she's not a junior. She's more like a college student in how she's trying to play and manage her game. And also how she lives her life, with home schooling while going out to practice and play virtually every day."
Create a Support System and Develop Character
Interscholastic sports associations across the country embrace a coaching model called the Athletic Triangle (pictured below)– with the student-athlete at the pinnacle, while coaches and parents providing equal support. The core of this model is not athletic excellence, but instead character development and the assurance that students have a support system in place to achieve success academically, socially and athletically. Unknowingly, many of the best junior golf coaches have adopted this holistic approach. "You are not only a coach. You are a psychologist, you're a behavioral scientist, you're a parent, you're a mentor to a person all in the space of one hour," says McCormick.
"We're providing a support system for these kids at a pivotal part of their lives as they transition from perhaps high school golf to college golf, or junior golf to high school golf," adds Uyeda. "First and foremost I want to create an atmosphere that helps these kids develop into good people. When you ask anyone about one of my students, I want the first thing they say to be 'What a good kid, and a genuinely nice person.' That's a better testament to someone's coaching skills than they're golf game."