Following knee replacement surgery, tour veteran Fred Funk had to adjust his preparation routine
Fred Funk has been playing professional golf for 35 years. He has eight PGA Tour victories under his belt, with the most prestigious coming at the 2005 Players Championship. After he turned 50, he tacked on nine more wins at the PGA Tour Champions level, three of which were majors.
Since the "Tiger-era," as Funk refers to it, younger players are working out more and many look like Olympic swimmers rather than golfers. "Dedication to fitness not only helps on-course performance, but also helps prevent injuries caused by overuse," stresses Funk. "So many senior golfers struggle with those type of injuries. For them, practice and preparation extends beyond the range."
In 2009, just months after winning the U.S. Senior Open at Crooked Stick Golf Club in Indianapolis, Funk underwent knee replacement surgery. Deciding to go under the knife directly after winning a second major championship seems like it would be a tough decision, but Funk does not see it that way.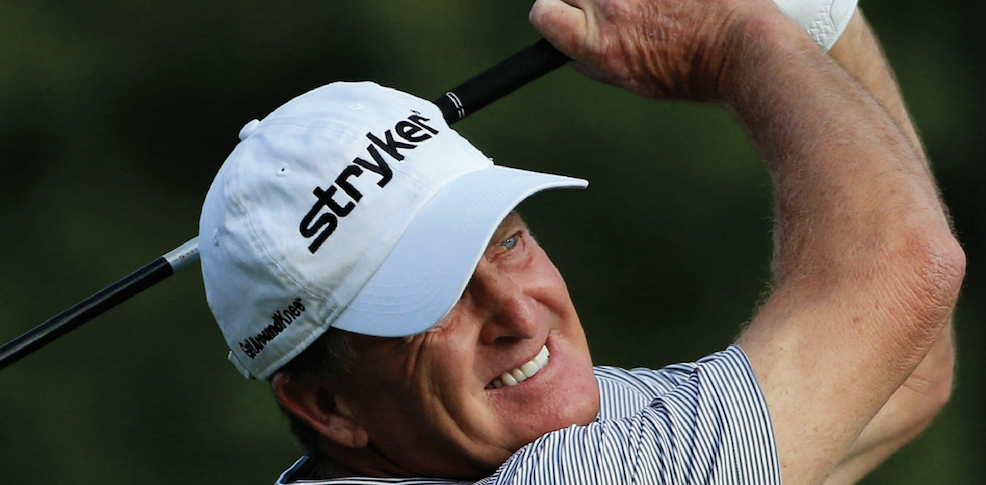 "The decision was not tough to make at all. I was really struggling with the knee as the year went along and I could not walk without a limp," Funk recalls. "To make matters worse, playing from uneven lies at Crooked Stick created a lot of pain, and by September (three weeks after the tournament) my body could not handle it anymore and I started to make compensations for the pain in my golf swing."
Rehab was difficult. The first week was the hardest for Funk, but he knew the more he pushed through the pain the sooner he could get back to doing what he loved. After completing rehab, his focus shifted to increasing his range of motion and flexibility. Four weeks after the surgery, Funk was back on the practice range hitting balls. Another nine weeks after that, he was back competing on tour.
"I was able to play competitively pretty quickly after the surgery, but my job is to play golf, so I was able to rehab four to six hours per day," explains Funk. "Plus, using the Stryker knee as the replacement really helped as it truly mimics the knee that God gave you."
Stryker, a company that develops medical equipment and devices, designed Funk's new knee to mimic the body's naturally occurring motion. Even before the injury, Funk maintained the same practice regimen as a senior that he used on the PGA Tour But what did change is his workout routine.
"I practice exactly the same as I did on the PGA Tour; the tournaments are the same, but the guys are just a little younger (on the PGA Tour)," says Funk. "However, I do not push as hard as I used to when it comes to working out. I use lighter weights and focus more on my range of motion. It seems like I'm using more tubes and cables than anything else."
Even at the age of 60, Funk continues the same daily nine-hour practice routine that earned him eight PGA Tour wins: Warming up on the range, dedicated chipping and pitching, variable putting, playing a round of golf, then back to the range to work on any issues identified during the day. All of that before before retiring to the gym or fitness trucks to work on flexibility and range of motion.
According to Funk, PGA Professionals and golf instructors who exhibit dedication to their own game have a greater chance of motivating their students to work hard – young, old or otherwise. It proved to be a successful strategy when he working as the men's golf coach at the University of Maryland in the 1980s. "I outworked all the young men I recruited in hopes it would motivate them to practice harder on their own games," says Funk. "I taught them that work ethic makes the difference, and I think it went a long way."