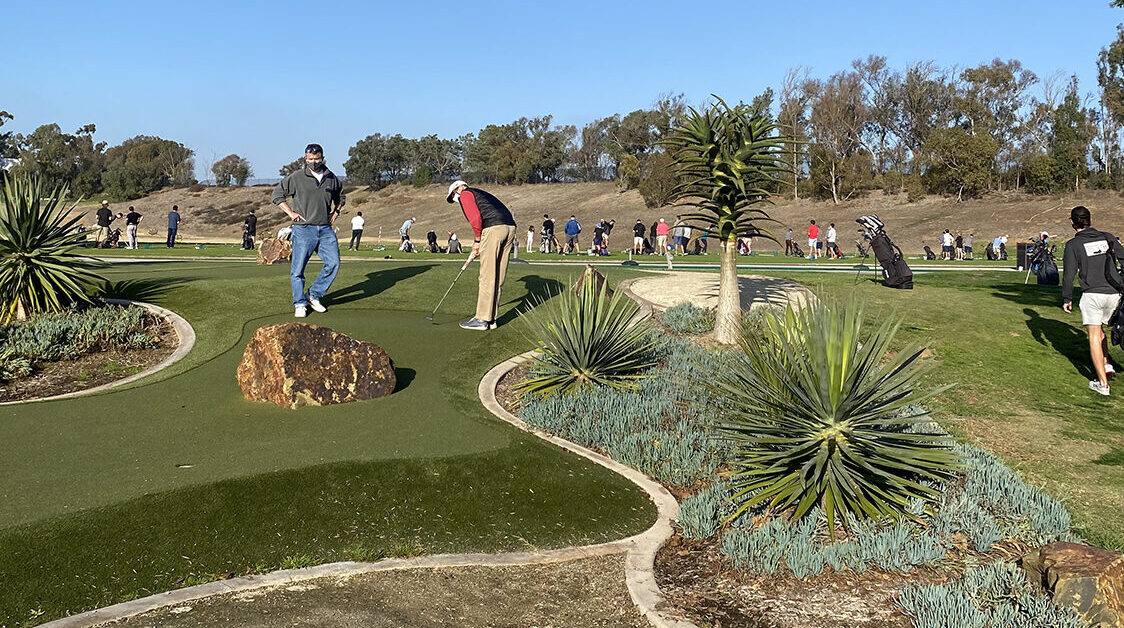 By Heidi Richardson, PGA
It's no secret that there's been a great surge of new and returning golfers to the game over the past 12 months, as golf has become an outlet for many people and a source of happiness and respite from the COVID-19 pandemic.
As the owner of a bustling golf school in Southern California, I am excited to welcome every player, and I'm eager to guide them as they begin (or continue) their journey in golf. After all, instruction and coaching are key aspects of the onboarding process that leads to golfer retention. Over the years, I have realized that where you teach your students is often as important as what you teach them. At Encinitas Ranch Golf Course, we have an extensive instruction center that offers spectacular ocean views, a large short game area and a full-swing practice range.
New golfers often have great success starting with the shorter strokes of putting and chipping, as they begin to build the core fundamentals of a full swing, before heading to the range and pulling out a driver. With commitment, patience and hard work on the small swings initially, their very first drive might be a bomb down the middle of the fairway!
Our short game area is unique – it has one expansive green with two sections: one focused on bunker, pitching and lob shots, and the other a larger, more level area perfect for lower chip and run shots. I teach new players how to chip using everything from their wedges, mid irons, and even their hybrids when the shot calls for it. Having this diversity in their repertoire will make them better golfers when faced with the variety of situations that a round of golf can present. This area is also where we cover putting.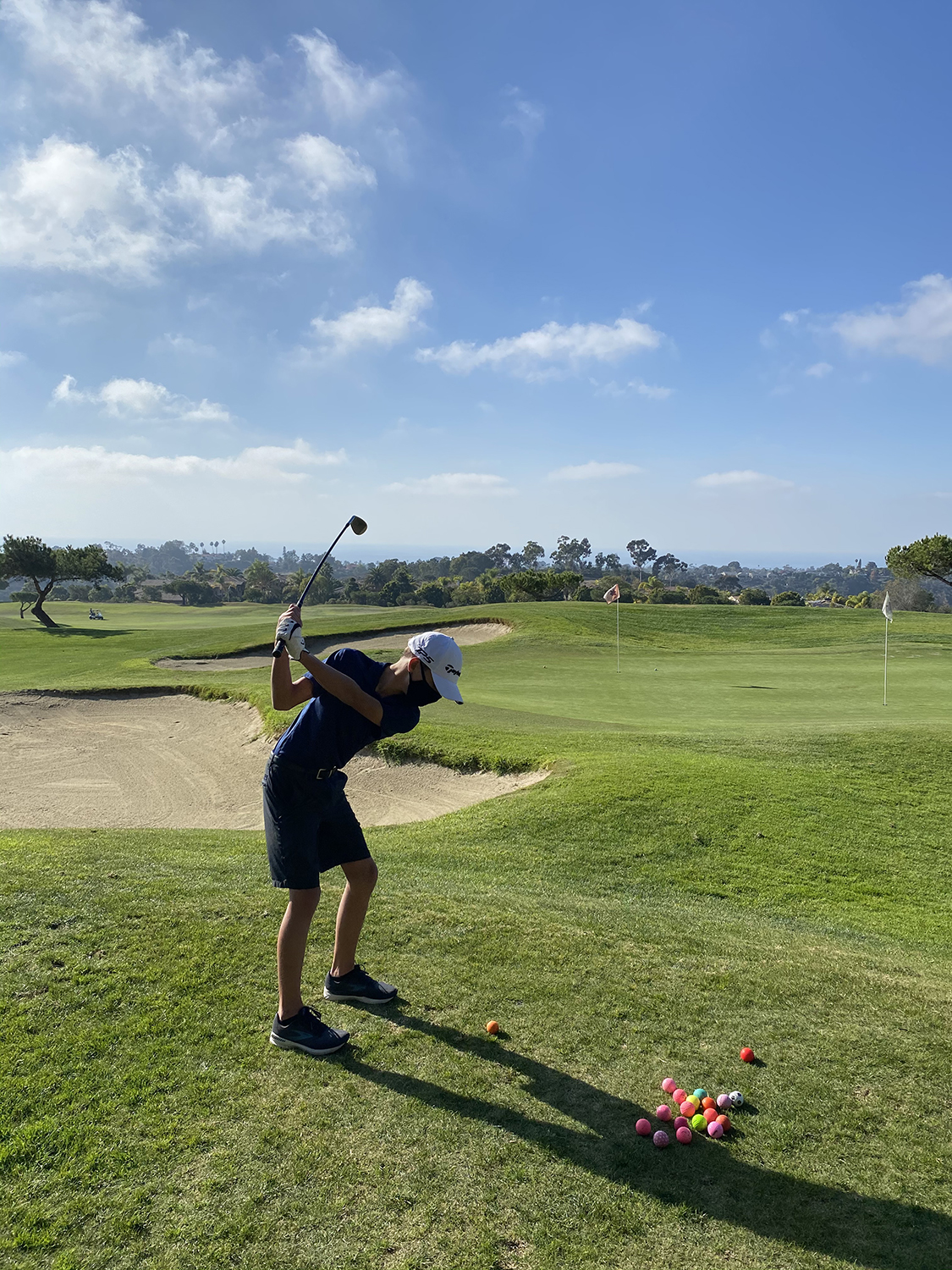 Put a putter in a beginner golfer's hands and show them how to get the ball in the hole, listening for the sound as it drops into the cup – they will be hooked. This success will provide positive feedback and boost their confidence as they take on the many topics there are to learn in golf.
We focus on putting exercises and training drills to reinforce the technical aspects of putting instruction. Our practice green has six regular cups, two smaller cups and one oversized cup. The mini cups are a favorite! If a golfer can sink a ball into that mini cup, the standard cups seem easy. On the other hand, the oversized cup offers an easier target, allowing for a higher number of putts made and a greater feeling of accomplishment. This type of practice is usually not possible at a busy facility with limited resources for practice and instruction, making a center like ours a great opportunity for new golfers and long-time clients.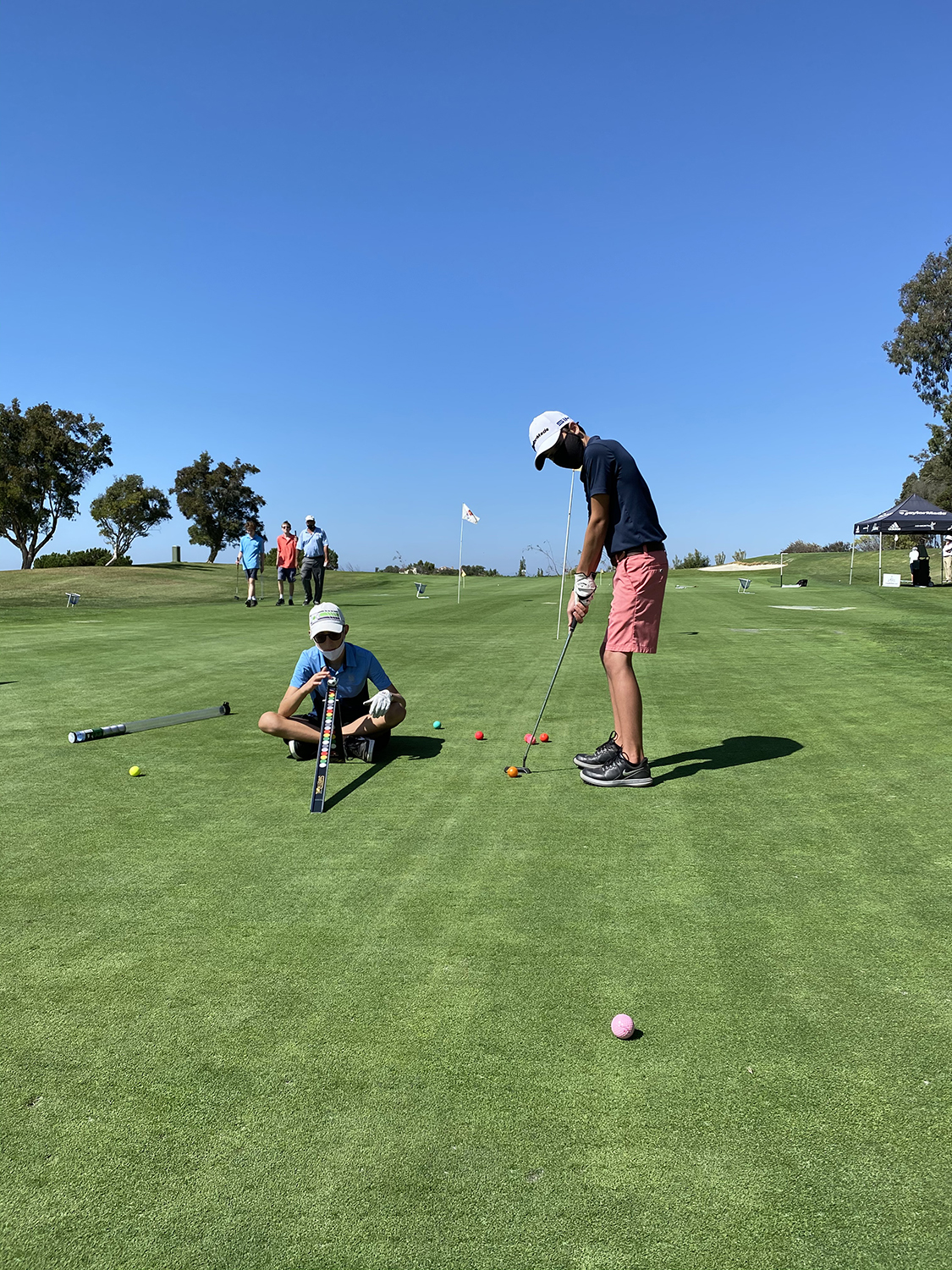 The large pitching portion of the green is surrounded by a variety of elevation and slopes, two bunkers and an area that allows pitch shots of up to 40 yards. This again gives instructors and students the critical space to safely train and practice. Hitting many balls repetitively and implementing new chipping and pitching skills is a proven path to long-term improvement and ultimately, lower scores.
The Encinitas Ranch Golf Course full swing instruction center has approximately 20 hitting stations on an elevated plateau looking west towards the ocean. We have eight target greens at distances ranging from 50-350 yards, as well as several target baskets, windmills and large target yardage signs. Other than during occasional maintenance needs, our lessons are conducted on natural grass, another benefit to our students.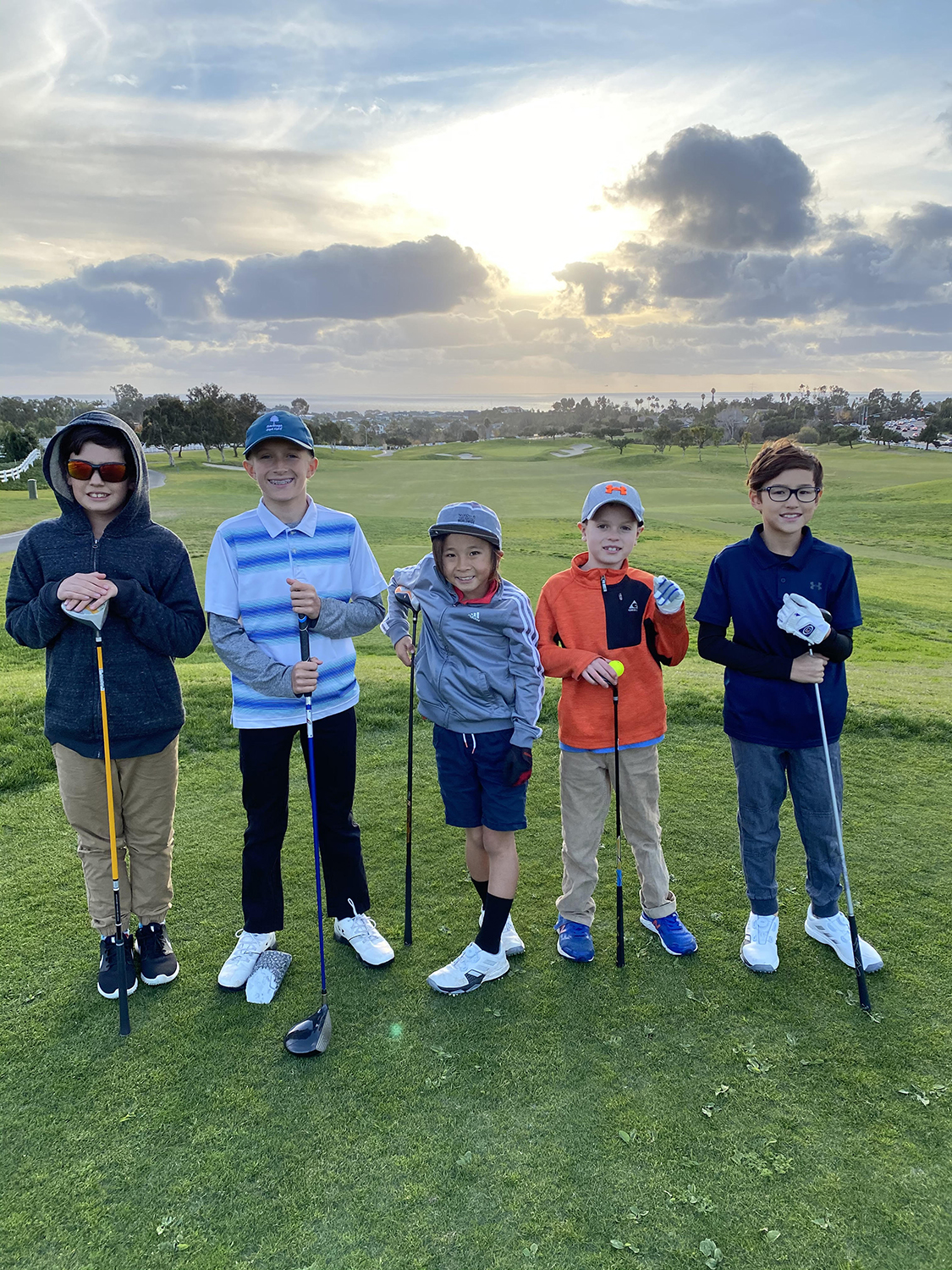 With the students' goals in mind, we utilize an assortment of training aids, as well as the best technology in video swing analysis, ball flight monitoring, tempo/rhythm drills and more. Grip trainers, alignment aids, weighted clubs for strength training and balance and flexibility fitness aids are some examples. These tools help new golfers grasp the concepts we verbalize as teachers, and often demonstrate as well. Understanding that students learn differently, we have all the bases covered.
One of the most valuable tools we have is a simple mirror. The mirror is very enlightening for students as they can 'see AND feel' the necessary swing changes at the same time. There is a circle of learning: listening to swing thoughts, feeling physical guidance of the swing motions of arms, legs and the club, viewing a swing video and utilizing a mirror to see it all at once. All paths lead to the ultimate goal of hitting the sweet spot – the more sweet spots, the more a player comes back.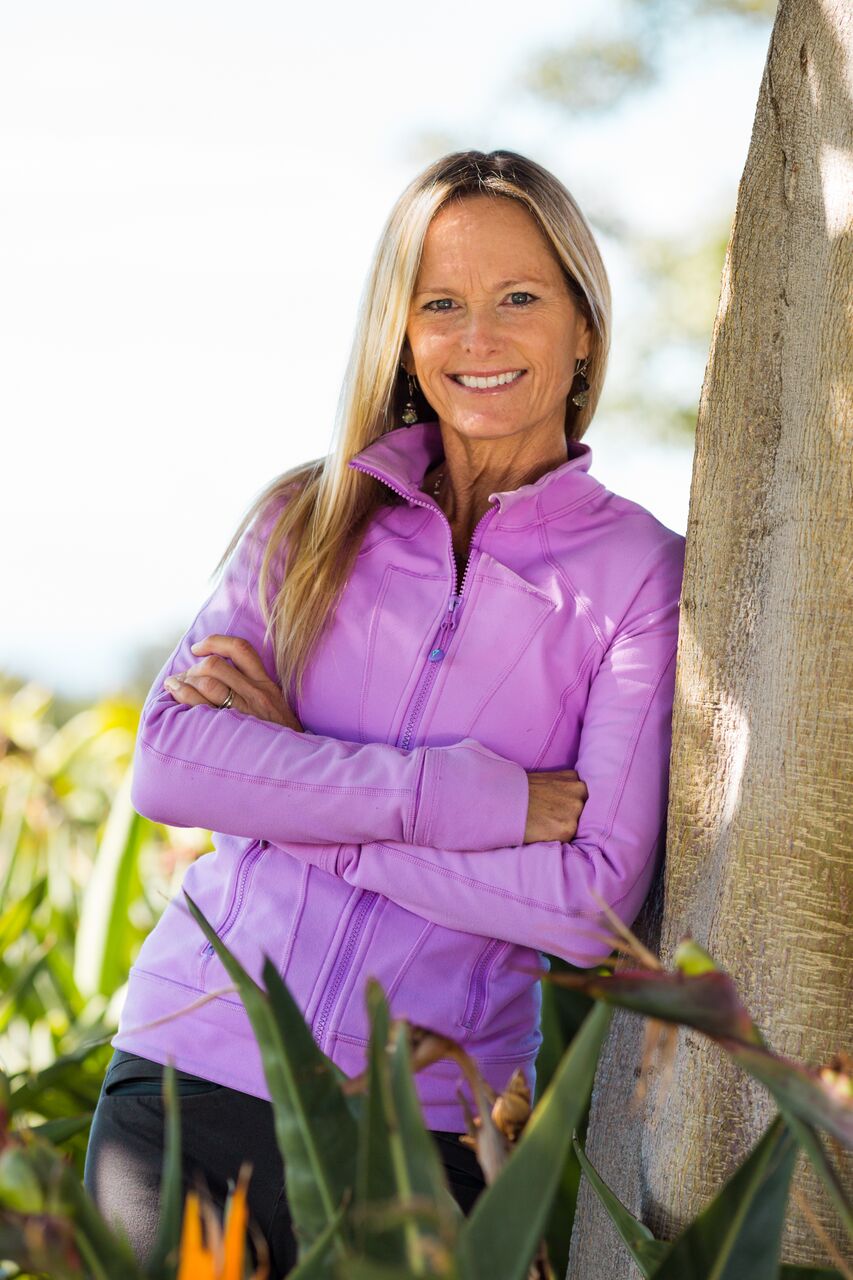 Heidi Richardson is a Class A member of the PGA of America, and a PGA Teaching Professional at Encinitas Ranch Golf Course in Encinitas, California. She has been playing golf since the age of 5, having been introduced to the game by her mother, with whom she still plays today. Heidi was a member of the UCLA Bruins Women's golf team, graduating in 1988, and has been a PGA member since 1995. She has earned several PGA Section and Chapter awards for Junior Golf and Player Development. To learn more about Heidi Richardson, log on to her website at http://www.heidirichardsongolf.com/.