John Dunigan likes his players to dress for success, which is why he frequently puts them in a K-Coach (formerly K-Vest) for practice sessions.
The device, made by K-Motion, helps golf instructors and other athletic coaches and trainers integrate a lesson plan by using sensors that highlight things from posture and balance to swing plane and overall mechanics.
"K-Coach fits in perfectly with my philosophy of leaving no stone unturned in helping my golfers," says Dunigan, PGA Director of Instruction at White Manor Country Club in Malvern, Pennsylvania. "It takes such little time to get it up and running, so it's not at all cumbersome. It's easy to use, but I recommend that users go through the certification program. The interesting thing is that repeated use has given me a 3D eye, so to speak, which helps me see a lot with my eyes that have been trained by the technology and education."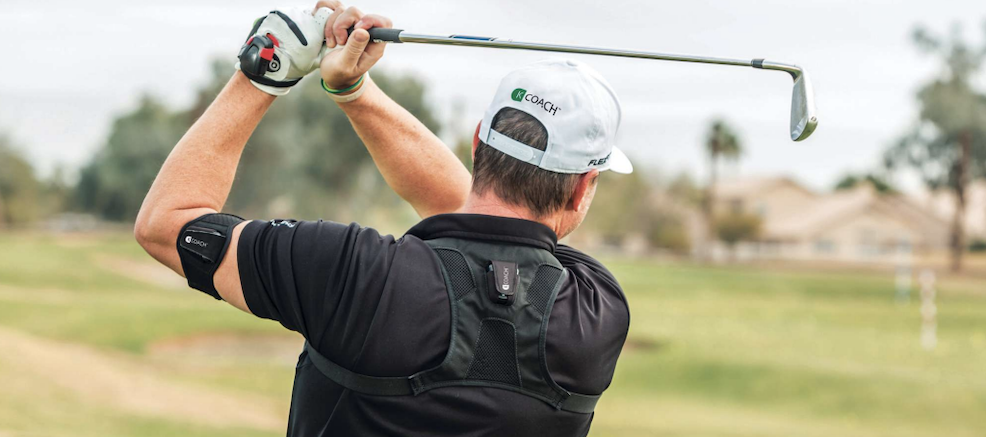 That multidimensional look is one of the factors instructors such as Dunigan appreciate most. The 3D capability comes from four Bluetooth sensors that are inserted into the vest and placed near the small of the back, above the shoulder blades, just above the lead elbow and on the user's glove. The data then gets relayed to a laptop or similar monitor for display, which shows the club's motion and how the body moves from position to position.
"My philosophy is skill-based coaching centered on the ideas that a swing's low point can be too far back, too far forward or just right," Dunigan says. "The club path can be too far right, too far left or just right for the desired shot. And it's the same with the clubface. I call it the Goldilocks approach, where I use technology to analyze movement of the ball, club and golfer so I can get to the answer without guessing. And that's what K-Coach allows me to do."
Since K-Coach has a number of drills and exercises built into the software, the device also enables instructors to develop training plans and workout programs based on what's discovered. Much like weight training, the system recommends the number of repetitions for each exercise a user should do to help create muscle memory.
"I'd say 90 percent of my business is serious, competitive golfers, so I owe it to them to move as well as they can, as fast as they can, but safely," says Dunigan, who has been using KCoach for seven years. "All coaches know the pressure to get their students to hit the ball far, but, if done improperly, we greatly increase the risk of injury. The 3D evaluation helps me a lot in that regard. The biofeedback is also very helpful when making a movement correction."
Since he uses technology in most of his lesson plans, K-Coach has been a good fit for Dunigan's sessions with students.
"I really like using technology. The ability to measure and train with the software was pretty much a no-brainer for me," he says. "Assessing and then retesting a hypothesis I suggest as a correction is made so much easier with technology. They can get the feel for what I'm trying to convey faster. I use it with everyone whenever necessary. It's the analysis that matters most, but they get a lot out of the biofeedback as well."
K-Coach also allows instructors to see how a swing affects the ball, as it seamlessly links a user's body from the lead wrist to the clubface to the ball, which provides a complete picture of the swing. Another tool in K-Coach's bag of tricks is Train Shot, an autocapture device that lets instructors collect a group of swings, pick the best one or use the average of a group of swings, and let the software convert it into a customized training program. The biofeedback then guides students through the swing or shot that has been selected. The connection capabilities also are nice for remote monitoring because of the device's cloud-based format, and recently upgraded capabilities allow an instructor to measure and train wrist angles for every shot with every club no matter the location.
In a nutshell, K-Coach is designed to take the guesswork and trial-anderror sessions out of correcting your student's golf swing. The ability to know that they're making sound practice repetitions each session and that you can capture swings to validate training successes and track progress from start to finish can be a win-win for student and instructor.
And, for Dunigan, his blend of technology and hands-on training he has used throughout the years has helped keep him busy almost every day of the week.
"K-Coach clearly helps me gain and retain students because of its fit with my philosophy," he says. "They know I'm doing everything possible to help them, and the results I have gotten with my students is gratifying to both parties. I feel K-Coach and my other technological capabilities give me a competitive advantage in the field."