V1 Pro is an aid that teaching professionals and amateurs are embracing, thanks to its easy-to-use interface and remarkable analysis tools
While some teaching and training aids are decidedly lowtech, yet still effective, V1 Pro is, and has been, on the cutting edge of golf swing development. V1 Sports, this month's featured teaching and training aid maker, markets V1 Pro as the No. 1 video analysis software in sports, and many golf instructors agree. Renowned teachers Shawn Humphries and Joel Weitz discuss how they use V1 Pro and how it has helped their different, but very successful, instruction practices.
From Shawn Humphries…
As the adage goes, "in golf, it's all about who you know." Shawn Humphries can attest to this, as he harks back to the 1980s and his introduction to V1 Sports consultant Tim Cutshall. At the time, Cutshall was involved with a company that specialized in audio and video programming. He demonstrated for Humphries an analog video system that used VHS tapes for recording.
"This was before the great infusion of technology into our economy as a whole and into the golf industry, as well," says Humphries, director of golf at Shawn Humphries Golf Performance Academy at Cowboys Golf Club in Grapevine, Texas.
As video analysis became more popular among teaching professionals worldwide, and as tech devices generally became more prevalent, Cutshall became more involved with Interactive Frontiers, the predecessor company to V1 Sports. Being friends and noticing how wellversed Humphries had become, Cutshall asked Shawn to take a look at a beta version of V1 Pro and test it out with some of his students.
"It was far beyond any of the VHS video systems I had previously used," recalls Humphries. "It was easy to use and fairly portable, which was great for a teacher who was on the lesson tee as much as I was. Now, instructors can access V1 with laptops, tablets and even smartphones."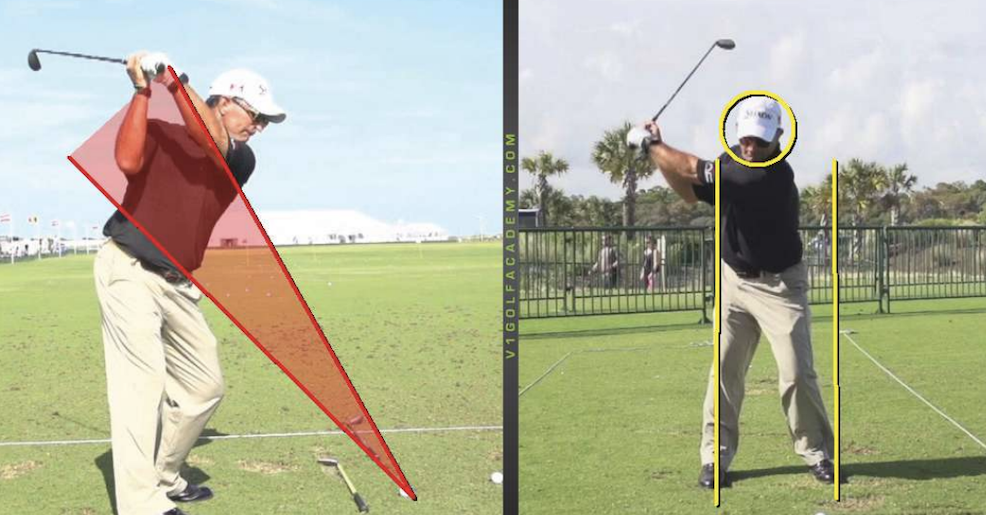 Humphries has found unique ways to use V1 Pro in his business, aside from in basic lessons. He runs a youth academy, which operates like a charter school without academic courses, and helps over 150 youth golfers 12 months of the year. When the students first come into contact with the academy, even before their interview process begins, their swings are recorded on V1 Pro to start their official file and begin the archive-building process.
"V1 Pro has been great in that regard because we now have complete archives for all of our students, some of whom have videos that were recorded 10 years ago," reports Humphries. "It's a system that gives me what I need to best track the evolution of their swings and their golf games."
Although he has used V1 for all of his students for years, Humphries doesn't use it as frequently as some may think.
"Some golf instructors seem to use video as a crutch in lessons," claims Humphries. "It may be that they haven't properly trained their eyes to identify the issues and strengths in their students' swings."
Humphries is different in that he doesn't use V1 Pro to show his students what they are doing incorrectly in their swings. Instead he uses it to show what solutions need to implemented. And when they are implemented, he refers back to those exact solutions for the student to focus on. This, in his view, is how you build and protect the self-image when training your athletes in any sport.
"By using V1 Pro as positive reinforcement," explains Humphries, "we equip our students to visually and physically imprint the correct solutions."
Humphries believes that it is important for instructors to only allow positive visual images to be seen by students. He refrains from comparing his students' golf swings to tour players' swings on V1 Pro for the simple fact that many golfers just cannot relate their own swings to that of an Adam Scott or Rory McIlroy.
Over the last two decades, the rise of technology has influenced behavior in all walks of life, the golf industry included. As long as professionals understand best practices around a product like V1 Pro, in his opinion, the potential of the technology is very positive. "If you take a look at the finest teaching professionals around the country," says Humphries, "they will use V1 Pro as a tool to help their students understand. Yet they don't rely on it as a means to accomplish everything. They can still show their students what to do and teach them the language of the golf swing without using a product."
Just like golf swings, every teaching professional is different. Arguably, Shawn Humphries uses V1 Pro differently and a little more selectively than a lot of other golf instructors, but he is among the first to argue its benefits. "I believe the student will improve most effectively when they watch video of them swinging really well, as opposed to video of when they are not swinging well. Using V1 Pro in that manner can help any student with learning," concludes Humphries.
From Joel Weitz…
Video has been a part of instruction for many years but V1 Pro software was rated the best golf technology aid by the instructors who placed it at number three in the inaugural GRAA Top 25 Teaching & Training Aids Survey.
V1 was founded in 1995 and its strong reputation in the golf world helped it gain traction among the nation's top instructors. Joel Weitz is just one of those who turned to V1 to aid in instruction. "I had already known about V1 for a while when I saw it at the PGA Merchandise Show a decade ago," says Weitz. "We were using a different system and weren't satisfied. It was more of a laborious process and it was not as technologically advanced as V1."
Weitz uses the dual camera system that he purchased years ago which allows him to record a student from both 'face-on' and 'down the line' camera angles. "V1 is a great teaching tool and also a perfect supplement to all the drills that I use," Weitz comments.
"If I am working with students on alignment for example, I have them practice a certain drill but then also use the video from the V1 unit to show them exactly what they need to do. It is important to use the video so they can visualize that they aren't yet there in certain parts of the swing."
As with anyone using new technology, Weitz says that many of his students who have never seen their swing are skeptical at first but also excited. "A lot of people are apprehensive because they aren't sure exactly what they are going to see. It is pretty easy to appreciate the value of V1 once I confirm the pinpointed area of their swing. Using V1 as a golf instructional tool can accelerate learning."
Weitz teaches that the golf swing becomes more consistent with focus on core fundamentals. When these aren't ingrained, students' errors are amplified. This results in people thinking about too many variables and trying to do too much. To this end, the V1 system is invaluable because it can provide immediate feedback to a student who is working on a specific part of the swing–relating back to a core fundamental.
As might be expected with a training aid that rated so highly on our survey, Weitz says he uses V1 in almost every lesson. And while he may not always use it as a focal point in instruction, or have any drills that he only uses with V1, he does offer some uses that he has found to be successful.
"We offer programs centered on V1 for various corporate clients. Basically, a company will schedule a two-hour (one hour per week) swing workshop with their employees. As part of the program, I will record their swing using V1 and send them an email with either a static picture or with recorded video," he says. "We build on the V1 recording and golf instruction from the prior lesson, then I use the iPad-based V1 product to fine-tune their swing. Having the follow-up lesson is a nice way to validate what they worked on that week. Programs like this allow for quality practice, rather than having a student trying to remember what I told them, and hopefully practicing the right motions."
Another aspect of the V1 software that is important to Weitz is the ability to look back at a student's past swings, regardless of how long ago he worked with them. "I have students come back after taking a few months off from lessons," he explains. "They often review the results from the prior lesson to continually build on their successes. Having the V1 makes it so easy to show the students what we had been working on and illustrate how to reinforce the advice with continued refinements."
Obviously, an instructor can use V1 with any student regardless of age or gender and Weitz believes that since people learn differently and might interpret what an instructor is trying to verbalize differently, it is important to use the V1 as another form of communication.
Weitz claims he has been so satisfied with V1 that he sees no incentive to change to another system. Part of that has to do with the company's ability to include new technology in its upgrades. While the software has been around for the last 16 years, its continually improved apps have been a huge success as well. "Some of my students download the V1 app after using it in a lesson," says Weitz. "It is very common for me to use my iPad version or even an efficient iPhone-based version to review their swing on the golf range to record and review instantly. V1 has done an excellent job of keeping their technology current and, most importantly, easy to use."
V1 also maintains a consistent line of communication between student and instructor. A student can now film a swing on the phone and send it to the instructor for review. The more technology advances, the more V1 continues to improve. Instructors can actually position up to eight cameras in the latest V1 model, which can provide a student even more angles to view the swing. As Weitz continues to record his students' swings, he will have little to worry about when it comes to what software system to use. V1 has him covered from all angles.