BY: SCOTT KRAMER
A stone's throw from Jim Harbaugh's facelift of the University of Michigan football program, V-One Sports is also reinventing itself at its new Ann Arbor, Michigan headquarters. Already one of golf's favorite video swing analysis systems for 20 years, V-One Pro is being rebranded. That means a fresh logo, revamped website and redeveloped mobile apps. The new mobile app is scheduled to debut in May.
"It all has an updated look and feel," says Kelly Hurst, the company's director of marketing. "We're making it easier for people to take lessons. Pro and instructor versions will be combined with the consumer app. For instructors, it will have updated swing analysis features, lesson scheduling, in-app billing, e-commerce and in-app messaging features included. So they can constantly be connected. This is a big deal for us. It's amazing how many customers have been with us for 15 or 20 years. Most of our pros use our online software, but more and more want to use their tablets and mobile devices out of convenience – which is why we're putting more effort into the mobile app."
If you haven't used V-One Pro, it's a multi-platform system – running on computers, smartphones and tablets – that allows golf instructors to capture a student's swing on video, compare it to other player's swings, draw lines, mark head position and/or spine angle at any point in the video – all for the greater cause of game improvement. Perhaps best of all, it doesn't require the golf professional to be technically savvy. The interface is easy to navigate and intuitive to understand. It lets instructors post recorded swing videos online or email them to students. Why do professionals like it so much?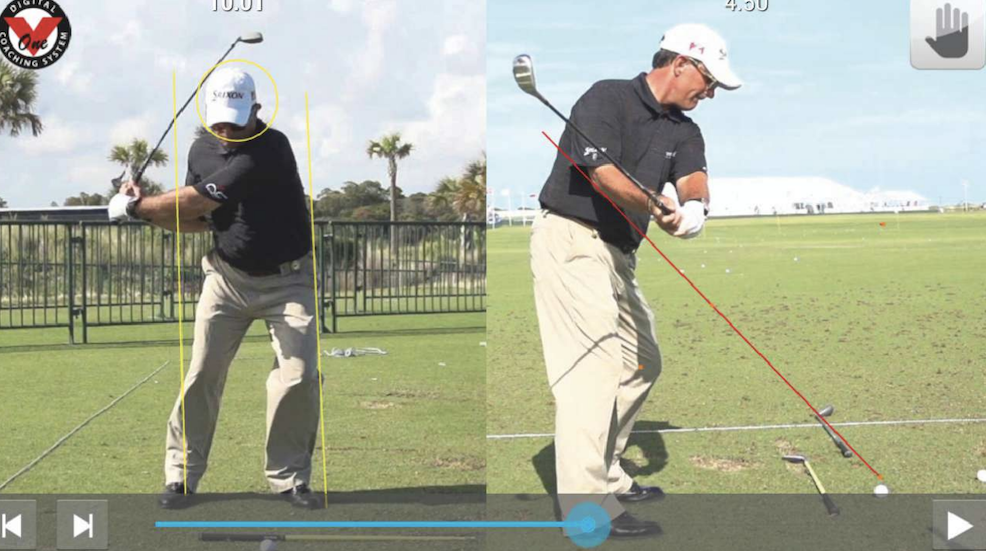 Service at its Finest
Bryan Gathright, a Golf Magazine "Top 100 Teacher in America" at Cordillera Ranch Golf Club in Boerne, Texas, says he initially chose V-One because of his familiarity with the brand and some of their staff members. "The V-One team has answered every question and addressed any problems I've encountered throughout my 20-plus years of using their system," he says. "It's a quality system that's very user friendly and also offers superior customer service and technical support. I've had almost no problems at all, any of which were user error, and each has been solved easily and efficiently with a simple phone call. Knowing that the level of customer service and support is always available makes choosing V-One an easy choice. Due to my level of teaching experience, I know V-One and other tools that enhance the lessons of my pupils definitely provide a return on my investment through my staying fully booked as a teacher."
Custom Made Just for You
Subscribers of V-One's optional Branded Academy can quickly customize their videos with their name and facility at the front of every recorded lesson – among other options. That adds some personable clout when sharing videos on social media and gives a professional look to your digital marketing. Jim Estes, PGA Director of Instruction at Olney (Maryland) Golf Park, has used V-One software since 2003 and its Branded Academy since 2011. "The Branded Academy allows professionals to automatically post video lessons on all social media platforms," he says. "This brand awareness has no doubt brought me new clients. I provide video for students by email, and through the V-One Branded Academy my lessons get posted on my Facebook page, Twitter and YouTube accounts. From the questionnaire I give to new students, I've learned that V-One Branded Academy video posts on those three social media sites have brought me new clients each year."
Portability and convenience
Eric Jones, 2014 Teacher of the Year and 2016 Horton Smith Award winner in the Northern California PGA Section, is the PGA Director of Instruction at the Eric Jones Golf Academy in Orinda, California. The two-time World Long Drive Champion primarily uses the V-One app on his phone and iPad rather than the full online system because of the convenience. Jones is like many other V-One users in that regard, which is what prompted the company to redevelop their mobile applications. "I use the app particularly when I want to compare two swings, do a before-after analysis or email students video after the lesson," says Jones. "I encourage my students to also download the app, so they can use it on their own or even send me videos. It's inexpensive. I also use Edufii, so I'll import a V-One swing into my students' training space. The V-One doesn't specifically add to my business finances – that is, nobody comes to me just because I use it. However, not all teaching pros use technology with their students, so it does provide some differentiation."