Ty Martinez is the PGA (Associate) Head Professional at Keeton Park Golf Course in Dallas, Texas.
Ty Martinez on the importance of using your range as a party place:
Keeton Park Golf Course has a diverse clientele of seasoned golfers and many customers new to the game, as well. Our facility is fun and unique, with a cool golf vibe and modern hip-hop environment in the golf shop, and a relaxed and fun atmosphere on the course and practice facility. The range has become a focal point for golfers. They go out there with AirPods in their ears, focused on a serious practice session, or with friends and family, enjoying the music we're playing on the range for a more social experience. We provide a manicured practice range, clean golf balls and some cool targets to take aim at. Our maintenance team ensures two dozen finely-manicured grass tees and an attractive cedar fencing that is stained and polished to create a place where people want to be, even to just relax on a bench and take an Instagram photo or two. We have 8-10 buckets within 100 yards that make a lot of noise when struck with a golf ball. Golfers love it. Kids love it. Families are out there all the time. They love it! We hosted an event recently that brought a band, DJ, sponsors, vendors and a lot of new and existing customers out to the range. I had seen a street band in Dallas, performing for the pocket change of passersby and pedestrians going about their lives. I thought they were really good and invited them to play.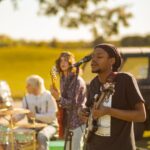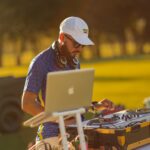 Ty Martinez on the business impact of using your range as a party place:
We sold tickets for $10, which included a hot dog and a beer and the sponsors ran games and contests. Golfers brought their spouses, girlfriends and boyfriends. They even brought their dogs! It was a festive celebration of golf and community, with half the range set up for people to hit balls, and the other half filled with sponsors' booths and tables. We did the event without spending any money. We had so many sponsors. We didn't make a ton of money on the event, but that wasn't the point of the day. It was about bringing attention to our range, creating a fun and social experience for the community and demonstrating the enjoyment you can have with a club and a golf ball. We gained so many great ideas out of this one event, most of them promote socialization and fun among the community. We recently acquired the teaching services of multi-award winner Carlos Brown, an excellent and inspirational golf instructor. To introduce him to the Keeton Park golfing community, we'll have another cool celebration in the spring. The pandemic has pushed many new golfers into the game, and facilities like ours are the ones that will retain these individuals for the long-term. We're shaking hands and meeting new people, not only creating new golfers, but making new friends at the same time.

If you would like to email the author of this Best Practice directly, please email ty@keetonpark.com.