Practice has played a pivotal role for Wesley Bryan each step of the way
BY: GARRETT JOHNSTON
It was just a few years ago that Wesley Bryan and his brother George were on a practice range somewhere in South Carolina dreaming up outrageous golf trick shots. If you've never seen their work, treat yourself and check out their YouTube channel (Bryan Bros Golf) for some insane golf-shot artistry.
Fast-forward just slightly to 2017, and you'll again find Wesley Bryan in South Carolina but this time adorning the Plaid Jacket as winner of the RBC Heritage. He has gone from trick-shot artist and YouTube sensation to PGA Tour winner. You can't make these Cinderella stories up.
Bryan is still as comfortable on the Internet as he is on the course. The amicable 27-year-old even tweeted a photo of him and his wife Elizabeth the night of his win having Taco Bell to celebrate his RBC Heritage win. In an era where social media is a major part of a player's brand, Bryan likes the opportunity it gives him as a millennial in the sports world.
"Social media gives the opportunity for us young guys to get to be superstars quicker," Bryan says. "The guys kind of had to earn their stripes in the days before social media and now you can just become a success overnight really in the social media world, so it's pretty cool."
The Columbia, South Carolina native and now Augusta, Georgia resident is a little more than an overnight success. He's been producing his trick shot videos with brother George Bryan, IV as part of their Bryan Brothers tandem since early 2014. Wesley won three times on the Web.com Tour in 2016, earning Player of the Year honors and an instant promotion to the PGA Tour.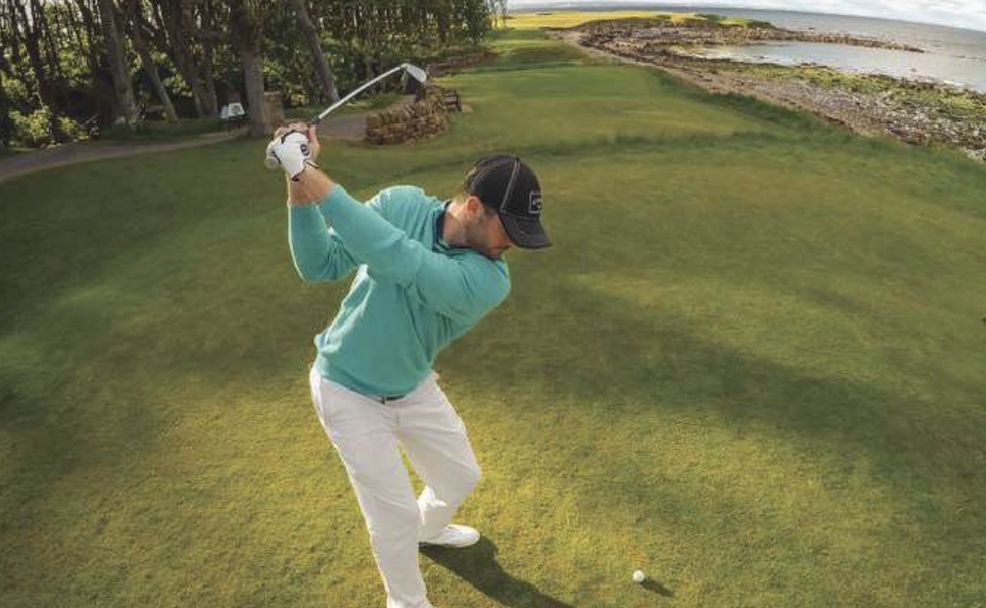 Bryan is not known for his distance off the tee (164th through the RBC Heritage) or his accurate approach shots (164th in greens in regulation through RBC Heritage) but more so his short game. Through the RBC Heritage he ranked 12th on Tour at scrambling. So you'd think he spends time refining his chipping before the start of each round, right? Wrong. He rarely even practices it before a competitive round.
"You're going to have so many options and shots that you'll get around the green during a round, so you don't want to just practice one. You don't get the same shot twice ever around the greens, especially on tour courses," Bryan says.
"That's just the stuff that I learned from putting in work over the years, I don't focus too much around the greens before a round, I just hit some putts and hit some balls and go peg it up."
Sounds simple enough, right?
Bryan figures he spends 30 minutes pre-round on the practice range. He uses two parallel alignment sticks on the ground and places his range balls right in between them to ensure he's properly set up.
"It's about hitting the ball solid and starting it on line with those two sticks, it's really just a reference point for me," Bryan says.
He then putts for about 15-20 minutes to get a feel for the green speeds and his stroke, then heads to the tee. So his pre-round routine starts and finishes in less than an hour.
Bryan trended well going into his first win. His back-to-back fourth place finishes at the Genesis Open and Honda Classic in February got him in consistent contention, earning precious FedEx Cup points. Precious because Bryan has made it clear his goal as a PGA Tour rookie is to qualify for the season-ending Tour Championship in Atlanta.
So when asked after the Honda what his back-toback high finishes meant for his season, the playoffs understandably came to mind.
"They were just good high finishes, (I'm) getting a lot of FedEx points from it and positioning myself for the playoffs," Bryan said.
The playoffs are indeed a big focus, but there's still plenty of golf ahead of us. Let's look at how Bryan spends his practice days at home in Augusta, Georgia.
"I start off in morning with a workout and a good breakfast," Bryan says. "This usually consists of a healthy serving of egg whites. That's five or six days a week to get my day started off right, energized and fueled."
Practice can be a time-consuming process, but Bryan divides his time evenly when he's out there.
"I practice about 50-50 for short game and putting versus full swing and usually go play anywhere from 9 to 18 holes and then call it a day," Bryan says. "I try and work a 9-5 schedule."
Sounds like the 27-year-old hones his craft during regular business hours, except his office happens to be a golf course.
"I like to stay on a normal working man's schedule and work 7-9 hour days," he says.
"For the full swing I use the alignment sticks to work on my setup, and on the putting green I just use the Perfect Putter and it rolls the ball for me and I see the line and I just keep it simple. I don't try and mess around with a lot of different gadgets."
He's been using the Perfect Putter everyday for the past two and a half years.
Hey, when you win three times in 13 Web.com Tour starts and grab your first PGA Tour win in your 18th start; you know you're doing something right.