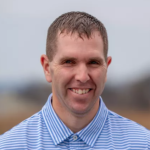 Trent Maxwell, a six-time Northern Ohio PGA Section Merchandiser of the Year for Public Facilities and 2018 Section Professional Development Award winner, is the Co-Owner, PGA General Manager and Director of Club Fitting at Windmill Golf Center in Macedonia, Ohio.
Trent Maxwell on the importance of implementing a multi-pronged golf range marketing approach:
Despite the accolades and success that we've enjoyed for almost a decade, marketing remains a key component in the continued growth of our business. It's also a vital tool to disseminate important information to our existing customers, and potential new ones. We recently hired a marketing professional to facilitate a focused advertising and promotion plan, and want to get more interactive with our customers by producing a series of YouTube videos. With my own degree in Marketing from the University of Akron, the concepts are not foreign to me. In fact, one of the things that I did early on was to advertise on local television broadcasts, getting in the living rooms of the golfers who would not just try our facility, but become frequent and lifelong patrons. I have thought about bolstering our limited social media presence for the past three or four years, but just never had the time, as we're super busy at Windmill 12 months per year. Employing a marketing expert will give us many more options. In addition to the TV commercials, a soon-to-be revamped website, refocused social media presence and increased video production on YouTube, we also plan on engaging customers through in-person events in 2022. Though we like to say that 'every day is demo day at Windmill', we do have specific fitting days either set up for the new year or in the works. We maintain relationships with no fewer than nine club manufacturers, and each of them will have at least one fitting day at our facility, with most of them offering multiple 'by appointment only' fitting days throughout the golf season. We also have many demo clubs that customers can use when hitting on the range. This often piques the golfer's interest in new clubs, leading to a more formal club fitting, which almost always results in new club sales. We keep the fitting carts in the golf shop, which often stirs conversation about demo club usage and custom fitting services.

Trent Maxwell on the business impact of implementing a multi-pronged golf range marketing approach:
After all our hard work to promote our services and ultimately deliver to the highest customer expectations, we share customer testimonials right on our website. This word-of-mouth promotion remains one of the best forms of marketing. In fact, the booking service used for our fitting services sends email reminders to fitting customers, and surveys them for a review after the interaction. Finally, we send two or three targeted email blasts per month, highlighting special events, promotions and additional facility information. In a time when social media is driving marketing and promotion, we are employing a multi-pronged approach to get our message out.

If you would like to email the author of this Best Practice directly, please email trentmaxwell@windmillgolfcenter.com.