Mike Malaska Sees Online Instruction as a Lasting Benefit for Teachers Worldwide
By Vinnie Manginelli, PGA
Mike Malaska's life in golf spans over five decades. A former college All-American at Weber State, Mike has played in several PGA Tour Champions events, National PGA of America tournaments, Asian Tour competitions, and even two U.S. Opens. His list of teaching awards and accolades includes National PGA Teacher of the Year, PGA Southwest Section Senior Player of the Year, GOLF Magazine Top 100 Teachers in America, Golf Digest 50 Best Teachers in America, Golf Range Association of America Top 50 Growth of the Game Teaching Professional, Taylor Made National Advisory Board Member, and HONMA Ambassador for Golf.
Confident in his ability to teach and improve the skills of golfers across the world, Malaska's philosophy is simple, "There is no individual that is willing to practice, no matter what their physical limitations are, that I cannot teach to achieve their highest potential in the game of golf." Determined in that mission, and a proven leader in golf teaching and coaching, Malaska is also doing some great things in online instruction, and during this time of COVID-19, let's put those efforts in focus.
I recently spoke with Mike and asked about his online presence pre-COVID. He highlighted the fact that he produces many great videos for YouTube and his website, not only disseminating information, but also marketing his teaching business as Director of Instruction at Superstition Mountain Golf & Country Club in Arizona. With roughly a thousand videos on YouTube (started five years ago) and even more on his website (started less than four years ago), as well as a presence on Twitter and Instagram, Mike has become adept at sharing the vast knowledge that his fruitful career in golf has provided. He gets between 10,000 and 20,000 hits on his videos each day, with over 35,000,000 views on his website. "YouTube has surpassed anything I've ever done," Malaska admits. "The same with the website. YouTube and my website have driven probably 70%-80% of my business over the last three years."

As technology continues to alter the way we enjoy the game, PGA Professionals and instructors are engaging more golfers than ever. Malaska says he's also been analyzing recorded swing videos that students submit for several years, and plans on expanding upon that offering, involving his assistant professionals, as the demand for video analysis continues to increase. This gives him the opportunity to provide drills and recorded feedback while engaging students remotely.
Now, ensconced in the COVID-19 global pandemic, adjusting to a completely new normal, Malaska has added online lessons through Facetime and Zoom to his menu of services. "I started doing Facetime lessons, and now that I've done it, and I put an information page on my website where people can sign up, I've got requests from all over the world," Malaska highlights. "I can do Zoom lessons for 24 hours a day if I wanted to."
Zoom lessons allow students to set up a time with Malaska. They might be in their back yard, their basement, or even their living room with the furniture moved to the side. "I'll start watching them twice a week for fifteen minutes, and people love it, because now every time they practice, they can use their phone or iPad or laptop." Not only does this allow for real time instruction, but enables a back and forth that recorded exchanges cannot provide. Feedback from students shows levels of improvement not often seen in more conventional golf instruction. Malaska now has a waiting list of students who want to work on their swing at least partially remotely. "I'm booked for those online lessons for the next two months," he says.

This continued engagement, made available by technology, has aided Malaska in helping his students even more – watching them practice for a mere fifteen minutes at a time has enabled him to keep them focused on the task at hand, preventing them from straying into a drill they saw elsewhere or a tip they read about that may contradict what he is trying to convey. He highlighted the great success he had in offering practice classes in the past, likening these new online opportunities to those old-school endeavors. "The more I can watch somebody when they practice, the better they get," he added.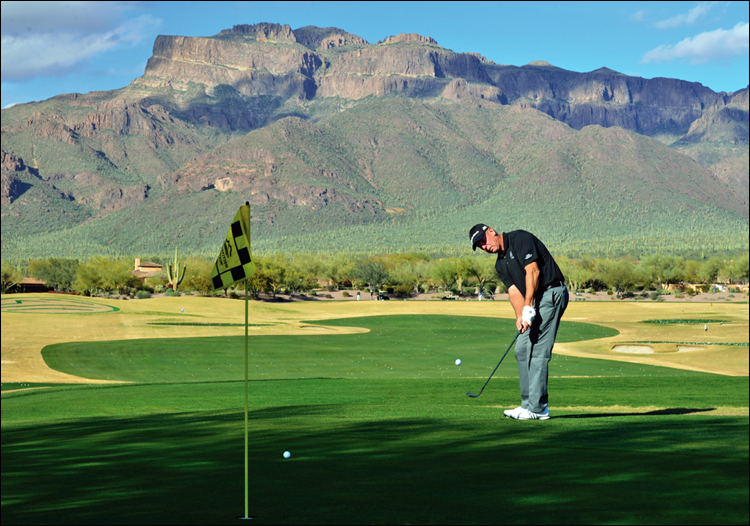 Malaska foresees live online lessons as a lasting endeavor. With schedules generally busier than ever (COVID notwithstanding), saving time where ever one can has become the great task of American society. Saving commuting time and being able to fit a lesson in when convenient for both parties are just two of the perks of continuing this new way of teaching long after the pandemic has subsided. "[The student] doesn't have to leave his house, or his club, or his driving range." Malaska touted upcoming Zoom lessons he has scheduled with students in Mexico City, Sweden, and Ireland – individuals who will be at driving ranges in their towns or even in their backyard. "If you have a clientele, you should be able to grow dramatically because of what's happened here."

Malaska's passion for online instruction, and finding new ways to engage with students was evident throughout our conversation. "If you're in this business, and you're a teacher and you want to expand, and you're not on YouTube, and you're not doing Twitter, and you don't have a website, you're not in the game," he warns. The website doesn't have to contain a bevy of content – it should at least display your teaching philosophy, who you are and what you believe. It should enable students to easily reach you via phone, email, or social media, and should represent a gateway to an array of new relationships out there and an influx of new lessons and increased revenue for your business.
For more information on Mike Malaska, log on to www.malaskagolf.com.