Tour Striker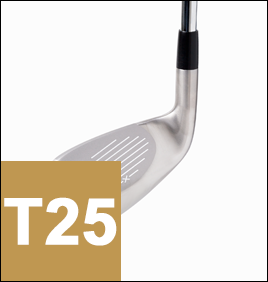 The Tour Striker iron has been designed to intuitively teach golfers the correct way to deliver the "sweet spot" of the golf club to the ball, just like the tour players. Practice with the Tour Striker will quickly change a golfer's understanding of ball striking and will teach them to deliver the golf club to impact with a descending motion, resulting in the forward shaft lean that all great ball strikers possess.
The Regular Tour Striker is targeted for mid-to-high handicap golfers and slower swing speeds (under 90 mph with driver), while the Tour Striker Pro is geared for dedicated practicers with higher swing speeds and a handicap of 10 or less. In addition, we offer a Tour Striker for women and younger players who wish to improve their game. The ladies/junior model is slightly shorter than the regular Tour Striker (35 inches vs. 36 inches) and has a graphite shaft appropriate for women and juniors.
The Tour Striker and Tour Striker Pro training club is cast of 433 stainless steel. The vibration dampening logo affixed within the back cavity reduces shock on mis-hit shots while developing ball striking skills.