Orange Whip Swing Trainer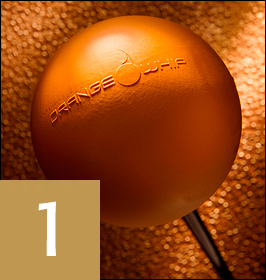 One of the best and often overlooked features of the Orange Whip is the ability to use it indoors without compromising its unparalleled performance. It only requires a minimal amount of space and 5-10 minutes of training time per day. No golf swing trainer is more time efficient and effective. You can work with an Orange Whip year-round and never again have to depend on weather conditions or daylight when you want to improve your golf swing and fitness. It's the ideal tool for those living in challenging winter environments and busy individuals with little time to practice.
The Foundation Drills are the core group of training exercises designed to maximize the effect of the Orange Whip. These can be performed in a single daily workout. To increase benefits to fitness and flexibility, 2 or more sets per day are recommended. In general, only 5 to 10 min every day is required to notice some results. This minimal time requirement makes it easy for almost anyone to incorporate these drills into their schedule.
When used regularly, the golfer will quickly see noticeable improvements in their golf swing such as, increased flexibility and strength, enhanced coordination, and a perfectly balanced tempo.
Flexibility: The weight on each end of the flexible shaft provides a low-impact stretch while swinging.
Strength: The Orange Whip provides a core muscle workout when used during repetitive motion drills. The wrists and forearms receive a workout doing various drills and during the hinging action while swinging.
Coordination: The Orange Whip synchronizes the arms and body while swinging it repetitively. If this motion is out of sync, the user will lose their balance and/or feel awkward.
Tempo: As the arms and body work together, a natural rhythm takes over the swing. This is how your tempo develops, some may be fast or slow, yet always in balance with an efficient motion.
With an Orange Whip, anyone can make the most out of the winter months and improve without hitting golf balls. If a golfer trains their swing without using a ball, the mind and body will allow the swing to develop naturally. The Orange Whip can eliminate the 'hit' instinct from your mind and consistency can be developed.
In addition, once a person athletically learns how to swing the Orange Whip, I encourage the user to try and feel where the Orange ball would release off the end of the shaft. This is a great mental exercise for those who want to improve the accuracy of their golf shots .
 .