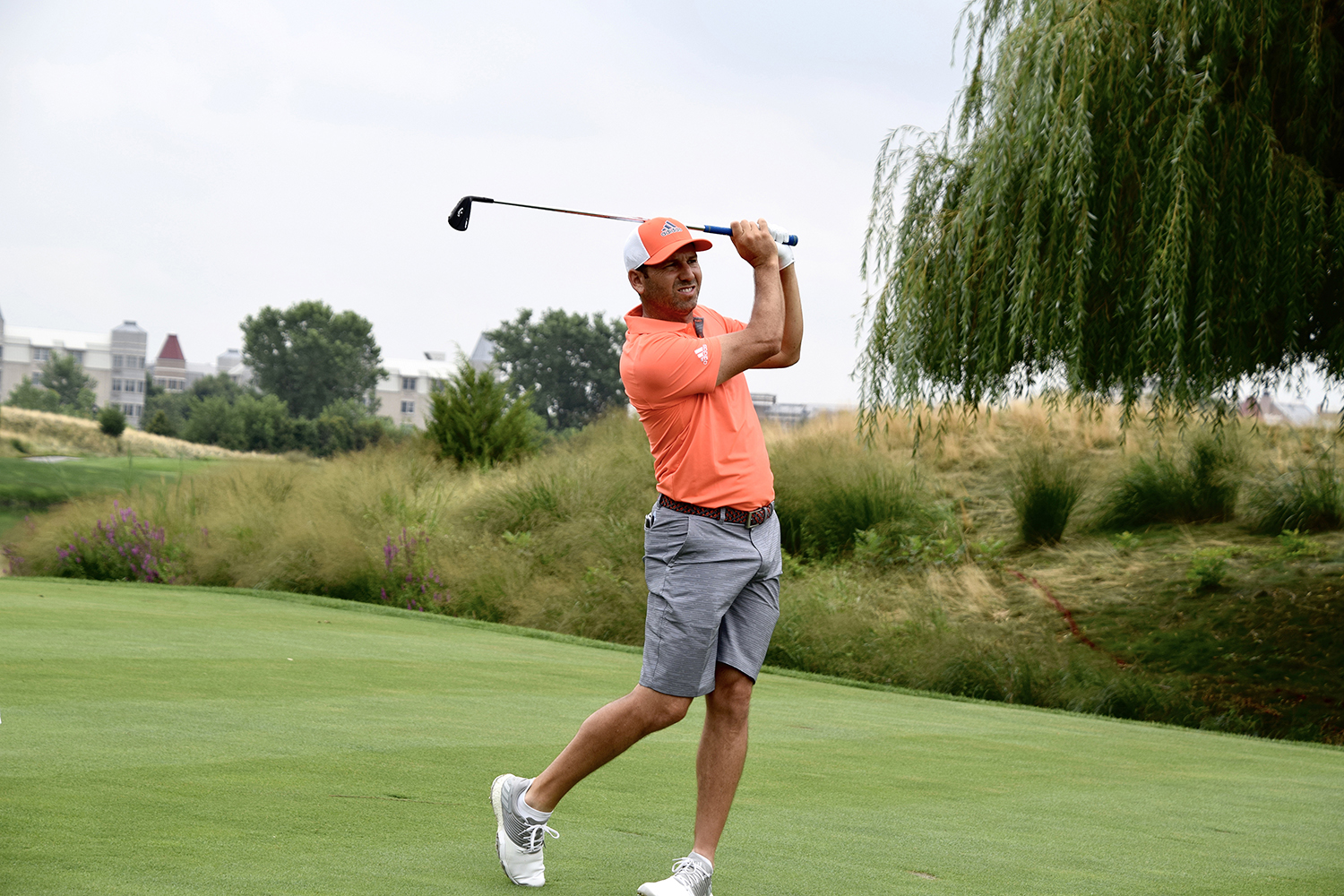 By Garrett Johnston
Sergio Garcia, a Ryder Cup superstar and the 2017 Masters champion, has compiled an impressive resume at the age of 41. Though a positive COVID-19 test caused the energetic Spaniard to miss the 2020 Masters Tournament last November, he did get back to his winning ways a month before at the Sanderson Farms Championship, earning his first PGA Tour win since the 2017 Masters. We saw him putt with his eyes closed that week – that's where we begin with Sergio.
Golf Range Magazine: How do you determine when you'll putt with your eyes closed?
Sergio Garcia: I do it on every putt. I get my read and I try to see the speed I want to hit it, and then I stand over it, take a practice stroke while looking at the hole. I line it up where I want to be and then close my eyes and just try to feel the stroke and the speed that I want to hit it. It's all about smoothness through my stroke. If I feel it's smooth, then my confidence goes up and I feel like I can putt better. I feel like I take the worry out of it with my eyes closed. When they're open, I tend to try to make the stroke too perfect. I feel like if I'm not looking at it, then it's easier for me to just let my athletic ability take over, feel it and let it happen.
Golf Range Magazine: How do you practice on a practice day?
Sergio Garcia: Usually at home, it depends. It will depend if I'm doing a full-on practice day or if I'm just going to warm up a little bit and play with some friends. Obviously, if I'm working on something on the range, I might spend an hour or hour and fifteen minutes. Usually, I don't try to overdo it on the range, going more for quality than quantity.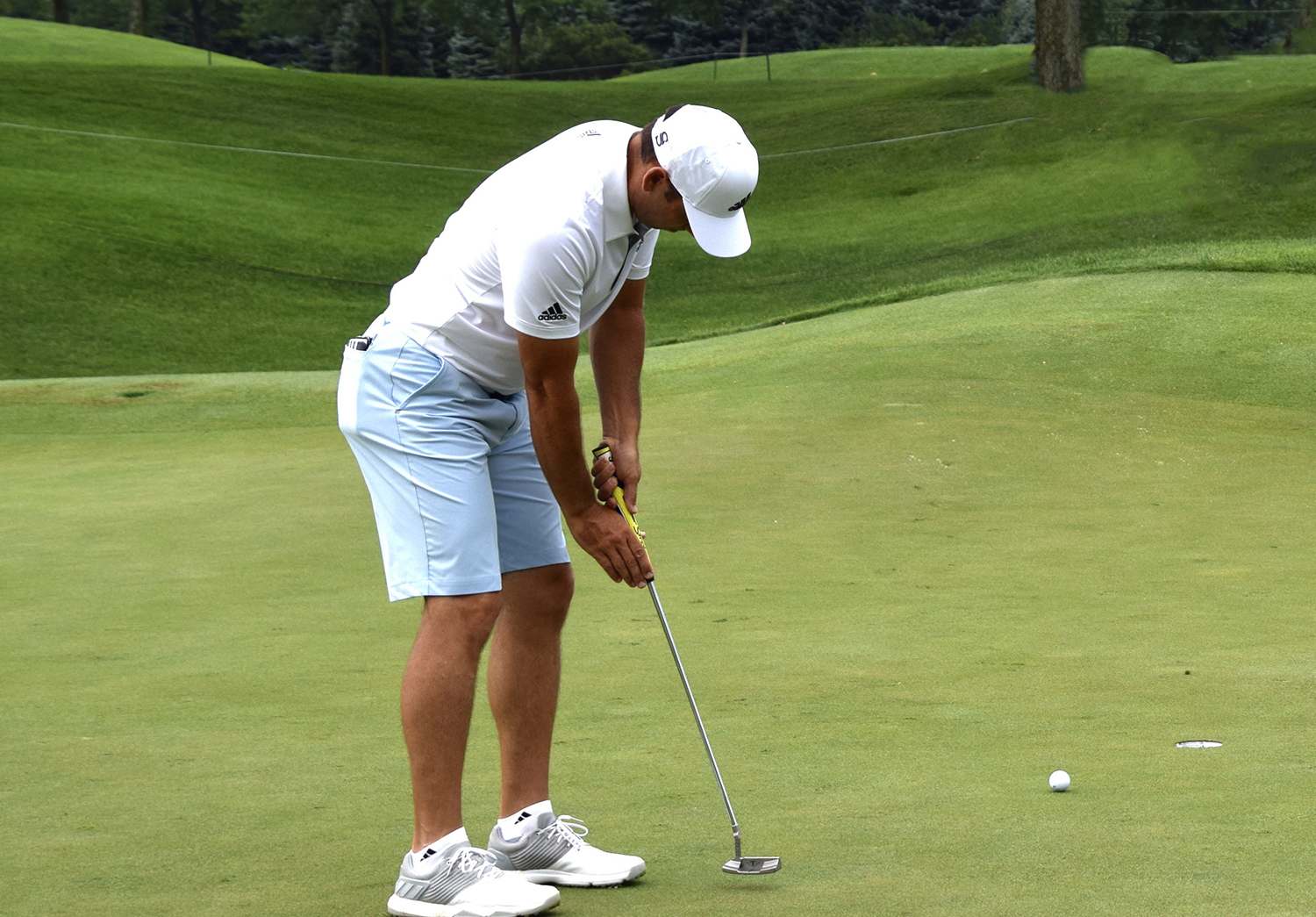 Golf Range Magazine: How do you practice before a tournament round?
Sergio Garcia: It depends a little bit on timing, but I usually get to the course around an hour and thirty minutes before my tee time. I'll do a few nice stretches. I'll stretch some of my upper body, but mostly my legs because of all the walking we're going to do. Then I go out to the putting green about an hour before my tee time. I get everything that I need, like my tees and my glove and then I start putting. I usually putt for about twenty minutes and try to get a good feel for the greens. Then, I go to the range and hit some balls for about twenty-five minutes. I'll hit a few chips for about five or ten minutes and leave five or ten minutes to get to the tee and get ready for my round.
Golf Range Magazine: You've had increased distance off the tee recently and you're an equipment free agent now – what's that been like?
Sergio Garcia: I think it's a mix of being healthy and as fit as possible. That always helps. I've worked on getting a little more speed in the swing and looking for a good match up with some of the newer equipment. I do feel like it's matching my game better than it was the last couple of years. Because of that, I'm more comfortable and I feel like I can swing a little bit harder, not just guiding it like I was. Thanks to that, I'm getting more out of it.

Golf Range Magazine: COVID has had an effect on your family Sergio. I understand two of your uncles have passed away from it, could you tell us more about them?
Sergio Garcia: They were two brothers of my dad (Victor) and lived in Madrid. My dad comes from a big family and is one of nine kids. Unfortunately, one of them, Uncle Paco, passed away at the beginning of the first wave of COVID, barely a month into it. Then Uncle Angel died the Saturday before my win at Sanderson Farms.
Obviously, you never want that to happen to anyone, but we have a lot of family there, and Madrid has been hit really badly. There are a lot of other families who have lost a lot more people and you've just got to deal with it the best way possible – pray for them and hope that they're in a better place.
Golf Range Magazine: What should weekend golfers focus on during our range and short game warm up?
Sergio Garcia: You want to start with hitting a couple of wedges and get a good feel for your swing. You want to work on your tempo and get some confidence as you work your way [through the bag]. It's definitely quality versus quantity, and so it's better to hit thirty balls and think about what you want to do, than hit fifty and not think about what's going on with your swing. I think if you can do that, then your focus will be a little bit better, and you won't get as tired because you're not hitting as many balls. Hopefully you will get to the first tee with a clearer vision of what you want to do.

Golf Range Magazine: What's a good way for us to warm up with chipping? You have a great command of that part of the game.
Sergio Garcia: Chipping is tricky. You need to do it the right way, because even if you're practicing it a lot, if you're doing it the wrong way, then it's going to be tough. I think that using the bounce of the club is always important, trying not to get too steep. I think most amateurs should keep the ball on the ground as much as possible. That takes a lot of difficulty out of chipping. For example, if you have 15 yards of green, instead of hitting the 58 or 60 degree as we like to do, just remember that we do it for a living and we do it every day. Instead, hit a 9-iron and work on your chip and runs, knowing that even if you don't hit it perfectly, you're going to hit it somewhere close. You will have a chance of getting it up and down. You want to do that instead of trying to get too fancy, hitting a bad chip and then another chip and you've got shots adding up everywhere.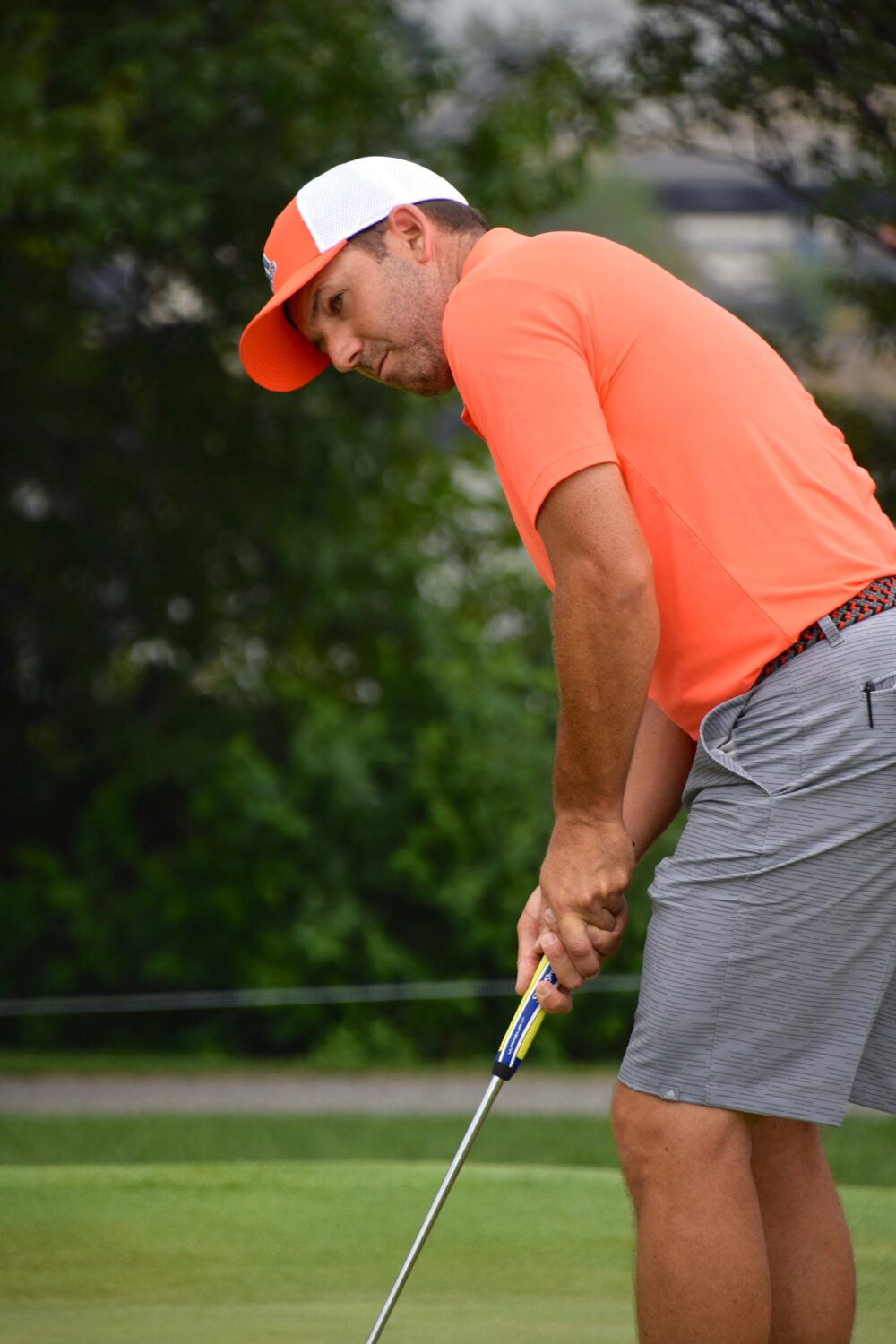 Golf Range Magazine: As a Masters champion, you know the course well – so what would a 15-handicap shoot from the tips in tournament conditions?
Sergio Garcia: Wow, from the back tees, I think if they could manage to break 105, they would do very well.
Golf Range Magazine: Did you ever think Tin Cup when you hit five balls in the water on the 15th hole during the first round of the 2018 Masters?
Sergio Garcia: No, I wasn't thinking Tin Cup, because I knew I wanted to make sure I finished my round (laughs). I definitely didn't run out of balls. I haven't really watched it. I guess I watched it when it happened live and again a couple of times later, but it's just one of those things – I made eagle there the year before. Augusta is funny because sometimes you get great breaks and sometimes you get very bad ones. I hit three really good shots I thought would be right next to the hole. You have to laugh about it, learn from it and move on.
Sergio's wife Angela Garcia:
Golf Range Magazine: How animated does Sergio get watching his favorite soccer team?
Angela Garcia: When he's watching Real Madrid, he can get pretty animated. He's a die-hard Real Madrid fan. It's funny because he always talks to the TV, but in Spanish, so it's cute for me to listen to him talking to the players and he's coaching them every step of the game. It's cool because you can tell he wants them to do so well.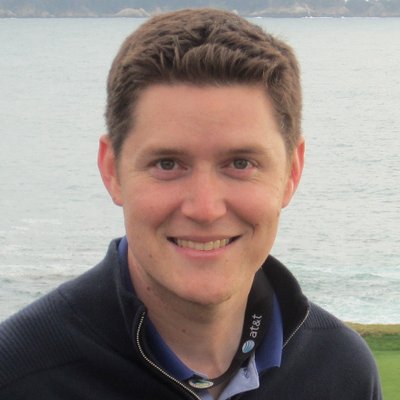 Garrett Johnston is the host of the Beyond the Clubhouse podcast and has covered 30 major championships in person, so far. Sadly, he has not improved his golf handicap since he left high school, and covering 30 major championship hasn't helped him through osmosis. You can find him on Twitter at @JohnstonGarrett.