By Garrett Johnston
Five-time Tour winner by virtue of January's win at the Famers Insurance Open, Marc Leishman is one of the nicest guys in golf. Ask any writer in the media centers or fans who attend Tour events – Marc just gets it. The 36-year-old Australian now lives in Virginia Beach with his wife Audrey and three kids Oliver, Harvey, and Eva. He possesses one of the smoothest swings in the game and he sat down to tell us more about how we can learn from his practice habits.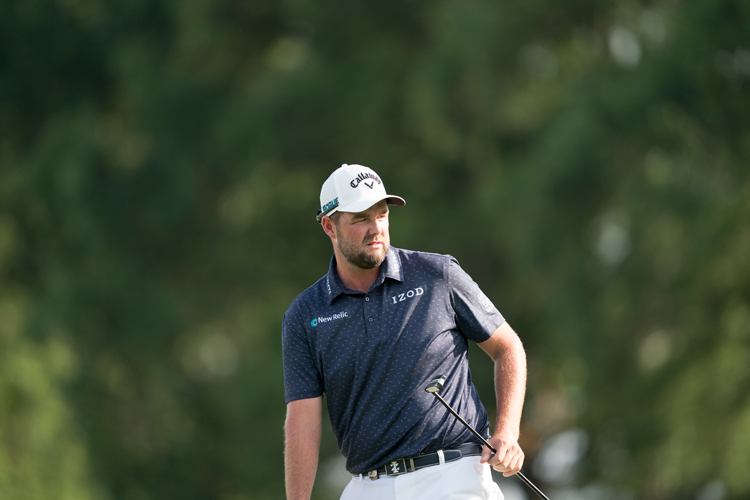 Golf Range Magazine: How long is your pre-round practice routine? What do you like to work on?
Marc Leishman: I normally get to the practice area, whether it's the putting green, chipping green or driving range, an hour before my tee time. I don't have a set routine as far as each thing. I putt, chip, then I hit the range. I do whatever works out based on the course. So, at the Masters I'll hit the range from the parking lot because it's right next to it, then I'll move on to pitching, then to putting – whatever is convenient at that given tournament. 
I mostly work on striking and the feel of making sure I'm getting a good strike on the ball. At Augusta, you have to make sure on the range that you're able to shape it both ways before your round. High, low, and make sure your starting lines are accurate, that the ball is actually starting where you think it is. You want to make sure you're shaping it to the right spot when you pick out a target on the range. There are just so many doglegs at Augusta. And also Augusta is a little bit more complex than at other courses.

GRM: Are you a gadgets guy or more of a feel player?
Leishman: No gadgets at all. I'm just a feel player really. I've never been into gadgets at all, to be honest. The most adventurous that I get is putting an alignment stick on the ground or a couple of tees in the putting green to keep my face square, and that forces me to ensure I'm striking my putts in the middle of the putter. If your stroke is slightly offline you're going to hit the tees. That's about it. On a tournament day that's the most that I'll do with aids.
On practice days I'll use putting mirrors to check my alignment and build my confidence in my setup, but I don't like to use things I can't take on the course.
GRM: Any go-to drills in practice?
Leishman: Leapfrog is a good one. It's a speed drill. Put three tees down maybe three feet apart and try and get your first ball just past the middle tee and see how many balls you can get in between that ball and the last tee.
I'll do that a bit, especially when the greens are quick. I'll do it uphill and then downhill for speed control.

GRM: How do you want to feel in your pre-round routine?
Leishman: You want to leave the range and go to the first tee extremely confident. And that's key for weekend golfers too.
My last shot always needs to be a good shot. You don't want to spray one or chunk one as your last shot before you go to the first tee. You just want to know that you're striking it well, hitting the middle of the clubface.
I try not to think about it too much or make it too complicated. At the end of the day, you could be hitting it as well as you'd like, but if you're not making the putts you need to make it's not going to matter.
GRM: What is your most important advice for amateurs in their practice?
Leishman: Chip and putt before your round for sure. Learn the grass, learn the greens. Understand how the course is going to react that day. Get the feel and speed of the greens. Every amateur, for the most part, can hit the golf ball decently well, but get your short game sharp before the round.
Let's say you hit it to 30 feet on the first hole and then leave yourself 10 feet for par, you're not going to leave a very good taste in your mouth going to the second hole. So I think speed with the putting, and hitting a few solid chip shots just to see how the grass is on your wedges – see if it's sticky or if the ball's jumping out. See if the grass is thick or thin or whatever. It makes a huge difference because chipping is such a delicate thing.

Leishman's caddie, Matt Kelly, shared his thoughts on what amateurs can learn from Marc's practice habits:
Matt Kelly: Marc never uses training aids because he can't use them on the golf course, so he only works with what he's legally allowed to use. That's something we all can learn from. He kind of just practices how he plays rather than practicing and trying to transfer that into playing.
He'll put a club down to check his alignment, then quickly pick it up to hit the shot. He just practices simply, and that's good because that's how he plays on the golf course. He tries to do everything simply.
He doesn't like swing thoughts or swing positions. He likes to picture a shot and then see it come together fluidly in his mind. That's the kind of stuff he thinks about during his swing.
We all think too much sometimes as we stand over the ball, even on the range, but the key is simplifying stuff.
Garrett Johnston has covered 30 majors and golf for 10 years. Follow him on Twitter @JohnstonGarrett