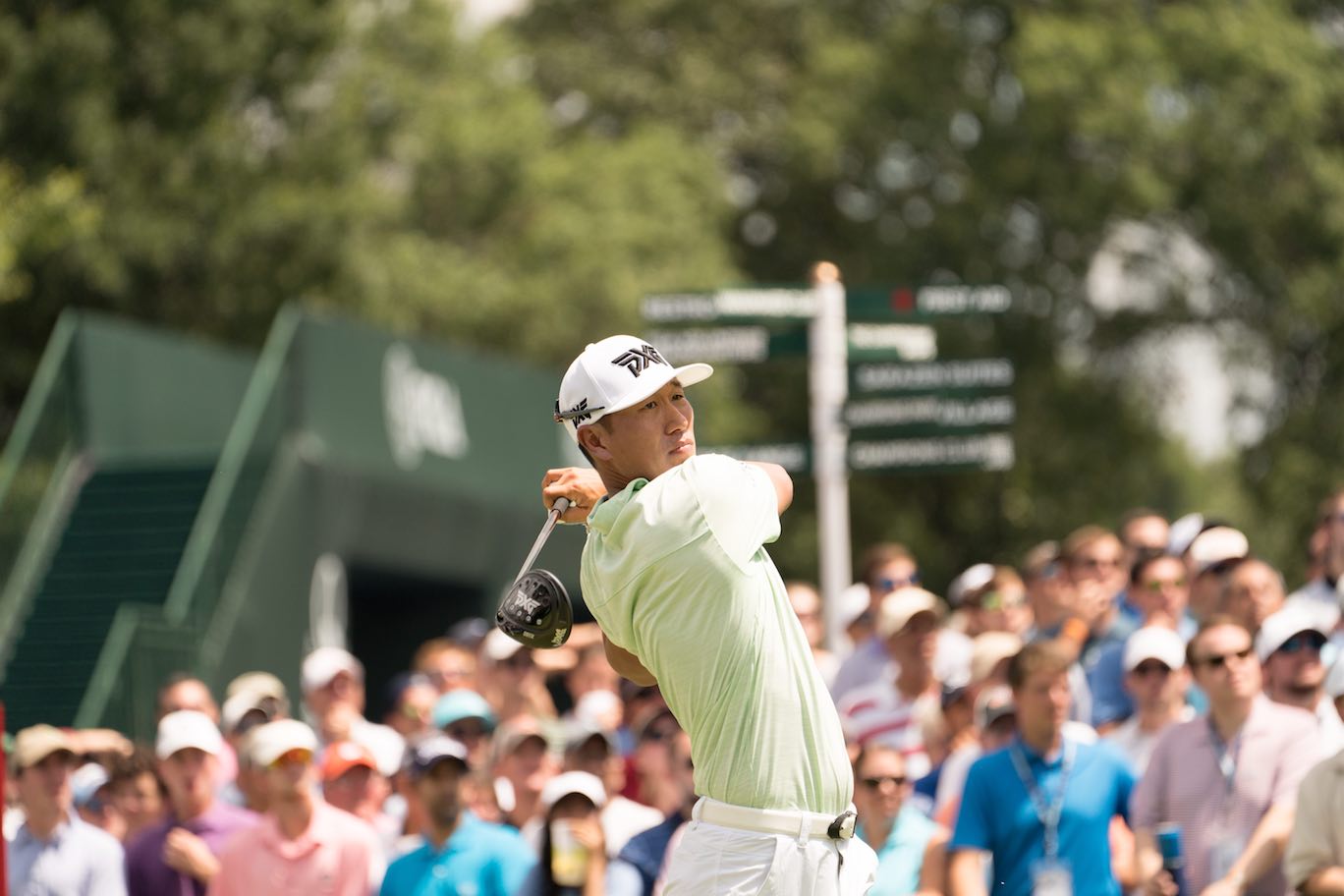 By Garrett Johnston
James Hahn, the amicable two-time PGA Tour winner, is the subject of this Tour Talk. During the initial days of the COVID-19 pandemic, Hahn kept himself extremely busy at home in Scottsdale, Arizona. He told Golf Range Magazine that he took out a wall in his garage, fixed the backyard waterfall pump, planted a mini cactus, and spent time coloring with his daughter. Changing the subject just a bit, we caught up with him by phone for some helpful golf range advice:
Golf Range Magazine: What can amateurs do to get more out of our practice time?
James Hahn: You want to practice the things that you're not good at, that way you can get better. However, that doesn't mean that you stop practicing the things that you're really good at, because that's what makes you great. I'm an above-average mid- and long-iron player, but in saying that, I don't hit too many mid- to long-irons on the course. So, I don't spend too much time in those areas because I'm not going to get the bang for my buck.
Think of your practice like fantasy basketball. If you get a player who's average in everything, you're going to lose your league. So, in golf, if you're average in everything, then it means you're not great in anything. You have to be able to drive the ball well at the pro and [high] amateur level. I see more guys practicing their driver at PGA Tour events than chipping and wedges from 30 yards out. I think the second most important aspect is putting. If you can eliminate one three-putt and make one more fifteen-footer every round, and make most of your three and four-footers, then you're probably picking up two to three shots on your competition.

Golf Range Magazine: What should amateurs focus on when we practice our putting?
James Hahn: There is an infinite number of drills and training aids you can use. If an amateur [golfer] buys a training aid for putting, he is going to benefit regardless, because he's never used it before. It opens up the possibilities of being able to identify what's wrong with his putting, why he's not making more putts. And it will also give him more confidence going into a round. Something as simple as the putting mirror will help you be able to set up to the ball consistently, from a two-footer to a fifty-foot putt. You're going to benefit from doing the mirror drill just eight minutes a day. Doing a three-foot tee drill around the hole and just making three-foot putts for eight minutes a day is going to improve your putting. Most amateurs don't putt enough, and when they do putt, they drop a couple of balls on the putting green. They see a hole twenty feet away and putt, and they don't even finish. They're not focusing on reading the putt and they feel like they're just trying to gauge speed. The line is probably more important, so that's where I see amateurs being able to improve the most in their putting.

Golf Range Magazine: If we've never played a course, what should amateur golfers do in our warm-up to get our jitters out?
James Hahn: It depends on how often you play golf, if you're going out there to just have fun and hit the ball around, or if you're really trying to put a good score together. Get the speed of the greens and once you're loose, just use one ball and line it up to where you want to putt. Read the break – read the speed – take your time and try to really make a putt. That shifts your mental focus from preparation to game-time. You want to get ready for your round by being accountable for every shot. You usually go from using three balls and just whacking it around to the first hole and you've missed the green and chip it up to five feet. Well, you've suddenly got this five-foot downhill, left to right putt, and you're like 'Wow, this is kind of stressful. I wasn't prepared for it.' So, if you prepare well enough on the putting green, then it should be easier for you on the course. You will also know what to expect and you know how to judge certain aspects of your game. The same goes for chipping, driving, and warming up on the range. If you have that extra focus during your practice, it makes things a lot easier.
Golf Range Magazine: Should our range warm-up be more about hitting our targets or getting our body warmed-up?
James Hahn: On the range, you're able to try different shots that you might not necessarily use on the golf course just to see what works. I like to use the range time to be able to identify two or three different swings that I can use under certain conditions on the golf course. Obviously, you want to have your draw, your fade, and your straight shot during a round. Sometimes you want to identify on the range that you're about to hit your low shot or your high shot or this is what my three-quarter shot feels like. Or if you're not hitting the ball well, you might think to yourself 'Let's try this swing to see if it works.' Just do an analysis of whether or not it's best to try to do a swing change at the beginning of the round or use the same swing that you've had. I use the range sessions for that time instead of trying to put myself in a game-time situation.

Golf Range Magazine: How long is your pre-round warm-up?
James Hahn: I'm at an hour. At one hour I feel like I'm comfortable. In the early morning rounds, I've gone a little later than that because of daylight. I really like to see my ball land when I'm on the range. So early mornings in Hawaii we're there hitting balls on the range [no farther than] twenty yards. In that situation you're just trying to loosen up. It's almost pointless to be there an hour early because you can't see your ball on the ground. I also get a little antsy in the afternoon tee times, so I take about an hour and ten-minute warm-up on the range, just because I've been waiting around. It can all vary but a lot of the variance is from taking your time, hitting a couple of extra putts, hitting a couple of extra tee shots to get the anxiety out before you tee off.

Golf Range: Should we always go back to the putting green before we tee off? I know some players and amateurs are adamant about that.
James Hahn: I've done it both ways. I've seen great players do it both ways. It's really about where you feel you're having a lot of anxiety. And if you want to just feel calm and collected, and you are 100 percent ready and mentally focused, then you should go putt and relieve some stress and keep the body moving so you're not stagnant.
At Mayakoba, I'm hitting a 4-iron on number 10 if I tee off on the back. It's a tough shot to start, so I feel more comfortable right before my tee time hitting a couple of 4-irons on the range. If an amateur is nervous about hitting his drive on the first tee, then I think it's better if he hits a couple of drives on the range and pretends this is the first tee. This is what I'm going to do – this is my routine and I'll stick with that routine. Do that, as opposed to being on the putting green and being all worked up about hitting that first tee shot.