Zach Johnson will be in the spotlight this month when he joins fellow past Masters champions and the rest of the exclusive field at Augusta National Golf Club for golf's annual must-see event. It's been 12 years since Johnson adorned the elusive Green Jacket.
Johnson loves to call Augusta National "the most predictable golf course I've ever played in my career." Though it sounds like a critique, it's far from it.
Johnson infers that there are no surprises in the greens. Any putt hit properly is going to go in, and you know exactly where the ball will go if you miss the green right or left on a certain hole. Everything feeds to certain collection areas with the course's abundance of false fronts. Augusta National offers perfect conditions, a reliability of how the course will react to well-struck golf shots. It's routine in its most premium sense – but if you're not prepared to counter with consistency and mental toughness, the course will expose you.
With that in mind, Johnson recently discussed practice routine that's helped him become a two-time major champion.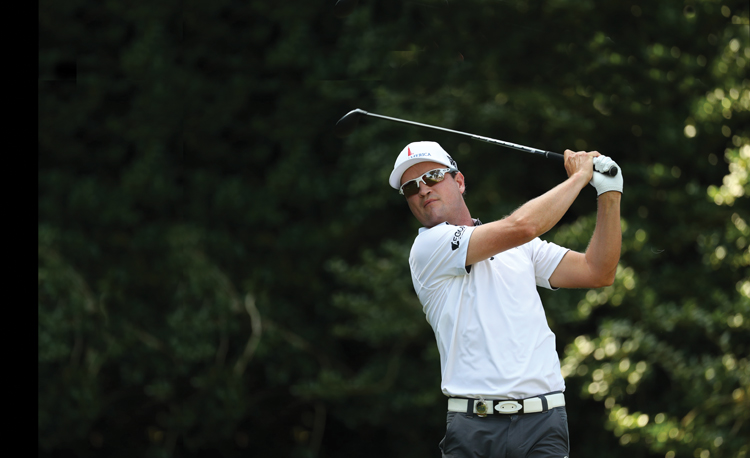 Golf Range Magazine: What's the focus of your pre-round practice?
Zach Johnson: Sometimes it varies depending on the layout of where everything is. Where the range is, where the short game area is related to the first tee. What are the conditions? Is there rain or wind? there are so many factors involved.
I would say more times than not I would like to meet with my caddie 55-60 minutes before my tee time, do a little bit of putting, do a little short game, hit some balls, end with putting and go. That's kind of how I've always done it.
GRM: What are you usually looking to accomplish in your putting?
Johnson: I do some technical work first, just to get the ball rolling on line. I like to use putting mirrors so that I can see that I'm on line and that my eyes are lined up properly over the ball. And then I do shorter putts and look for the sound of the bottom of the cup. That sound gives a lot of confidence, whether you're me or a player at home. And then I get into speed putts after that, trying to get my lag putts down and feeling confident. I end with speed before I go to the chipping area.
Once I leave the range and come back to the putting green, I'm just doing routine…from three feet, four feet to 40 feet. I'm just trying to get into the routine of hitting a solid putt, getting myself used to that feel and seeing where it goes.
GRM: What do you want to get out of your range session?
Johnson: I want to hit solid shots, and remind myself early on what that feels like. I'm also looking to get the ball on the proper start line. A solid strike that starts on the proper line in the air builds confidence. But remember, it's a warm up. I don't want to get overly technical before I play a round of golf. You will then start overthinking, and that's the last thing you want to do before a round of golf.
There have been certain times when I have gotten technical because of something specific I'm working on, but for the most part it's not conducive to playing. So I'm just trying to get acclimated to the surface of the ground, find some good rhythm in my swing and make some good body turns as I warm up.
GRM: What would you recommend weekend warriors work on to warm-up properly, especially if we only have a short window to warm-up?
Johnson: I would say if you can hit balls for five minutes then do it. You need to try and get the feel of solid contact. Maybe a couple wedges, a couple 7-irons, a couple drivers and go. Don't hit just seven or eight 6-irons, that's just a waste of time in a short session.
Think about it this way, where do you hit the most shots each round? Your putter, your driver and your wedge. So focus on them as you're in the practice areas. But if you don't have that much time, then I'd say go putt. You've got to get loose too, so you want to be able to stretch.
We as PGA Tour players have already been to the gym for quite some time before we get to the range. So my body is warmed up and in a proper position before I even go to the range. So these guys coming off work who are trying to get nine or 18 holes in late in the twilight rate, I get that.
That's the beauty of this game. Get limber as best you can, find the speed of the greens and go.