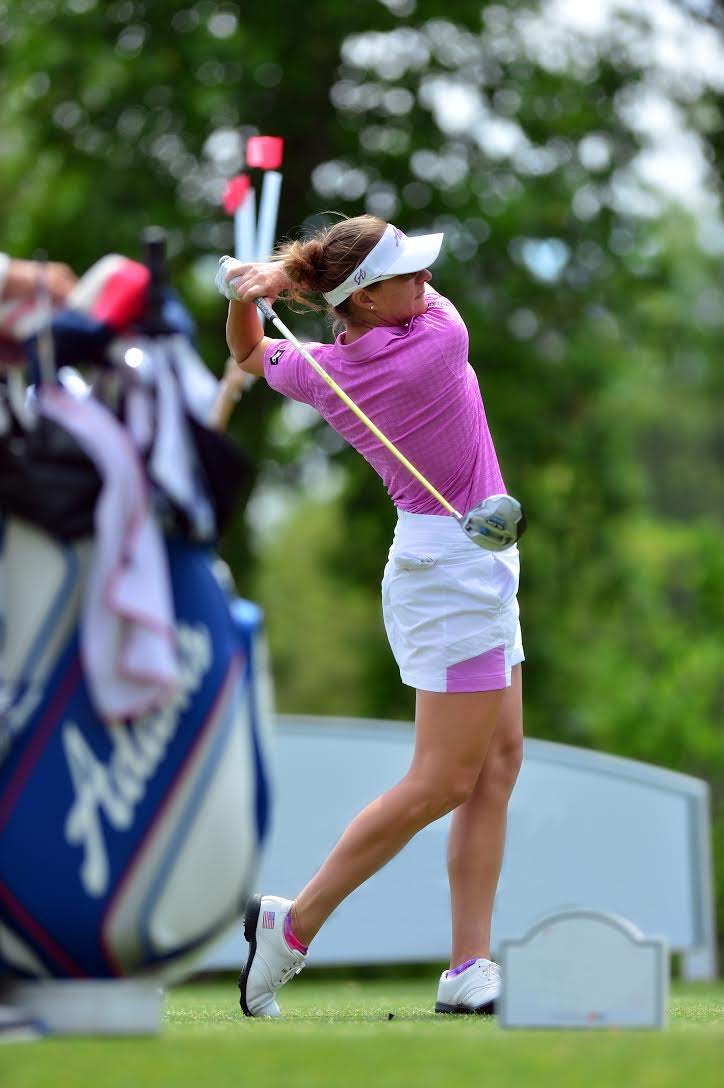 By Garrett Johnston
Brittany Lang is a two-time winner on the LPGA Tour, one of which was the 2016 U.S. Women's Open. She has played in five Solheim Cups, including three victorious competitions. The McKinney, Texas resident brings a lot of insightful advice on how we should practice for our rounds in this Tour Talk.
Golf Range Magazine: What does your warm-up look like?
Brittany Lang: I give myself about an hour, always starting on the putting green. There are two ways I work on my putting stroke. I pop a chalk line on the ground and putt in between six tees that are usually the width of my putter. I do that for ten minutes to groove a nice, fundamentally-sound setup and putting stroke. I want to make sure the stroke is off to a good start. Then I roll some short putts from five feet and in – left to right, right to left, straight, uphill, and downhill. It sounds extensive, but it's not. I'll usually do some mental practices with a focus on seeing the ball go in the hole or hearing it..feeling it. I do this because it wakes your senses up to that connection with the target. I'll do a practice thought where I hear it hit the putter and I hear it go into the hole and see if I can stick with that mental thought the whole stroke without any distractions in my mind.

Golf Range Magazine: Interesting, what other practice thoughts should recreational golfers put to use?
Brittany Lang: You can do balance drills, tempo, tension – anything that gets you inside your own body which is great and less outside. Putting your feet together, standing on one foot, or different tactile things with your hands, or trying a firm grip pressure and a light grip pressure. These are all exercises that may seem silly or counter-productive but they get you inside your body instead of worrying about what's going on around you in your practice.
Golf Range Magazine: What are some good things for amateurs to focus on in their warm-up?
Brittany Lang: It's always good to get some fundamentals covered. So go to the range and lay a club down for five minutes, get set up properly to a target, and make a few swings with nice alignment. Then I always take that club away and practice how I play. I am always focusing on my target – some days I don't do it very well, but I'm always trying to hit the ball at the target. Don't just aimlessly hit balls. If you're warm, get behind the ball, line it up, try to hit a draw or a cut, and engage your mind, because you're going to have to hit the ball at a target on the course. So it's very important to rehearse hitting the ball at a target with commitment on the range while you're warming up.
Golf Range Magazine: What do we want to take away from our warmup once it's over?
Brittany Lang: The purpose of a warmup is to create confidence and get the body warm; that's all it's supposed to do. Every day is different though. If I'm missing all my short putts warming up, then I'll go even closer to two feet and knock them in to get that confidence. Maybe I'll just putt around but not even to a hole because you want to be confident, you don't want to sit there and grind and be missing a lot of short putts before you play. It's not a practice session; it's a warmup to get the feel for the greens and to get your body warm.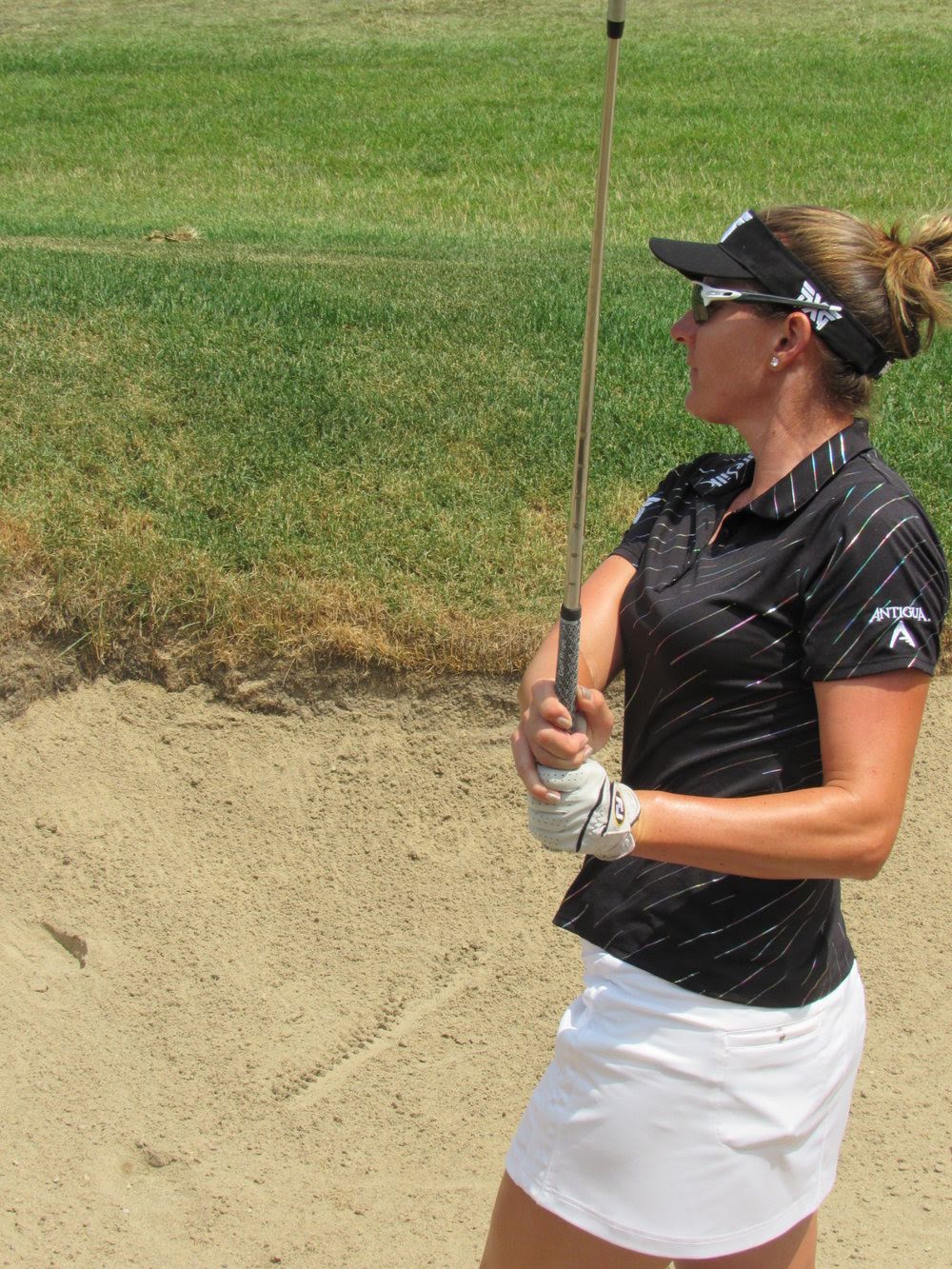 Golf Range Magazine: How can amateurs adequately-prepare their short game for their round?
Brittany Lang: Hit ten chips with one club that you feel comfortable with and then putt. It's always good to get a feel for the greens – it should give you a lot of confidence. Amateurs should always use their putter when just off the green – just get the ball rolling. That's one thing I do as a professional. I putt around the greens when I can because I just feel you're going to get it closer to the hole.
Golf Range Magazine: What is your biggest advice for us as we practice on the range?
Brittany Lang: Work on your alignment for five minutes, really focusing on your target. It's not going to be perfect, but I think that could really help you on the golf course.
Golf Range Magazine: Does your practice change depending on the event you're playing?
Brittany Lang: Yes, but mostly in the majors. If we're playing a British Open and it's really windy, I'll hit a lot of low shots on the range. Then if I'm playing a U.S. Open that's really firm and fast, I'll work on hitting higher iron shots or I'll hit a few higher chips because you need them to land softly. Week to week our courses are not that firm and fast, but during the majors, I change my warm-up for sure. You want to practice what you're going to do that day.

Golf Range Magazine: Does your warm-up change based on weather?
Brittany Lang: When it's really hot at a tournament, I might only hit balls for fifteen minutes. You want to be excited to go play, not exhausted. Hit different shots to mix it up – draws, low shots, high shots, something fun to keep it fresh. You have to keep it interesting because you can't do the same thing every time. That's just not that fun to me.
Garrett Johnston has covered 30 majors in ten years writing about the game. You can follow him on Twitter @JohnstonGarrett. Garrett also hosts the Beyond the Clubhouse golf podcast with players, caddies, and golf media. You can find it wherever podcasts are found.