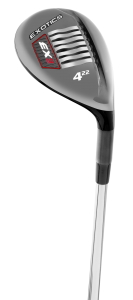 Tour Edge Golf continues the new product line introductions with the new Exotics EX9 hybrid. The EX9 hybrid features the superior forgiveness of previous models combined with Exotics first-rate distance technology  SlipStream sole, cup face, combo brazing  in a classic hybrid style.
The EX9 hybrid's technology story begins with a maraging steel cup face with improved Variable Face Thickness (VFT). The thin and thick areas of the face are strategically positioned for optimal distance and forgiveness, even on off-center contact. The VFT face is combo brazed with a heavier hyper-steel body to make the EX9 hybrid easy to hit from any lie.
The EX9 SlipStream sole features shorter 'waves' from front to back, dramatically reducing the amount of turf interaction – the result is a full-speed explosive impact. The heavier sole also positions the center of gravity lower in the head to help players launch the ball out of any turf condition. The innovative design of the Exotics SlipStream sole delivers maximum club head speed through all turf conditions for Exotics length.
Creating the ultimate ball speed generator, the Power Grid has been reengineered deeper and much more narrow to increase the spring-effect across all areas of the face. Notches along the back edge of the Power Grid provide thinner spots specifically designed to increase rebound at impact leading to faster ball speeds.
The EX9 hybrid comes standard with UST Mamiya Recoil shafts. Specifically, the 450 and 460 shafts are for players seeking a super lightweight option to increase club head speed for high ball flight and greater distance in a very stable platform. While the 670 and 680 shafts focus on players seeking a lightweight option to increase club head speed for mid-high ball flight and greater distance in a very stable platform.
The EX9 hybrid is finished in an elegant and modern gloss black and is available in 2 (17), 3 (19), 4 (22), 5 (25), and 6 (28) models. Every Tour Edge club comes with a lifetime warranty and a 30-day play guarantee. Suggested retail is: $159.99. Pre-orders can be placed with an authorized dealer, projected product ship date is November 15, 2015. A smaller, tour shaped hybrid will also be released in the upcoming weeks. For more information, call (800) 515-3343 or visit www.touredge.com.
Located in Batavia, IL, Tour Edge manufacturers and sells golf clubs under both the Exotics and Tour Edge.
brands.  Exotics golf clubs are for those who demand the finest performing golf clubs in the world.  With experienced designers and smaller production runs, Exotics by Tour Edge brings futuristic technologies to the marketplace.  Exotics' manufactures the finest quality, high-technology golf clubs and hand-assembles them one club at a time.  Tour Edge has forged a name for itself as a producer of high-quality golf clubs that are sold at unbeatable prices.  The company's clubs are distributed throughout the United States and the world.
High resolution images can be obtained by contacting the public relations director and will be available at www.touredge.com (select media center) when the product ships.
Contact: Joanne Miller
(630) 584-4777 x110
jmiller@touredge.com