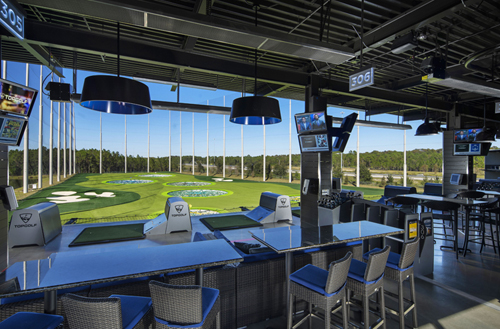 By John Torsiello
Topgolf facilities are a fun place to be, hitting drivers as far as you can into a Disney World-like landing range and playing myriad games with your buddies, all while having a burger and beer brought to your own little cozy enclave.

Does a facility that would seem to appeal more to the Millennial and Gen Z generations really possess the right stuff to grow the game of golf?
PGA Professional Chris Carter says the answer to that question is a resounding yes. "If it doesn't grow the game, then I'm not sure what can. The experience I had was fun, fast, and easy." Carter envisions Topgolf introducing "a generation of people to golf that was previously missed. As a golf professional, it excites me that these people are being introduced to the game. Now, we can convert them from being interested in the game to full time golfers."

Carter visited Topgolf locations in Atlanta, Jacksonville, and Orlando Florida and had "a great experience" at all three. "It gives you some of the difficulties and challenges of regular golf, but makes it easy for the beginner or less-skilled golfer to have fun."
Mike Andrusin, another PGA Professional and golf coach, recently took his PGA Jr. League team to the Topgolf in Edison, New Jersey for a match. He believes if the TG model "doesn't get too off track" it will be a great for golf. "It was special to compete in that setting. The teaching pros that run their PGA Jr. League team filled me in on the day to day business and they are busy and popular. They have plenty of party-type groups without causing grief to the daily patrons." Topgolf and the technology it features gives customers "a fun and rewarding golf experience that I, as a PGA member hope will carry over when patrons want to go to a real course."
Edison, New Jersey's Topgolf facility
A combination of range and restaurant has set Topgolf apart in the industry
Andrusin plans to continue competing against Topgolf's team even though it takes them an hour to get to the facility. The justification for making the long commute? "It is a totally different kind of game for my kids to play. I don't think they (the Edison Topgolf location) have gotten traction yet with their Junior League program due to the lack of a course. But there is more than enough there to offer in a competitive setting to attract others."

It was Andrusin's first visit to Topgolf and he was impressed. "From the road the entire facility looks gigantic. That is the zest of the design with three decks of hitting bays. Just walking up the stairs into the facility gives you the impression it is going to be a grand experience." His kids were fired up over the visit and "loved the light up targets and the cool gadgets" around the hitting bays. "They also liked that food can be delivered."

Nick Franze, owner of Tee It Up Driving Range in Oviedo, Florida, pondered how to spark business at his previously grass-only facility. He decided to install Topgolf's Toptracer technology at his range two years ago. The results were immediate and dramatic. Toptracer tracks the path of the golf shot and displays it on the hitting bay's HD screen.
"Our ball sales are up 30 percent," reported Franze. "The traditional Toptracer model is use on a per-hour basis. We thought we could benefit more by having users purchase buckets of balls and take their time doing whatever they wanted in the area," which includes 10 covered hitting stalls with four more being added. "The technology is fantastic and allows for a variety of options for both serious players and people just looking to have some fun, see how far they can hit the ball, or play games against one another."
Franze has also seen a paradigm shift in his customer base that he attributes to the Toptracer. "What we have done is create kind of a mini Topgolf, with couches and other seating and a small food and beverage component." His regulars quickly adopted Toptracer, but he has also noticed more young people coming to play games and just have fun. Franze said they see more families coming out together, with some hitting and others watching. Getting them to join in with the rest of the family should be the goal of all Topgolf or Toptracer facilities.
Innovating around entertainment and bringing people together is at the core of Topgolf, according to Topgolf Entertainment Group CMO, Brian Radics. "And while the experiences may vary depending on which venue you visit, you will always find that everybody is welcomed into an environment that connects people no matter the occasion. It's why we've grown from a simple technology to enhance the game of golf, to a range of unmatched experiences, not only at our venues but also virtually and digitally."

Like Franze, Radics credits Toptracer as being the driver, no pun intended, of the Topgolf craze. "Toptracer is continuing to deliver game-changing technological enhancements that will transform golf over the coming decade, and is designed to attract more people into the sport and build a lifelong passion for the game."
Radics believes Topgolf has made golf "more inclusive, more engaging, and more fun," and has "brought a new demographic into the sport unlike any other company has, through our myriad touch points". He added, "This can only be accomplished by constantly learning, evolving, and improving the experiences we create and the innovation we champion. We believe in the power of bringing people together to create connections and moments that matter – this commitment is what creates opportunities for us to grow our fan base even more."
Topgolf Entertainment Group's expanding network of venues, technology, partnerships, installations, and digital properties have connected nearly 100 million fans globally, according to Radics. "We are helping grow the game of golf and are committed to playing a significant role in the expansion of the sport through our in-person, virtual, and digital Topgolf experiences."