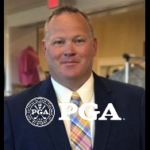 Tommy Moore is the PGA Director of Golf at Firestone Country Club, in Akron, Ohio.
Tommy Moore on the importance of hosting social engagements on your practice area:
We welcomed several new staff members as we kicked off the 2021 season at Firestone Country Club. With so many new faces on our team, I felt it was important for them to meet our members early in the year and get to know the people we serve every day. So, we recently hosted a free event called Party at the Practice Area to encourage our members to come out and meet the team. I had already sent emails introducing the new staff with bios and photos so members would be familiar with these individuals the first time they encountered them in and around our golf shop. We designated a beautiful spring Friday night to set up TrackMan, bring out our demo and fitting carts and gather as a club, offering free tips and coaching and just getting acquainted. Our range has a putting green and short game area less than 50 feet away, so utilizing our entire practice facility seemed liked a fun and innovative way of getting everyone together. We held putting and chipping contests, long drive competitions and gave away free lessons with the "pro of your choice". This would not only give the new professionals the chance to demonstrate their knowledge and expertise on the lesson tee but might also generate additional lesson revenue beyond the one free session. We piped in music to add to the festive atmosphere and everyone had a great time – so much so that we're making Party at the Practice Area a monthly affair. With food and signature drinks available for a small charge, it truly became a party.

Tommy Moore on the business impact of hosting social engagements on your practice area:
Social events at private clubs are nothing new, of course. But hosting this special event on our practice area brought many facets of our business to the forefront. From our golf instruction and fitting services to simply meeting and greeting members, the Party at the Practice Area definitely served its purpose. In addition, with music, food, contests and technology all part of the night, members could see that considerable planning went into the event and they appreciated our efforts, as well as the opportunity to meet our new team. With such stellar feedback, having it become a monthly social event will give us many additional opportunities to engage with members outside of the golf shop and away from our regular daily responsibilities. We welcomed around 40 members that first night and expect even more at the events to follow, as word of mouth spreads and they continue to get to know our new professionals.
If you would like to email the author of this Best Practice directly, please email TomMoore@pga.com.