How the PGA Tour Stalwart Preps For Play
By: Garrett Johnston
Just how consistent is Tommy Fleetwood? He made all 18 cuts on the PGA Tour in 2018-19 and only missed one cut the season before, in his first start at challenging Quail Hollow in 2018.
Though he's yet to win on the PGA Tour, the 28-year-old has won four times on the European Tour and almost caught Brooks Koepka at the 2018 U.S. Open with a sizzling 63 on Sunday that matched the lowest round in U.S. Open history.
Fleetwood is approachable, quick to smile at fans, especially kids, and extremely modest with how he conveys his work ethic. The Englishman shot one of the best rounds of the morning wave this year at the PGA Championship, a 67 that included eight 4-iron shots, and then went straight to the range with caddie Ian Finnis. He also went straight to the range after his second round in the BMW Championship in August when he made eight birdies en route to a 6- under 66. So why practice when it's going good?
That's where our questions with the 2018 Ryder Cup star begin.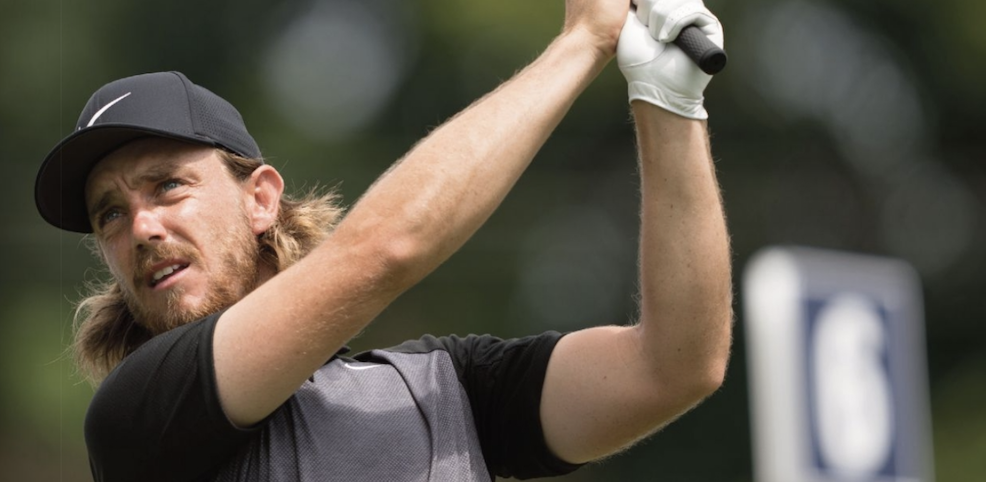 GRM: You go straight to the range after really good rounds, what's the story with that?
Fleetwood: Honestly I always want to keep playing, and I'm just trying to get better. Often times on tour the wind changes and holes are playing in a completely different direction, so it's always good to stay sharp and it does make a difference to take my momentum straight to the range. There's always something to work on. I guess I'm just practicing to try to get better in my routine.
GRM: Speaking of routines, how long do you spend on the range in your warm-up?
TF: It's not long, really. I spent only 10 minutes out there before my second round at the BMW Championship. I don't need to do a lot in my warmup routine. It's never set in stone. When it comes to big tournaments like majors or the FedEx Cup events, I don't really need to practice before I play. I'm just trying to get myself ready to go out there. I try not to spend too long on it, and then after that it's just different kinds of feels and what you need to do on a day-to-day basis. But we try and stick the warmup in just as a constant, so that it's always there.
GRM: One of the key training aides you use is the Swing Plane Perfector, how does that help?
TF: I've used it for about three years and it just keeps me in check a little bit. Some days I have to try and skim it, other days I have to try and miss it. It just keeps me in sort of a nice boundary of where my swing is, so it's very helpful for my full swing and keeping everything in position.
GRM: You're a world-class iron player, what do you like to do to feel with them before your round?
TF: In general, I work on getting a good feel for them on the range; either on the way back or the way down in my swing. There's always something to tweak or something that you need to do in general. The days that you don't are the days that you're going to have a good day hopefully. But there's always something there that you just need to tweak, even if you're hitting your irons well.
For me it's always fine little margins, and if you continue to put your swing in check, it will hopefully be clicking as you're on the range and give you the confidence that you can pull those practice shots off during your rounds.
Hopefully you will be clicking out there.
GRM: What's your advice to improve putting in pre-round practice?
TF: I think with putting, that doing the simple things well is often overlooked. When you practice, make sure you are making some of your shorter putts before you get out there on the course.
I think there's always an element of strike involved, and you want to ensure that your strike of the ball is confident and consistent.
It never does any harm to hit a few putts away from the practice holes, not trying to hit them at the hole, but build confidence in your strike.
It doesn't sound amazing does it? But that's the basics. We putt on different grasses all the time, different greens so we have to get those shots and get those feels. And you need those in general on the golf course you're playing that day.
GRM: What about chipping, how can golf coaches help students improve there?
TF: In general when weekend golfers play a round of golf, there will be three or four short game shots that away during a round. To prevent that, they need to be able to effectively strike a lofted chip and a consistent bump and run. The key to pre-round practice time (for chipping) is to find those shots and hit them confidently so you can bring them to the course.