Keeping spirits high and scores low, the #1 ball in golf is also the #1 gift in golf, particularly when it comes with a creative and personal touch.
From now until Dec. 31, golfers and gift-givers alike can enjoy free personalization on all Titleist golf ball models, including Titleist Pro V1 and Pro V1x, the best performing and most trusted golf balls in the game.
Personalization includes up to three lines of block text (17 characters per line) imprinted on each golf ball in black, blue, green, red or pink ink. Popular choices include names, nicknames, initials and special messages, as well as social media usernames (i.e., @VokeyWedges) and hashtags (i.e., #BREAK80).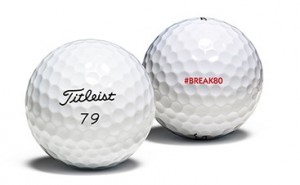 Free personalization is also available on custom orders of Pro V1 and Pro V1x with double-digit play numbers (00 and 11-99). The combination of a single- or double-digit play number with personalization is often used to commemorate a holiday, birthday, anniversary or other significant date or event. Other popular double-digit choices include lucky or favorite numbers and athlete jersey numbers.
Many golfers also use their double-digit play number to set a scoring goal for the season.
The minimum order for free personalization is one dozen. Orders placed by Dec. 10 (Dec. 3 for double-digit play numbers) are guaranteed to arrive by Dec. 24.
Orders can be placed by visiting any authorized Titleist golf shop. To locate a local Titleist golf shop, please visit the Titleist golf shop locator at: http://www.titleist.com/find-a-golf-shop. For custom individual and double-digit play numbers, an additional charge may apply.
2015 Titleist Custom Holiday Promotion Details: http://www.titleist.com/teamtitleist/b/tourblog/archive/2015/10/30/free-personalization-this-holiday-season-on-all-titleist-golf-ball-orders.aspx
*Note: Free personalization promotions are also available in Canada and Europe. Please visit Titleist.ca and Titleist.co.uk for details in each market.
CONTACT: Eric Soderstrom, Manager of Communications (eric_soderstrom@acushnetgolf.com, 508-979-3028).