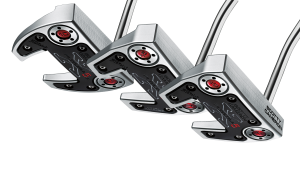 The new Scotty Cameron Futura X5 putters combine a multi-material construction with a modern, wing back design to provide high-MOI performance in a refined shape.
For more than a decade, Master Craftsman Scotty Cameron's Futura putter designs have delivered performance andstability. The new Scotty Cameron Futura X5 and X5R models, available in golf shops worldwide beginning Oct. 31, provide stability through advanced perimeter weighting with solid, forgiving feel, and vertical and horizontalsightlines for easier alignment. The X5 model is angled in the back, while the X5R features a rounded shape. The Matador Red Midsize grip matches well with the face-balanced mallet design for those players looking to execute a more square-to-square stroke.
"The Futura X5 mallet is for someone who likes the stability of a bigger head, the feel of a bigger grip, and likes to look down and see more lines for alignment purposes. X5 is more of a mechanical shape where the X5R is a softer, rounder shape. There's no right or wrong. Same performance, same weight, same feel. It all dependson what you like to look at," Cameron said.
"We're finding that mallets make up as much as 50 percent of the putters used on the PGA Tour each week – and for good reason. The size of the head is larger so it looks andfeels more stable on the ground. The bigger the head, the more lines you can add for alignment. We worked with many players on tour and in the Putter Studio during the development of X5 and they all told us the same thing: It adds confidence."
In addition, the new Scotty Cameron Futura X5 Dual Balance putter combines the X5 head style with Dual Balance technology to provide maximum stability for golfers who struggle to make a consistent stroke with a conventional length putter. Like all Dual Balance models, Futura X5 DB has a 50-gram heavier head (400 grams total) and a 50-gram counterweight in the butt of the shaft. This configuration helps many players make a proper stroke where the butt of the shaft remainspointed at the midsection. Dual Balance putters have a standard length of 38 inches with a 15-inch grip that allows the player to grip down below the counterweight for a more stable stroke.
HIGH-MOI CONSTRUCTION FOR STABILITY: Futura X5 putters feature a multi-material design with a precision-milled 303 Stainless Steel body and high grade 6061 aluminum soleplate. A lighter aluminum center section also extends down the wings. The body features a soft, Silver Mist finish, contrasted by the anodized black aluminum sole plate and center.
The use of aluminum allowed Cameron to hollow the area under the soleplate, and redistribute the weight to the perimeter (in the wings) to achieve a high MOI for stability. It also allowed for a thicker face and topline for feel and sound. (Futura X5 Dual Balance has an additional 50 grams under the soleplate to counterbalance the 50-gram weight in the grip.) Heel-toe weights located directly under the face also contribute to the solid feel while increasing forgiveness.
"The X5 basically started from the original Futura 10 years ago. We've learned from where we've been, taken parts of the past and moved it toward the future with performance, feel and sound," Cameron said. "But the concept has always been about moving the weight back and out. When we do that, the putter becomes more stable and the resistance to twist becomes a lot better. So with X5 we're using different materials like aluminum and stainless steel and getting that weight where it's needed most. But you also have to remember thefeel, the shaft bend, the grip – all of these things have to come together, and they do with the new X5."
FACE-BALANCED DESIGN WITH NEW SINGLE BEND SHAFT: Futura X5 and X5R putters are carefully designed with a new single bend shaft with a higher bend point that produces a true face-balanced configuration, and one shaft of offset for a clean, tour-preferred appearance.
"The single bend came from taking feedback from the tour and working with players in the Studio. Double bendshave been around for years and for X5 we really wanted to clean up the look," Cameron said. "We had many players say they wished that the shaft leaned at their target or on their line, so we worked to find the proper offset and lean of the shaft so at address the bend lines up pointing rightat your target. That was a key one because the mechanical-industrial shape of the head and the clean mechanical-industrial bend match perfectly. What I didn't want was a heavy, flowing bend onto a mechanical head."
MATCHING GRIP FOR ENHANCED PERFORMANCE: The larger, mallet head designs of Futura X5 and X5R work in harmony with the 10-inch Matador Red Midsize grip. The grip, weighing in at 77 grams, feels great and promotes a more stable stroke.
"The grip can complement or kill the design of the putter," Cameron said. "I know that sounds strange, but grips make a difference. With blades, it's a little more handsy, a little more flowing, a little more feel. With Futura X putters, it's a little more robotic, a little more square-to-square and this larger Matadorgrip complements the head very well."
FUTURA X PUTTER FAMILY: Futura X5 and Futura X5R join the Futura X to form Cameron's highest MOI line of putters. The Futura X head design was the direct result of Cameron's extensive work with Titleist Brand Ambassador Adam Scott, who used a prototype version of the putter in winning the 2013 Masters Tournament. Scott, who has been using Cameron putters for more than a decade, calls his Futura X "the most stable putter I have ever played."
Precision milled from high grade 6061 aluminum, the original Futura X design combines a rear balance bar with deep heel-toe weights plus perimeter weighting under the face. The resulting deep CG provides stability throughout the stroke, while the perimeter weighting adds forgiveness and solid feel. The result is unmatched stability and a great roll.
"We have three lines of putters, but this is the most futuristic, the most high-tech," Cameron said. "Futura is different because in order to get high MOI, we have to get the weight wider and further back."
PRICE AND AVAILABILITY: Futura X5 putters are available worldwide beginning Oct. 31 through Titleist authorized golf shops. Futura X5 and X5R have a MAP of $349 ($375 MSRP). Futura X5 Dual Balance has a MAP of $399 ($425 MSRP).
DOWNLOAD IMAGES: www.titleist.com/media/FuturaX5
PRODUCT SPECIFICATIONS:
Futura X5 / Futura X5R
Loft: 3.5º
Lie: 70º
RH Lengths: 33", 34", 35"
LH Lengths: 33", 34", 35" (X5 only)
Head Material: 303 Stainless Steel with Aluminum Sole
Head Finish: Silver Mist
Toe Flow: Face Balanced
Neck: Single Bend
Offset: Full shaft
Grip: Matador Red Midsize
Futura X5 Dual Balance
Loft: 3.5º
Lie: 70º
RH Lengths: 36-40'' (38" standard)
LH Lengths: N/A
Head Material: 303 Stainless Steel with Aluminum Sole
Head Finish: Silver Mist
Toe Flow: Face Balanced
Neck: Single Bend
Offset: Full shaft
Grip: 15" Cameron Dual Balance
• Note: Some lengths above are custom order only.
• X5 and X5R in 1/2" lengths available by custom order.
• X5 Dual Balance is available in 1/2" lengths from 36"-40".
• Custom Loft +/-1° Custom Lie +/-2°.
• Heavier X5 and X5R models available by custom order.
• Additional options available at www.scottycameron.com.
ON THE WEB: www.scottycameron.com
CONTACT: Eric Soderstrom, Manager of Communications (eric_soderstrom@acushnetgolf.com, 508.979.3028).