-Press Release, Fairhaven, Mass.
Master Craftsman Scotty Cameron's commitment to the creative process and collaborating with the best players in the world helped lay the groundwork for the new Scotty Cameron by Titleist Futura X putter. Futura X is a high MOI, modern mallet design with advanced perimeter weighting that provides exceptional stability and forgiveness with solid feel.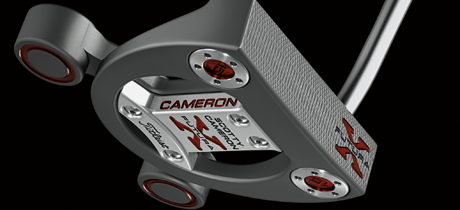 The new Futura X, available worldwide beginning Aug. 1, is the direct result of Cameron's extensive work with Titleist Brand Ambassador Adam Scott, who used a prototype version of the putter in winning the 2013 Masters Tournament. Scott, who has been using Cameron putters for more than a decade, calls Futura X "the most stable putter I have ever played."
Precision milled from high grade 6061 aluminum, the unique Futura X design combines a rear balance bar with deep heel-toe weights plus perimeter weighting under the face. The resulting deep CG provides stability throughout the stroke, while the perimeter weighting adds forgiveness and solid feel. The result is unmatched stability and a great roll.
"I like to describe Futura X as a lethargic putter, for those golfers that need a slow, steady stroke that doesn't jump around a lot," said Cameron, whose putters have been the No. 1 choice of players on the PGA Tour since 1997 and counting. "It's the perfect design for Adam, and will give confidence to all golfers that want stability during the stroke and less hand manipulation."
Futura X features four stainlessheel-toe weights, two 20-gram weights on the rear balance bar and two adjustable sole weights (configured depending on the length) in the front corners of the putter under the face.
The overall headweight of Futura X is 20 grams heavier than a standard Cameron Select putter, resulting in a swingweight of E8. However, since much of the weight is located behindthe axis of the shaft and not directly under the golfer's hands, the Futura X feels stable but not heavy during the stroke.
"Futura X is what I call a 'force balanced' design," Cameron said. "While the putter has a near-face balanced shaft configuration that would normally produce a slight toe hang, there's so much weight off the back of the putter that it forces the face to hang flat. The rear balance bar allows us to add considerable weight a fairly long distance away from the shaft axis, which is really what drives the high MOI."
Said Scott: "The new Futura X is the most stable putter I have ever played. I worked with Scotty and his team at the Studio for many hours at the end of last year and we worked hard to get it right. Even when I began to play it on Tour at the beginningof 2013, we were still tweaking the original design right up until I won with it at the Masters. It was definitely a long process and I provided considerable feedback based on my performance with it under the gun.
"For me, the key to the performance of the putter is the perfect combination of perimeter weighting, high MOI and solid feel. I have more confidence in my stroke with this putter because of its design. Scotty determined the best positions for both the fixed and adjustable weights so the head would remain stable throughout the stroke. I have never had more confidence in a putter or my stroke than I do right now with the new Futura X."
Futura X is offered in standard lengths of 33, 34 and 35 inches, with Futura Mid and Long putters availablethrough custom order only. A double-bend, stepless steel shaft with one shaft of offset provides a square, technical visual at address.
The putter has a Frozen Titanium finish that helps reduce glare, two black sightlines and red cherry-dot weights in the sole and balance bar. The mid-milled face texture draws a crisp sound from the aluminum face and body.
PRICE AND AVAILABILITY: Futura X has an MSRP of $375. Standard length models (33, 34 and 35 inches) are available worldwide through Titleist authorized golf shops beginning Aug. 1, 2013. Futura X Mid (38'' to 46'') and Long (44'' to 52'') putters are available through custom order only.
ON THE WEB: www.scottycameron.com
PRODUCT FEATURES:
• STABILITY through the stroke from the deep, perimeter weighted balance bar and high MOI design.
• SOLID FEEL AND FORGIVENESS at impact from the perimeter sole weights placed under the face.
• MINIMUM TOE FLOW throughthe stroke from the deep weights that create a force balanced face.
• PRECISION MILLED 6061aluminum body with T-shaped sight lines for easy alignment.
• IMPROVED SOUND from the mid milled face texture.
• SQUARE SET UP and appearance from the stepless shaft with technical double bend.
• REFINED COSMETICS with a Frozen Titanium finish and red-dot graphics.
• PISTOLERO GRIP with pistol shape for a stable feel in your hands.
PRODUCT SPECIFICATIONS:
FUTURA X
Loft: 3.5º
Lie: 70º
RH Lengths: 33'', 34'', 35''
LH Lengths: 33'', 34'', 35''
Head Material: 6061 T6 Aluminum
Neck: Double-Bend
Offset: One shaft
Toe Flow: Minimum
Grip: Pistolero
FUTURA X Mid
Loft: 3.5º
Lie: 70º
RH Lengths: 38''-46''
LH Lengths: 38''-46''
Head Material: 6061 T6 Aluminum
Neck: Double-Bend
Offset: One shaft
Toe Flow: Minimum
Grip: One-piece
FUTURA X Long
Loft: 3.5º
Lie: 79º
RH Lengths: 44''-52''
LH Lengths: 44''-52''
Head Material: 6061 T6 Aluminum
Neck: Straight
Offset: None
Toe Flow: Minimum
Grip: One-piece
NOTES:
• All models available in 1/2" lengths from 33"-35.5" (standard), 38"-46" (Mid), 44"-52" (long). Some lengths are custom order only.
• Futura X available in heavy configurations from 34"H-35.5"H.
• Custom Loft +/-1° Custom Lie +/-2°.
• Futura X Mid and Long putters are custom order only.
• Additional options available through the Scotty Cameron Custom Shop at www.scottycameron.com.
CONTACT: Eric Soderstrom, Manager of Communications (508.979.3028, eric_soderstrom@acushnetgolf.com)