Tim Wagner, a Certified PGA Professional in golf operations, is the PGA head professional at Lake Naomi Club's Timber Trails Golf Course in Pocono Pines, Pennsylvania.
Tim Wagner on the importance of creating a unique range experience:
Our practice range at Lake Naomi's Timber Trails Golf Course was formerly a netted area approximately 25 yards in length with a retention pond behind it. When we expanded our pond to better facilitate the course as part of a multi-million dollar renovation, our general manager, Robert Jones, thought we could also use this area as an aqua range offering a completely new experience for our members. We made the switch in 2014 and it has been a hit ever since. The new 125-yard range, featuring three small targets, now allows for our players to hit full golf shots. As a private 9-hole course that requires precise wedges due to small and undulating greens, the range enables our members to see the flight of the ball as they confront common shots they may see on the course. It has also provided an additional area for our members to take lessons on the property.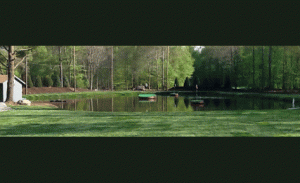 Tim Wagner on the business impact of creating a unique range experience:
There are multiple ways how this change has impacted the business side of our club. First off, it has enhanced our youth program tremendously. The kids love to come out and try to hit the targets and are infatuated with hitting the ball into the pond. Our youth program has seen a drastic increase in participation, going from 50 to more than 150 kids in the last year by utilizing our range during clinics, camps, leagues and lessons. The new range also allows for wedge fittings, which was not possible at our facility prior to its opening. It draws more people out to the course and has helped increase our rounds by 20 percent while also increasing our soft good sales by 10 percent.
If you would like to email the author of this Best Practice directly, please email tw4971172@aol.com