Rory McIlroy has been named an ambassador for PGA Junior League Golf, which introduces kids ages 13 and under to the game in a team setting.
Launched in 2011 as a partnership between the PGA of America and League Golf, LLC, PGA Junior League Golf's numbers soared in 2013, with nearly 9,000 boys and girls competing on more than 700 teams in 33 states. This year, those figures have more than doubled, with 1,500 teams and over 18,000 players participating.
"Team sports are such an important part of growing up and I'm excited that golf now allows young kids to experience this," said McIlroy. "I attribute much of my passion for the game to how much fun I had playing in team competitions like the Junior Ryder Cup. Judging from the initial success, PGA Junior League Golf has the ability to grow the game and help develop the next generation of golfers."
McIlroy credits his father, Gerry, and swing-coach Michael Bannon, for playing a critical role in his lifelong development as a golfer. Now, McIlroy will look to inspire youngsters to participate in PGA Junior League Golf and also encourage PGA and LPGA Professionals to host a team at their individual facilities.
"We couldn't ask for a better partner in helping spread the word about PGA Junior League Golf than Rory McIlroy," said PGA of America President Ted Bishop. "There is a real need to get kids into the game, and PGA Junior League Golf is proving to be a perfect way to accomplish that goal. Having a role model like Rory on board will only further drive interest among youth."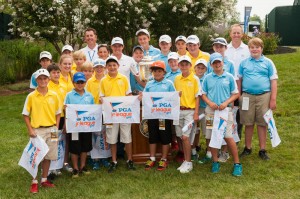 PGA Junior League Golf is similar in structure to Little League Baseball and youth soccer programs, with participants receiving team uniforms with jersey numbers.
Teams are comprised of youngsters (boys and girls) ages 13 and under, with no prior playing experience required. They play 9-hole matches in a two-person scramble format, reinforcing the team concept and limiting the pressure on any one player; coaches can substitute players every three holes, so that all of the golfers on each team can participate.
Teams play regular-season matches before entering city and regional championships. Eight regional champions will advance to the PGA Junior League Golf Championship, held Oct. 24-26 at TPC Sugarloaf in Duluth, Ga.
PGA Junior League Golf is funded by PGA REACH, the charitable arm of the PGA of America, and is the signature program under the youth pillar. Through the game of golf, PGA REACH fosters inclusion and positively impacts youth, military veterans and diverse communities.
For more information on PGA Junior League Golf, click here.
For more information on the PGA of America, click here.
Contact: Randy Stutzman
561/809-8609
rstutzman@pgahq.com