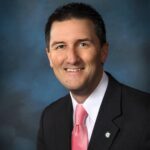 Thomas Brinson is the PGA Director of Golf at Governors Club in Chapel Hill, North Carolina.
Thomas Brinson on the importance of turning your range into a short course to meet demand:
Early on in the pandemic, our driving range – 13 acres large, with nine acres of landing spaces – was forced to be shut down while the golf course was still open. When play started surging, we were staring at a vacant range and decided to turn it into a par-3 course to alleviate pressure from the regular course's exploding tee sheet. As conditions improved and members wanted to practice more we went from having the range be a short course seven days a week down to five, three, one, and then eventually going away completely. However, with demand still high and people enjoying the short course, we've started bringing it back about once a week, usually for an afternoon or evening. The par-3 course is nine holes – we had to "create" three holes in addition to the six targets that were already on our range – and created a video for members to promote the creation of the course.

Thomas Brinson on the business impact of turning your range into a short course to meet demand:
We saw about 45 rounds per day for the nine-week period when it was just a par-3 course. Out of an approximately 650-person membership, between 20-30 percent played it at least once, with many of those members playing it consistently. Using the course was free but the intangibles – allowing those new to the game an easy entry point and giving those that would have had nowhere else to play (with the big course full) at least somewhere to play – were enormous. We also did some lessons on the par-3 course to get new players ready for the "big course." The feedback we've gotten has been universally positive – which is super rare, as you might imagine – and with golf the only show in town early on we believe this added major value towards their membership. We hold happy hours and other fun events on the par-3 course during the season – four so far in 2021 – which lead to shop credits and ancillary purchases. However the bigger value we believe is getting people to, for example, come out to the club on a Friday night, bringing the family with them, and making their membership feel worthwhile. Retention has been strong, and it all started because of seeing a beautiful stretch of land lying vacant while the sport around it surged.

If you would like to email the author of this Best Practice directly, please email t_brinson@hotmail.com.