But fun can't last forever at the historic golf center…
BY DAN O'NEILL
Chances are, if you've spent time in St. Louis, you've had a malted at Crown Candy, caught a Cardinals game, took the elevator to the top of at Arch, toured the Anheuser-Busch Brewery … and you've taken a few swings at Tower Tee.
Bob Hope did. So did Johnny Carson, Althea Gibson and Stan Musial. John Goodman has been there, as has Bob Knight, Hale Irwin, Lee Elder and Bob Costas.
Those traveling to St. Louis for the historic 100th playing of the PGA Championship this August at Bellerive Country Club, however, will miss the chance to have that have that little piece of history notched on their belt. Tower Tee is officially on the clock.
The lease for the property, located just south of downtown on what used to be Route 66, expired in October. The landlord, Tegna, the parent company for KSDK-TV in St. Louis, elected to explore other options, giving Tower Tee a monthto-month extension. In November, McBride Berra Land Co. reached a $4.77 million purchase agreement with Tegna. Pending zoning approval, the 27 acres of sacred green space will be developed into a 158-home subdivision.
According to its termination agreement, Tower Tee was supposed to shutter the tees in January. But proprietor Steve Lotz, also a PGA Member, negotiated an extension agreement with Tegna and the developers that allows him to stay until July 15.
At that point – as Joni Mitchell might put it – they will pave paradise and put up a housing development.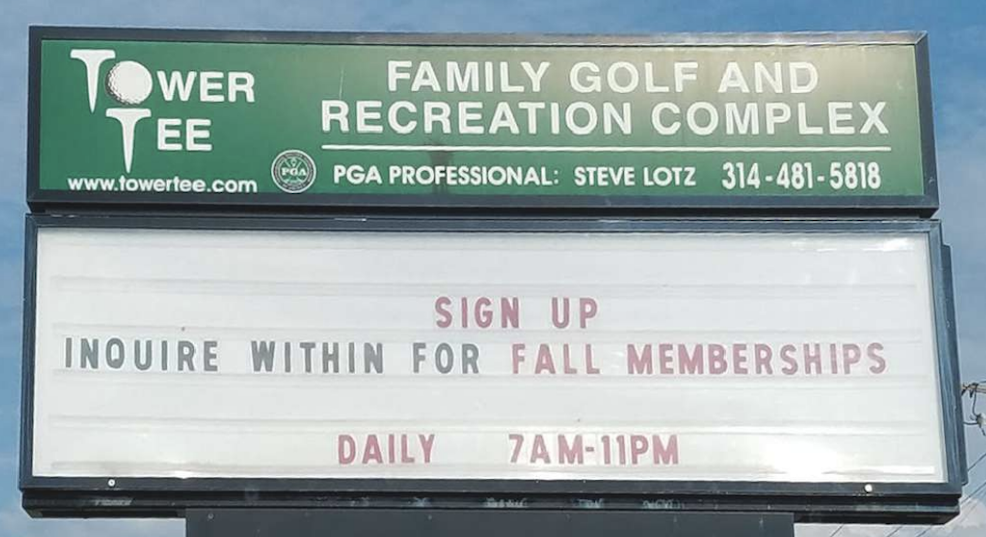 "I'm resigned to it," Lotz says. "We're going to have a cool concert on July 8, have some bands, some cheap beer, free water. It'll be like a Rolling Stones farewell tour finale. We've been here a long time. I want to kiss the customers goodbye."
It will be an emotional sendoff. Tower Tee has been part of the St. Louis landscape since opening in May 1963. For those of you keeping score at home, that's nearly 55 years. That's before Jon Hamm was born, before the Gateway Arch was built, before Gary Player's '65 U.S. Open win at Bellerive Country Club, before the Beatles played Busch Stadium … The previous Busch Stadium.
Tower Tee is the oldest golf range in the St. Louis area and among the oldest in the Midwest. Roy Lotz, a former head carpenter at Forest Park Highlands Amusement Park, originally started the business, turning the former brickyard into a recreation facility. His son, Dick, gave up teaching mathematics at St. Louis Country Day School to partner with pops.
And his son, Steve, not yet 10 years old at the time, helped. "I can still remember taking bricks out of the ground as a kid," Steve Lotz recalls.
What the Lotz family built over time was special. There are not many golf recreation facilities that include a full-scale range, practice putting green, miniature golf course, multiple batting cages and an 18-hole par-3 course.
You can work on your game and work on your date all in one night. You can hit a new driver, smoke a 90-mph fastball and roll a putt through the legs of Phil the Gorilla, all in one place. At Tower Tee, you can make memories.
"I think it's unique in that, I don't know that there have been a lot of practice facilities that include 18 holes of golf you could practice on, as well," Lotz says. "There certainly wasn't in St. Louis. An awful lot of people learned to play golf here.
"And then with the batting cages and the miniature golf, it has always appealed to families and younger people. It's always had something for everyone."
Tegna is funneling the net proceeds from the sale of the property to its charitable foundation, which supports nonprofit activities in the 38 markets where it operates, including St. Louis. Moreover, the taxes generated by the new development will help the Affton School District in St. Louis County.
"We think that what's going to happen to the Tower Tee property is the best thing that could happen to it if Tower Tee is not there," Lotz says.
Meanwhile, at 65, Lotz is re-inventing himself. He has made positive changes in his lifestyle and his marriage. He immersed himself in yoga and continues to explore other business opportunities.
Time never stands still. And like the doughnut shops, drive-in theaters and drive-up motels that once operated nearby – like Old Route 66 itself – Lotz has to move on.
"Let's just say I've already gone through the 21 stages of grief," he says, referring to the stages of meditation. "But life goes on, and ultimately, I think, there's been some very positive things that have come into my life during this process.
"The journey has been wonderful. If my dad Dick were alive today, he and I would have supper tonight and smile."