The Perfect Putter can help your students better grasp green reading and speed control
By: Al Petersen
Brandon Skoosbury never set out to be a short game expert, but then he wrote "The Wedge Book" and things took off from there.
Now the PGA Head Professional from the Idle Hour Club in Macon, Georgia, spends about 75 percent of his lessons on or near the greens. One of the teaching aids he uses is the Perfect Putter, which he finds ideal for his three-pronged approach to getting students on a roll.
"This is a really great tool to show the proper relationship between read, speed and where to start the putt," says Stooksbury, who also plans to have a book on putting published by the end of the year. "The start line is so crucial, so this becomes a great diagnostic tool to test the relationship between those three factors."
Stooksbury, who is certified to teach the AimPoint putting method, likes the simplicity of the Perfect Putter, which he also uses to test students' reads to see if they match the actual line.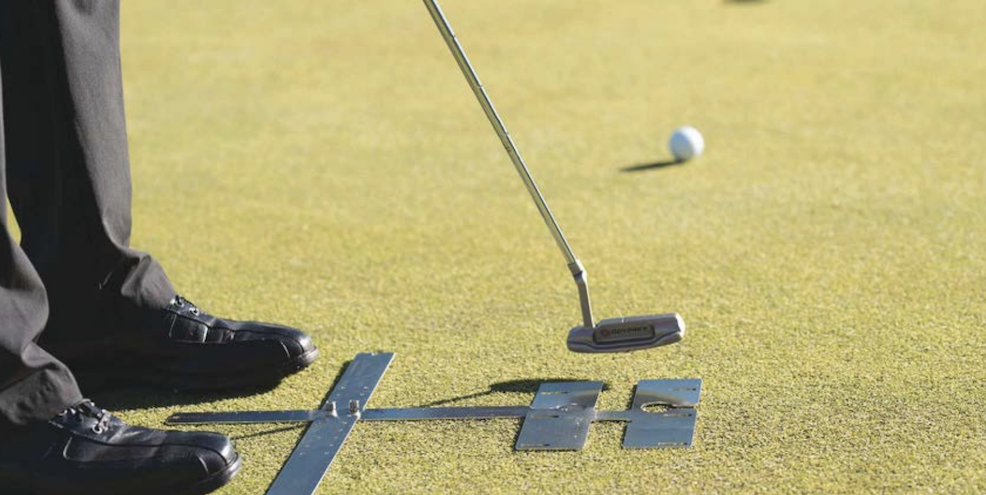 "It's ideal for that," he says of the Perfect Putter's design, which looks and performs a bit like a Stimpmeter that can be altered for different situations. "The visual is great for students. They can actually see, on the ground and not on a screen, what a perfect read and starting point look like."
Stooksbury says he likes to stay within 18 feet of the hole when using the Perfect Putter to minimize outside variables, such as rough patches or bumps on a practice green. He also says students piece together the elements of putting better when seeing the proper line and speed and emulating it.
He says he has been using the device for about five years and that it has helped him and his students when it comes to putting theories and practice.
"It's funny. I never considered myself a short game specialist, but then my book showed up on best seller lists and that kind of pushed me into the short game world, so to speak," Stooksbury says. "But I'm glad it did, because it's such an important part of the game, and the Perfect Putter has become an important item in my practice sessions."
He doesn't use the Perfect Putter during all lessons but says his return on investment "has been high with it."
"Like all of your other tools, you have to find ways to use it and incorporate it into your teaching," he says. "But once you do, this has been a great tool to complement my other short game lessons and give students a good feel and visual for reading greens, seeing the proper line and having more success."
The Perfect Putter also has add-ons that can be utilized, such as gates that resemble small croquet hoops, and a laser attachment. Both are intended for users to see the correct line to the hole for an even more precise read of the putt.
Jeff Paton, a PGA Professional at the Golf Club of Georgia in Alpharetta, also uses the Perfect Putter but prefers to keep his lessons on a relatively flat green.
"Candidly, it's a fantastic tool," Paton says. "It's an amazing tool for us when inside a 2-percent slope. I definitely give it a thumbs up, and I would give it a double thumbs up for anyone who is not a tour player level. Low- to mid-handicappers could benefit tremendously from this device."
For PGA Professional Ryan Dailey, the benefits of the Perfect Putter are many for the youths he teaches at Keith Hills Golf Course in Buies, North Carolina. The 15-year instructor, who specializes in youth development, says the device gives his students a chance to be successful on the greens, particularly as it complements a system he started called Operation 36, a program that teaches 12 elements of the game, including reading greens.
"Like many players, kids don't hit a putt the same way every time," Dailey says. "It's important for them to see and learn about the variables, and that green reading is hard and not like putting on a pool table. That's why they really love using Perfect Putter. They can roll the ball, change where they want it to start from to adjust the speed, see the line and begin to make more putts. It allows them to enjoy successes."
Since young minds often wander, Dailey also likes the Perfect Putter because it's engaging for students and simplifies the learning process.
"Being able to see and adjust, and have the ability to actually watch the ball break with the right speed and go in the hole is a great teaching tool," he says. "We use it all the time."
The parents of his young students also have taken notice and begun to ask Dailey for their own putting lessons as well.
"It's not just kids who have trouble reading greens," he says. "Many of these parents and other adults are surprised to see how much curve there is with some putts when hit with the right speed."
Regarding a return on his investment with the Perfect Putter, Dailey sees it as more than a dollars-and-cents issue.
"If you truly care about your students and their learning, it's definitely worth having," he says. "I guess the best return on investment, so to speak, is knowing that the kids are learning putting skills in a fun and appropriate way, while being put in the best position to enjoy success."