PGA Professional Cameron McCormick's nine-year stint with Jordan Spieth culminates with a green jacket
BY: BERNIE D'AMATO
Cameron McCormick's teaching philosophy is based on what he likes to call the "player-owned journey." "It begins and ends with the player's goals," says McCormick, the PGA director of instruction at Brook Hollow Golf Club in Dallas, Texas.
It was 2005 when McCormick began working with a very talented 12-year-old golfer named Jordan Spieth – who remains his student to this day. When he first asked the young man about his golfing goals, he recalls him saying, "Cam, I want to play the PGA Tour. I want to win the Masters." Full transparency, McCormick provided this quote in January of 2015. Four months before the second part of Spieth's goals became a reality in spectacular fashion. Spieth's performance at the 2015 Masters not only earned him a green jacket but put his name in the record books next to Tiger Woods as second-youngest golfer to win the Masters as he also tied Woods' 72-hole scoring record of 18-under par (270).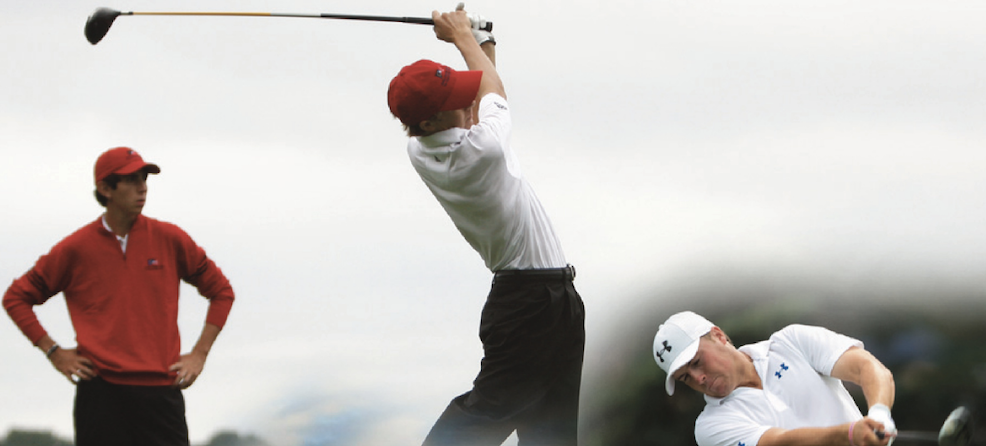 Thinking back to that interview, it did seem apparent that McCormick knew something we didn't. Many youngsters come to McCormick with dreams of playing college golf and beyond. But there was something different about this one. The talent was obvious, even though the golf swing was far from the angular perfection we're accustomed to seeing on the PGA Tour. But it was the individual motivation, confidence and self-belief that really set Spieth apart. "I think of golfers as the same, but with different trajectories towards involvement and different peaks they are looking to scale," describes McCormick. "Jordan's trajectory has long been a steady upward ascension because of that inner belief. Since he was 12, he's always known that he'd be able to compete with and ultimately defeat the best players in the world. "I remember telling Jordan years ago that when the task is greater than what you have previously demonstrated, you raise the level of performance. You have this transcendent ability." Presently, Spieth has transcended to a place where few golfers can claim to have traveled.
Nurture Talent, Cultivate Confidence
For McCormick, there's nothing more rewarding than molding junior golfers into elite players. When teaching junior golfers who have the potential to reach high levels of the game, cultivating confidence is equally as important as nurturing their visible skills. "Jordan had the skills, he had the confidence. He just needed fine tuning," McCormick adds. "But obviously it's a rare combination. As teachers we have to assess our students' goals, their ability and then develop a plan."
For the junior player whose trajectory is more aligned with recreational golf, McCormick guides them to improved skill proficiency to enhance enjoyment of the game. Steps to achieving that proficiency, according to McCormick, include getting fit for clubs, understanding the importance of course management and an active lifestyle that may involve playing other sports. At Brook Hollow, youth developmental programs incorporate physical conditioning and fundamental development of motor skills. "It is developing strength, flexibility, power and it is developing motor coordination," McCormick says. "If a player is not doing that, then you are missing a key piece of the performance cocktail."
While these are great supplements, strength and conditioning also come from playing other sports. Even though golf competes with other sports for a junior's time, according to McCormick "It's pivotal that young golfers engage in a diverse range of activities to develop complementary skills." In fact, in his youth Spieth played various sports including basketball, baseball and swimming. Success in other sporting arenas not only enhances the golfers athleticism and physical talent, but goes a long way towards building confidence.
Transitioning Juniors to Competition
Unlike Spieth, who longed for competition from Day One, juniors won't always verbalize the fact that they want to be a competitive golfer. Learning how to spot the change in a player's priorities is part of the teacher's responsibility. "You are not only a coach, you are a psychologist, you are a behavioral scientist, you are a parent, you are a mentor to a person in the space of one hour," he says. "Learn their nuances and ask questions when something changes."
When helping a player become competitive, McCormick assesses the player's strengths and weaknesses to determine his or her "performance DNA." This process is aided by technology, such as TrackMan, to identify the need for swing changes. "I'm using technology to run a diagnostic and validate for me that the change is necessary and effective for the player," says McCormick.
During practice sessions, these juniors must simulate context and pressure. "I prefer a player to train in a state where they feel progressively uncomfortable, in order to be able to compete in a state of comfort," he describes. "Without creating that pressure in training, it's pretty hard to expect a player to go into a round of golf where there are no do-overs, they have one shot and they have this 300 pound pencil laying down in their pocket." One of the key aspects to McCormick's coaching is helping the student diagnose their own game. "If I haven't trained an athlete to be selfsufficient, then I don't feel like I've done my job." If you happened to hear any of the banter between Spieth and caddie Michael Greller during the Masters, you know McCormick has done his job well.