By: Art Stricklin
Late last month, Tiger Woods sent a rush of excitement through the golf community when he registered to play in one of America's biggest tournaments – the U.S. Open. Prior to that, he spent plenty of time and effort at Bluejack National, his first American golf course design located outside of Houston, partly because his injuries didn't allow him to compete on the PGA Tour. The Bluejack feature that Woods is most proud of is a 10-hole short course and practice facility called The Playgrounds.
In an exclusive Golf Range Magazine interview during The Playgrounds' debut in early March, Woods said he was pleased to see the facility open because it brought back so many memories. Not as a 14-time major championship winner or a World No. 1 golfer, but as a skinny Southern California junior who fell in love with the game of golf.
"This is a dream of a lifetime for me to do this," said a smiling Woods. "My dad used to create pars for me on the courses; it would be the number of strokes it took me to reach the green plus two strokes for putts. It would start out as a par 13, then a par 8, then it would get down to the regular par."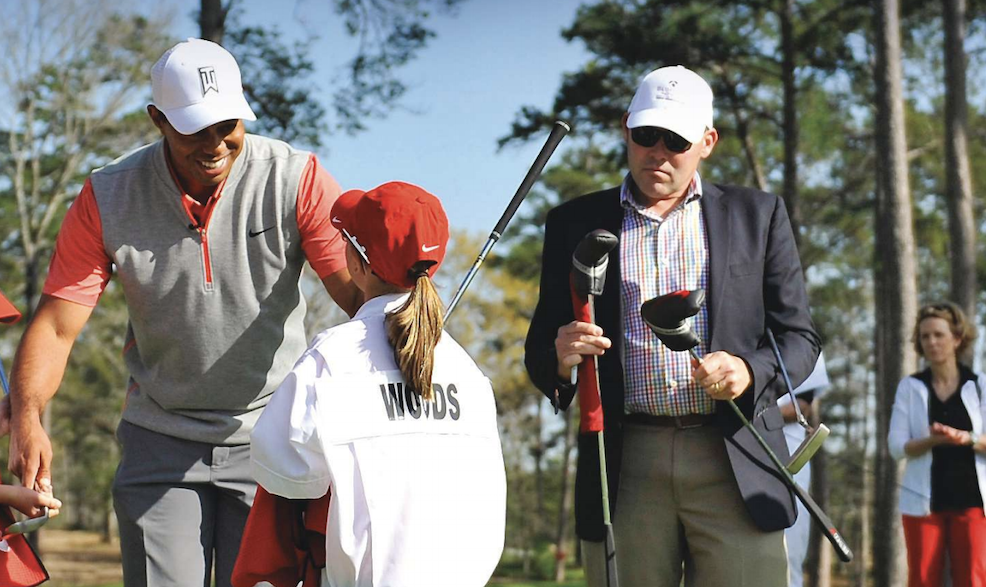 The Playgrounds, along with its own clubhouse, The Place, could be what helps attract a new generation of golfers who are as avid as Woods. "I had something like this when I was growing up," he deadpanned of his Cypress, California roots. "It was called the park. They didn't want us playing golf there, but the tree was the hole and we had to find a way to get there."
Eventually, Woods graduated to the par-3 Heartwell Golf Course in Long Beach, but he had never seen anything like he unveiled at Bluejack National. "We never had anything this nice, that's for sure," Woods added. "I don't think I would have ever left."
Prior to the debut of The Playgrounds, Woods had been unable to do anything more strenuous than chip and putt with his kids, Sam and Charlie. But that didn't keep him from competing against two Southern Texas PGA junior golfers that day, who both shot 32 to Woods' 10-hole total of 35.
He also had his still-considerable spotlight stolen by one of his short course partners, 11-yearold Taylor Crozier, from Bishop, Texas. Crozier made a hole in one on the par-3 first hole, measuring 81 yards, on his first swing of the day. "Are you kidding me, right now," Woods said after doubling over in shock and celebration when the ball dropped in the hole, bear-hugging the junior golfer.
He said the addition of The Playgrounds at Bluejack or similar courses nationwide would fulfill an important function in the game.
"It's great to help answer the question, how are we going to introduce the game to new players? We have people coming into golf and leaving just as quickly. Something like this speaks to sustainability," he described.
It's a formula that can be repeated at practice ranges, as well as public and private courses nationwide.
"We've shown the model which can be used to build The Playgrounds nationwide. You can have a smaller footprint or space to build it on, but you can still do it if you have the will," added Bluejack National President Casey Paulson.
The Playgrounds cover 747 yards total, par 30, over the 10 holes located adjacent to the practice range and includes lights in the numerous trees for day and nighttime play.
"This allows more families to go out and play or practice together at night, and kids to play in the daytime and then have their parents join after work. My kids will love to play at a place like this," beamed Woods.
While the practice range, also designed by Woods, has been partly operational since the fall, the opening of The Playgrounds also featured the opening of the world's third Nike Performance Center in the world – with the other two being in Sea Island, Georgia and Archerfield, Scotland.
The Nike Center at the double-ended practice range offers a customized experience for golfers of all skill levels. Features include:
Two instructional and clubfitting bays
SAM putting lab
A state-of-the-art fitness room
A lounge with a bar and grill overlooking The Playgrounds
"I always wanted to be involved in the game of golf. That's what I love and that is my passion, it's something I always want to do. I hope to have more golf courses to work on in the future, with more golf ranges and short courses. There is still a lot more I hope to do with golf," so says one of its most dominant playing champions and avid proponents for the growth of the game.