By John Torsiello
The new Par-3 short course at Gamble Sands in Brewster, Washington is unique in several ways. There are only fourteen greens. But the course configuration can be adapted on a daily basis, rendering a dozen holes one day and a full fourteen the next.

The land upon which QuickSands (as the course has been named) is built offers dramatic slopes that create long rollouts of shots, all of which conspire to create "fun!" as highlighted by Brian Benitz, the facility's Director of Operations. Benitz went so far as to claim that QuickSands and its architect, David McLay Kidd, "reinvented the par-three course". He explained that the number of playable holes will depend upon the distance and direction of holes, flexibility being paramount in this new course's setup.
Born and raised in Scotland, David McLay Kidd, the visionary behind the layout of Bandon Dunes in nearby Oregon, designed the resort's Sands Course, a visually stunning "links-style" layout, and was the logical choice to create QuickSands. Both courses are pure fescue. "As far as I know, there was never another name mentioned as the architect for the short course," said Benitz.
There are plans for a second regulation-sized 18-hole course, although no timetable has been set. The resort also features the monstrous 100,000-square-foot Cascade putting course, a wildly shaped, pure fescue putting course inspired by the Himalayas Putting Course at the Old Course at St Andrews, Scotland and also laid out by Kidd.

Gamble Sands, a Troon Golf-managed facility, is owned by the Gebbers family, owners and operators of Gebbers Farms, the largest provider of cherries in the world and one of the top apple growers in the region.
Construction of the short course was a collaborative effort between Kidd's staff and Gamble Sands' maintenance crew. QuickSands is set on roughly 12 acres, with some holes playing as short as 70 yards and the longest playing 135 yards. The facility's latest addition is still growing and maturing, and depending upon that progress, there are tentative plans for a soft opening this fall, with full play expected to begin in 2021.
Benitz opined, "Gamble Sands is big, beautiful, and fun, and we wanted a miniature version of it as our short course. Gamble Sands goes straight out and back so we really don't have a nine-hole playing option for the course. The ninth hole is about a mile and a half from the clubhouse. QuickSands is a course that will be fun for people to play, with some holes crisscrossing and presenting opportunities for socializing with other golfers. Some of the shots will careen off and down slopes and it might take 15 seconds for the ball to stop. In that time, everybody in your group will be cheering for you to wind up close to the hole. We are even set up to pipe music onto the course if we choose. We want to make it fun, casual, and social."

Benitz said QuickSands also "fills a gap" for those golfers wishing to add some holes onto their round or even play the short course as a warm-up for the big course. "Some 75 percent of our stay and play comes from the Seattle area (three hours away) and QuickSands gives visitors an option for golf on check-in day or before they leave. You'll be able to play the short course in an hour and a half."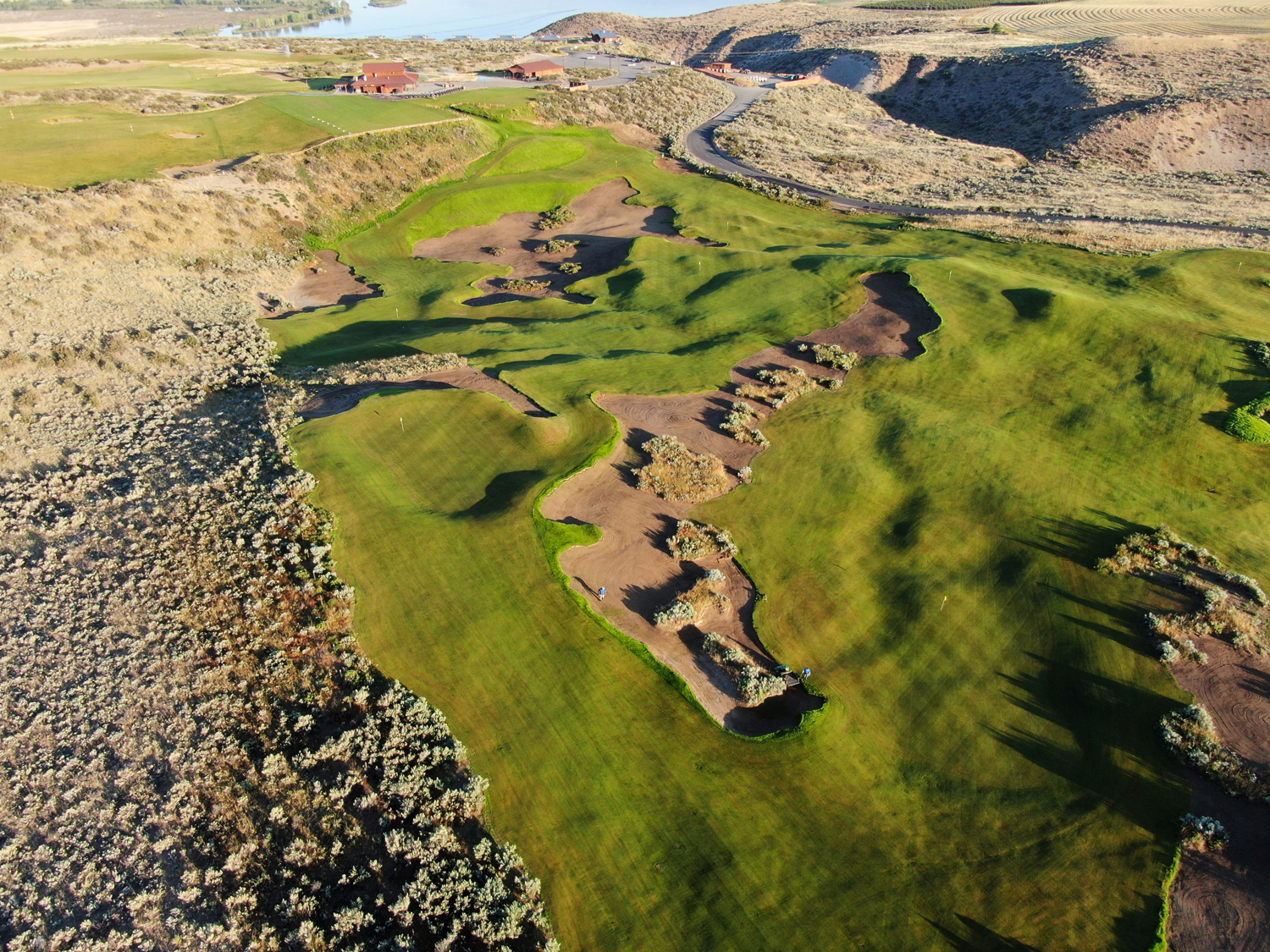 Wide turf areas will allow for an ever-changing teeing ground, creating vast flexibility in how the course is set up on a day-to-day basis and how golfers play it from one day to the next. With its collection of short holes, golfers will be encouraged to grab a "clutch of clubs" and go have fun. "We will be sending people out with small bags, maybe four clubs max," said Benitz.
Kidd reveled in the opportunity to create a course that incorporated "the ground game". He commented that a lot of 'one-shotters' in the world don't allow for a ground game – you have to carry it to the target. With QuickSands, Kidd encourages the ground game with giant slopes and movement to allow golfers to get creative.
"What I saw we could do with QuickSands that others have missed with other short courses, if I may be so bold, is that we have giant slopes and odd designs for the holes. This allows the better golfer to hit a wedge from 120 yards and spin it onto the green, while also allowing a less accomplished player to actually use a putter, keep the ball on the ground the entire way. It can be bump and run golf where you are rolling the ball onto the green rather than hitting the ball high through the air. I think that a better golfer playing a traditional short course may get bored hitting wedge to every green. But with QuickSands we have given that player options," Kidd explained.

"A cool aspect of the short course is that you see it as you drive into the resort," offered Matt Baum, the club's PGA Head Professional. "Your first reaction when you see it is `Wow'. I envision the short course as a place where the entire family can play golf and have an enjoyable, memorable experience. I learned golf on a par-three course, and QuickSands is very similar to that. It doesn't set you up for failure. It will be a wonderful place to play for beginners and juniors."