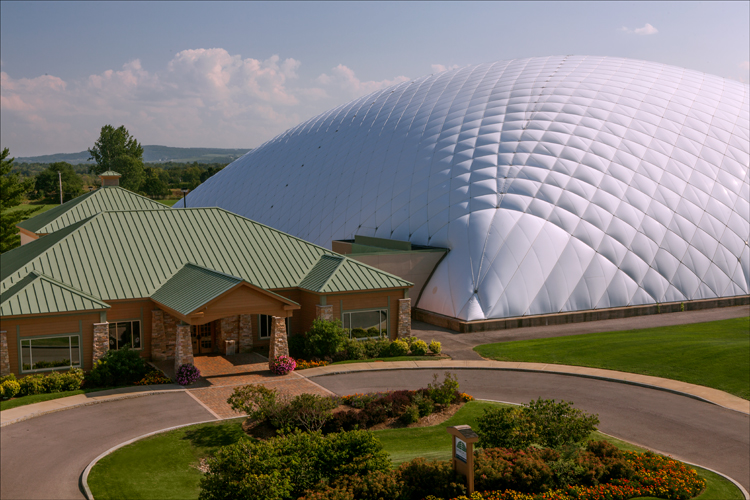 By Vinnie Manginelli, PGA
Walk up to the doors of the Golf Dome at Turning Stone Resort Casino and you've got no choice but to enter – after all, the doors open automatically for you, as if to say, "you have arrived." Once inside, the options are plenty at the Verona, New York facility. To your left is their amazing short game area – 17,000 square feet of putting greens, chipping areas, and bunkers. Throw in the rough and elevation changes and you have everything you need for the perfect practice session or lesson with a pro.
Bear right upon entry and you enter what can only be called a "golfer's paradise" – a seven-story dome, 110 yards long and 80 yards wide. You are instantly torn between gazing at the two-tiered golf range with its 40 hitting stations and variety of targets to hit, and looking across the golf superstore with virtually every product you could imagine.

There are racks of apparel – from shirts and bottoms to ladies' wear and outerwear – a huge selection of golf balls, an array of gloves, a table full of custom Turning Stone head covers, full sets of irons, the latest in wedges, woods, and hybrids, a whole shelf of Scotty Cameron Putters highlighting the extensive putter selection, magnificent choices in golf bags, boxes of golf shoes piled high, headwear, accessories, and grips. If that weren't enough, there are junior clubs, pull carts, travel bags, and training aids as well.
Behind the counter stand several professionals ready to help customers with their every need. Whether it's securing a spot on the practice range, a tee time on the simulator, or a lesson with the team of PGA Professionals, including Head Teaching Professional & Merchandise Manager, Eric Lorenzetti, the 2016 PGA Central New York Section Player Development Award recipient,  Ryan McGinnis, a recent PGA Central New York Section Assistant Professional of the Year, or Marty Nowicki, a four-time section Teacher of the Year, you will be treated to an exemplary golf experience.

Perhaps you're in the market for new clubs and want a custom club fitting with PGA Certified Professional, Alan Savage. No matter what you do, why you're there, or who you meet, the service provided is cordial, professional, and welcoming.
With the Golf Dome and Golf Superstore open 365 days a year, the golf professional staff at Turning Stone Resort Casino caters to golfers of all skill levels and experience, some of them locals, others resort guests. Lorenzetti, Nowicki, McGinnis, and Savage share in the facilitation of their clinics and programming – four PGA Professionals who are growing the game year-round. With the use of today's top-level golf technology, these professionals are changing things as they utilize FlightScope and TrackMan launch monitors, as well as SAM PuttLab putt analysis and training system.
Daily classes include short game sessions, ladies' clinics, full swing courses, and junior golf instruction. McGinnis coaches a thriving PGA Jr. League program and hosts local veterans through a growing PGA HOPE program. They offer an indoor simulator golf league and various range memberships, warranting the cliché, "there is something for everyone."
PGA Head Professional, Jeff Kleinman manages the day to day operations of the five golf courses under the Turning Stone umbrella. Sandstone Hollow is a Rick Smith-designed par three course that ranks among the top 25 par three courses in the country. Pleasant Knolls is a player-friendly par 36 nine-hole course with wide open fairways and challenging greens.

The other three venues attract golfers from such cities as Boston, Philadelphia, New York, Buffalo, and Toronto. Director of Golf and Recreation, Miles Blundell, a PGA Master Professional, says their goal is to attract guests within a six or seven-hour drive. Blundell spoke glowingly about the three courses that are some of the best golf holes in the northeast.

Atunyote is a Tom Fazio design and hosted the PGA Tour's Turning Stone Resort Championship from 2007-2010 and the Notah Begay III Foundation Challenge. With such winners as Tiger Woods, Camilo Villegas, Matt Kuchar, Steve Flesch, and Dustin Johnson, this thing of beauty is worth a seven-hour drive in itself. While sitting down with McGinnis, he showed me a photo of the course's iron front gate, beyond which he declared "everything must be perfect." Turning Stone Resort Casino strives to impress whether you're paying $225 for this marquee Fazio layout or $20 for 18 holes at Pleasant Knolls. "If it's not perfect, it's not good enough," says Blundell – and his staff follows that decree.
Shenendoah and Kaluhyat are Rick Smith and Robert Trent Jones Jr. designs, respectively, and share a golf shop down the hall from Blundell's office. Standing outside the clubhouse in early February, looking out at the snow-covered course, I could only imagine the summer beauty of the trees that surround the fairways and greens, and vowed to return when the temperatures were just a bit warmer. Both courses are maintained to Tour standards and provide a wonderful golf challenge and even better golf experience to players of all abilities. In addition, these two tracks have compiled a veritable list of accolades to their credit, including best resort courses, best casino courses, top courses in New York State, and top 50 courses for women – honors doled out by none other than Golf Magazine, Golf Digest, and Golfweek.
Rick Smith designed Shenendoah course
Kaluhyat, the Robert Trent Jones Jr. design
In conversation with McGinnis and Blundell, I mentioned that as incredible as the amenities are at Turning Stone Resort Casino, the experience is made truly great by the people you encounter – the professionals on staff, in the shop, and on the lesson tee. Blundell is blessed to have a staff that exceeds expectations every day, and they're lucky to have a leader like him at the helm.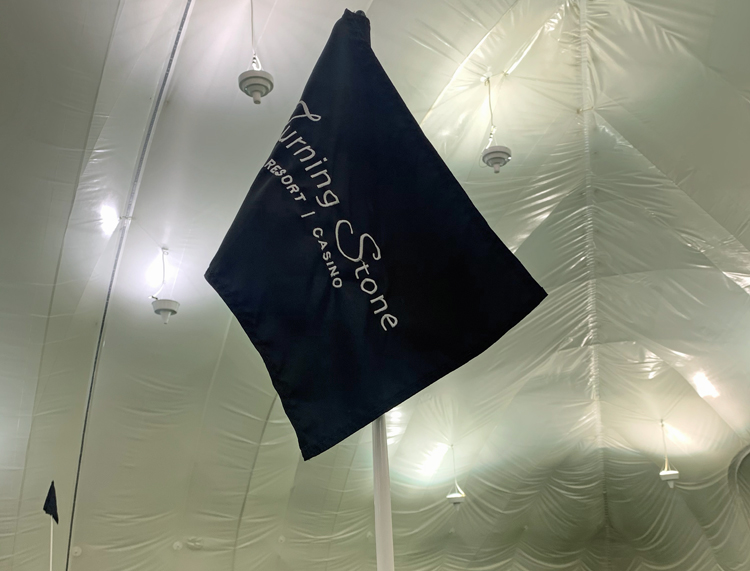 For more information on Turning Stone Resort Casino, log on to www.turningstone.com.