It's more than location that makes this Midtown Manhattan range so successful
BY: ROGER GRAVES PHOTOS BY: SCOTT MCDERMOTT
In real-estate circles, it is location, location, location that makes a plot of land valuable, unique and special. The same could be said for The Golf Club at Chelsea Piers, a multitiered outdoor driving range, instructional academy and full-service golf club nestled in the heart of Manhattan at Pier 59 on the banks of the Hudson River. A driving range in New York City? Indeed, an upscale, high-tech range that is becoming as renowned for its multiple amenities, instructional programs, and a variety of special golf and social programs as its unique location.
Even if it were not located on a picturesque Hudson River pier – and even if it wasn't the only driving range in Manhattan – The Golf Club at Chelsea Piers would be an ideal place to learn the many nuances of the golf swing, take a golf lesson, or just blow off steam by hitting a bucket of balls. With its four-tiered "super range" that features a 200-yard fairway, a full-service teaching academy staffed by 12 teaching professionals (many of whom are PGA and LPGA teaching professionals), Full Swing golf simulators, a membership program for frequent golfers, and a penchant for delivering a memorable golf experience in as little as one hour, the Golf Club at Chelsea Piers has become a New York hot spot.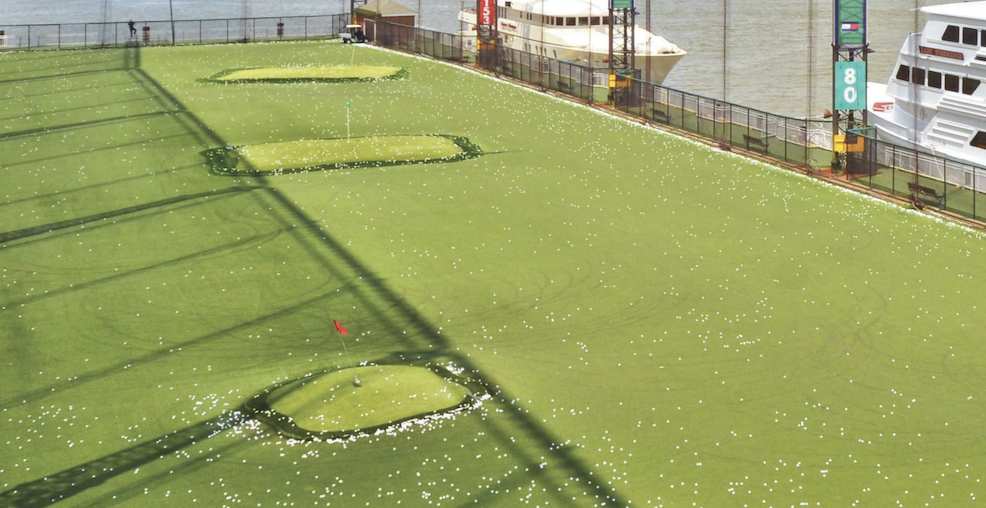 "Our location is key, because we are easily accessible by so many people through public transportation," says David Beltre, vice president and general manager of The Golf Club at Chelsea Piers. "You can walk over here, bicycle, skate, take the train or come by boat or ferry. But I attribute our customer loyalty to the quality of our facilities, the ability of our instructors and the location. We have a great variety of programs and special events that appeal to different parts of the population."
Beltre might also simply say that The Golf Club at Chelsea Piers consistently delivers a fun experience for golfers from beginners to the highly skilled.
The 52 hitting bays at Chelsea Piers are heated during the winter, and when the weather is inclement, you can always go inside and play one of 50 famous golf courses on the Full Swing simulators. Though the facility is open to the public, annual memberships are available that include reservation privileges on the driving range, access to private locker rooms, various discounts on Golf Club and Academy purchases, and discounts when holding special events such as corporate meetings, birthday parties or a "Guys Night Out" party.
The unofficial motto at Chelsea Piers is "friends, families and fun." And that begins with the buckets of balls. Technically, there are no buckets. The Golf Club's driving range uses a Computee automatic ball tee-up system designed by Sunaga Kihatsu of Japan. Customers purchase a ball card, insert it into the hitting stall's card reader, and golf balls begin to tee up automatically. For $25, you get 90 balls during peak hours and 148 balls during off-peak hours. The driving range target greens and putting green, located just outside the entrance to the Golf Club, are both furnished by MetroGrass, with netting hundreds of yards high lining the 200- yard-long fairway to prevent golfers from hitting balls into adjacent piers – and the Hudson River.
But as most driving-range owners, operators and managers understand, it is difficult to survive on buckets of balls alone. So while Chelsea Piers dispenses more than 16 million range balls per year to more than 125,000 customers, its multiple lesson programs, golf academies, camps and schools have contributed mightily to its long-term financial success. The 2,000-square-foot Golf Academy teaching facility, a 1,200-square-foot putting green, an indoor putting studio and sand bunker, and two private event and party rooms have made The Golf Club at Chelsea Piers a popular place for people of all demographics to learn the game or sharpen their skills.
A potpourri of golf-instruction programs – covering customers from juniors and families to small corporate groups, as well as individuals who work and live in the vicinity – have become a powerful magnet that draws a melting pot of golf clients to The Golf Club at Chelsea Piers. Some Manhattan businesspeople have had the same weekly or monthly lesson appointment with the same instructor for years.
"We provide 16,000 hours of instruction a year," says Beltre, a 1996 graduate of Iona College in New York. "Even in the winter months we are busy enough to keep seven teaching professionals working full-time. There is a central number that all clients can call to book lessons. The professional staff has developed a strong, loyal clientele. I attribute customer loyalty to the quality of our facilities and the ability and knowledge of our instructors."
The lesson programs at Chelsea Piers are successful, in part, because of the facility's dedication to hightech simulators, launch monitors and video systems that make learning the game fun and modern. The Golf Academy at Chelsea Piers is New York City's most high-tech indoor training center, featuring a variety of schools and private/semi-private instruction for novice to accomplished golfers. Junior Programming for children ages 4-16 years and a competitive golf league for adults are also available. The Golf Academy features hitting stalls, a practice sand bunker, an indoor putting green and chipping area, JC Video swing analysis, K-Vest motion capture software, a TOMI putting system, Flightscope launch monitors and two Full Swing simulators. That gives the 12 teaching professionals all the tools they need to improve the techniques of golfers of all skill levels. "Technology plays a critical role in keeping us relevant as far as teaching the game and keeping our clients engaged," says Beltre. "Our customer service staff is just as critical when it comes to making our facility one of the best. We have had success with all of our programming. Our golf camp has been super popular. The bottom line is we strive to provide clean, fun, state-of-the-art facilities with great customer service. I think it shows."
So it's not just the awe-inspiring location on the Hudson River in midtown Manhattan that makes The Golf Club at Chelsea Piers so unique. But it doesn't hurt to have instruction, instruction, instruction to go with a great location, location, location.