BY: SCOTT KRAMER
A trip to Foresight Sports' San Diego headquarters is an eyeopener. The executives have some of the sharpest minds in the industry. The technology is perhaps more advanced than anything in golf. And whether you're a golf enthusiast or a novice, you could spend all day in the built-in hitting area in the back. So it's no wonder that instructors and clubfitters at thousands of courses and golf retail chains now use the company's GC2 launch monitor, which debuted six years ago. At this year's PGA Merchandise Show, the company debuted a new launch monitor, the GCQuad, that's touted as even more sophisticated and helpful. Why is this brand so hot?
The answer is simple: Simplicity and accuracy. It needs no calibration or marks on the golf balls. Its camera system precisely captures and analyzes ball characteristics at impact. As a launch monitor, its large, outdoorreadable LCD display and audio provide ball performance data in real-time, eliminating the need for a separate laptop or monitor to view data.
GolfTEC, the leading employer of PGA Professionals and provider of off-course golf instruction, elected to solely use the GC2 in their 180-plus locations nationwide. "For indoor use, the GC2 was unquestionably the best technology when we began the initiative of outfitting our 600-plus training bays," says Nick Clearwater, GolfTEC's Vice President of Instruction. "And over the past five years, we still have not found a better solution for the accuracy and price."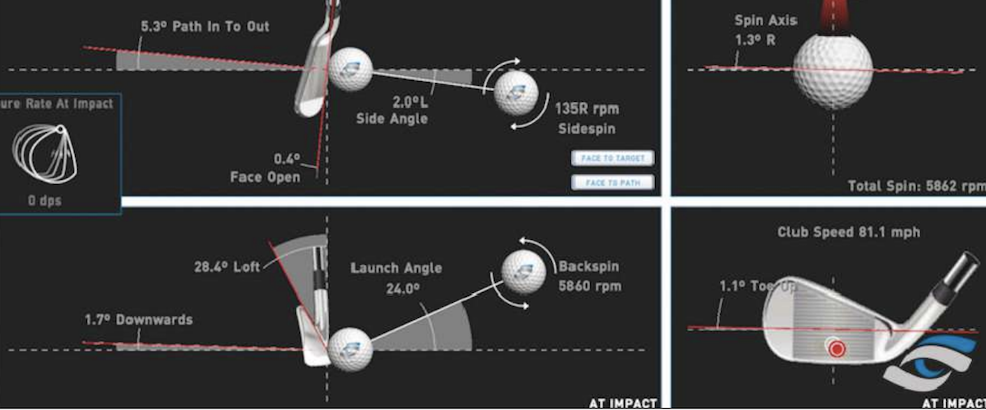 GC2
As the golf industry's most widely used launch monitor since 2011, the GC2 is considered the best-selling professionalgrade launch monitor of all time, according to the company. It can be used on the range or an indoor golf studio, thanks to its smart camera system in which high-resolution cameras capture up to 10,000 frames per second. The stereoscopic lenses emulate the human eye through spatial recognition and state-of-the-art image processing assures reliable ball find and lock. An internal accelerometer instantly corrects for non-level surfaces for verifiably accurate results on every shot. Indoors, the GC2 produces deadly accurate measurements of ball characteristics at launch. The portable unit is less than 10 inches long, weighs under 4 pounds, and can be set up in about 60 seconds. Plus when plugged into a computer, it turns any space into a golf simulator.
How PGA Professionals Use the GC2
James Kinney, franchise owner and PGA director of instruction at GolfTEC Omaha (Nebraska): "I've used the GC2 everyday for five years, in every lesson, in all five hitting bays – tapping it for clubfitting, wedge lessons, gap analysis and playing lessons. I also have one for personal use at my home. Recently, I've worked with students on getting very accurate wedge yardages with it, from a full swing, 3/4 swing and 1/2 swing. The combination of two high-speed video cameras plus the GC2 helps the students' improvement process and thus many of them are reaching their goals and shooting career-best scores."
Todd Sones, PGA Pro at Todd Sones Impact Golf School in Vernon Hills, Illinois:
"While I like what I've seen with the new GCQuad, I still use the GC2 because it meets my purposes. I use it for driver fittings and it validates iron fittings. Most golfers do not know how far they carry the ball with their irons –they just know the overall distance after the ball rolls through a hard green. So they overestimate their power. But you have to know carry distance, to improve your iron game. We get that with GC2 and then make students a laminated card with the carry distance they get from each iron, so they can take it on course, learn their numbers, and have a benchmark to work from."
The Latest: GCQuad
The new-for-2017 GCQuad includes a four-camera system with state-of-the art, high-speed optics. The 7.5-pound unit delivers both ball and clubhead performance data with accuracy and reliability. "It comes with five courses for play, practice, data capture and gaming mode," says Rick Cuellar, Foresight's director of sales. "We built in multiple features, including a unique and patented alignment system. Set down an alignment stick and cameras recognize it as the target line. The field of view has been increased by 6 to 8 times from the GC2 to lock into a ball. So if you're using it outdoors on grass, for instance, you don't need to move the unit for realignment after every divot. And indoors, it locks in on most of the hitting strip so you don't need to move it around." It also includes a deployable kickstand for extra stability on uneven ground. And it features WiFi and Ethernet connectivity, a long-lasting and swappable lithium-ion battery, larger outdoor-viewable display, built-in barometer to measure barometric pressure that accounts for altitude; and built-in infrared LED lights that eliminate the need for a flash.
"It's already on pace to sell even better than the GC2," says Cuellar. "We manufactured and sold over 12,000 GC2 units – doubling our launch monitor competitors in half the time. The Quad is outpacing the GC2 by more than double. People have taken advantage of our trade-in program, as well."
What Professionals are saying about the GCQuad
Liam Mucklow, PGA of Canada Head Teaching Professional in Toronto, Ontario: "The GCQuad's integrated design, which includes down-range targeting, on-board display and barometer/altimeter, make it the easiest and most-accurate system for use on our range. I also love that the data is the same indoors in my studio, outdoors on the range, and even on the course."
Martin Hall, PGA Director of Instruction, Ibis Country Club, West Palm Beach, Florida: "The standard of precision that I expect is extremely high, and the GCQuad far and away exceeds my expectations. If you are looking for truthful information the Quad will give you the answers".